021219 Monthly Dinner Meeting at Quinnipiac University
Please join CSCE at this dinner meeting at Quinnipiac University for a presentation on "The State of Connecticut's Infrastructure". CSCE President David Chapman and co-authors Brianna Maljanian and Thomas Loto will present the findings from CSCE's inaugural 2018 Report Card for Connecticut's Infrastructure, followed by remarks from retiring State Rep. Antonio "Tony" Guerrera (29th District) and other elected officials. The Report Card gives five categories of Connecticut's infrastructure an overall grade of "C-", and includes an evaluation of the state's bridges, drinking water, rail, roads, and wastewater systems. The presentation will focus on the specific grades and findings from the Report Card, provide details on the condition and future needs for specific infrastructure systems in Connecticut, and offer solutions to address the state's infrastructure needs. Remarks from Rep. Guerrera and other elected officials will focus on the issues facing Connecticut's infrastructure systems and potential legislative solutions being considered by our elected leaders.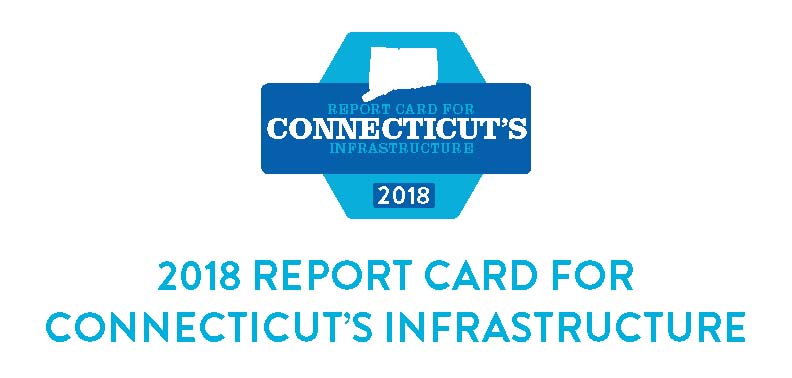 INFRASTRUCTUREREPORTCARD.ORG/CONNECTICUT
Speakers
David Chapman, P.E. – David is the current CSCE President, and is the President of Blakeslee Arpaia Chapman, Inc. in Branford, CT - the nation's oldest heavy and marine construction company. David is a graduate of Lehigh University (B.S., Civil Engineering) and Rennselaer Polytechnic Institute (M.E., Civil Engineering). David served as Chair of CSCE's Report Card Committee, assisting with the drafting of the report and coordinating the press events for the October 30, 2018 release of the inaugural 2018 Report Card for Connecticut's Infrastructure.
Brianna Maljanian, P.E. – Brianna is the current CSCE Secretary and Chair of CSCE's Membership Committee, and is a structural engineer for WSP in their Glastonbury, CT office. Brianna is a graduate of Worcester Polytechnic Institute, where she earned a B.S. and M.S. in Civil Engineering, and has four years of bridge design experience. Brianna served on CSCE's Report Card Committee and was co-author of 2018 Report Card for Connecticut's Infrastructure, with focus on the report section on bridges.
Thomas Loto, P.E., BCEE – Tom serves as the Chair of CSCE's Water Resources Committee, and is a Senior Project Manager for Kleinfelder, Inc. in their Rocky Hill, CT office. Tom has over 25 years of experience in program management and project management experience on environmental engineering projects. Tom served on CSCE's Report Card Committee and was co-author of the 2018 Report Card for Connecticut's Infrastructure, with focus on the report sections on drinking water and wastewater.
Antonio "Tony" Guerrera –Tony served as State Representative of Connecticut's 29th District (Newington, Rocky Hill, Wethersfield) for the past 18 years, from his initial election in 2001 until his recent retirement at the end of the 2018 term. Rep. Guerrera served as the House Chair of the Transportation Committee for much of the past decade and was a member of the General Assembly's Banking and Veteran's Affairs Committee. Recently, Rep. Guerrera assisted Governor-Elect Lamont's transition team by serving on the Governor-Elect's Transportation Committee. In addition, Tony founded his own construction firm, T & T Concrete and Landscapes, LLC. In 1998, and is a graduate of Eastern Connecticut State University where he earned a B.A. in Business Administration.
Times

5:30-6:30 p.m. - Social Hour & Registration, 6:30 p.m. - Dinner, 7:30 p.m. - Presentation
Location

Quinnipiac University, North Haven Campus, Center for Medicine, Nursing and Health Sciences, Multipurpose Room, MNH-105, 370 Bassett Road, North Haven, CT 06473
Parking & Driving Directions: Please click here for an image of the campus map. Once you arrive at Quinnipiac, please follow the signs for the parking garage, which is labeled as P-G on the map and is located between Buildings 3 & 4, and park there. Signage will direct visitors from the garage to the meeting. The dinner meeting will be in the Center for Medicine, Nursing and Health Sciences (MNH -105), which is in Building 2 on the map, but it is located near the entrance where Buildings 1 & 2 join together.
Registration

CSCE Members: $40
Unemployed CSCE Members: Free
Full-Time Students: $10
ASCE Members who are not CSCE Members: $45
Non-Members: $50
Payment is required with registration unless other arrangements are made. CSCE cannot give refunds after the final dinner order has been placed.
Please register to attend this dinner meeting by clicking on the following link:
Sponsorships

Table Top Sponsor - $100 - Table signs with your company logo on each dinner table
Flyer Sponsor - $250 - Your company logo on event promotional emails and upcoming events flyer distributed at dinner meeting
Social Hour Sponsor - $1000 - Your company logo will be included on meeting promotional material and signage recognizing your sponsorship will be displayed at the social hour.
To sponsor this dinner meeting, please click on the following link:

Donation Opportunities
Please consider a donation to the CSCE scholarship fund to help civil engineering students at universities in Connecticut. All donations will help students in need. To make a donation to CSCE, please click on the following link: