061419 Structural Engineering Institute - CT Chapter Workshop
Friday, June 14, 2019 -

9:00am

to

1:00pm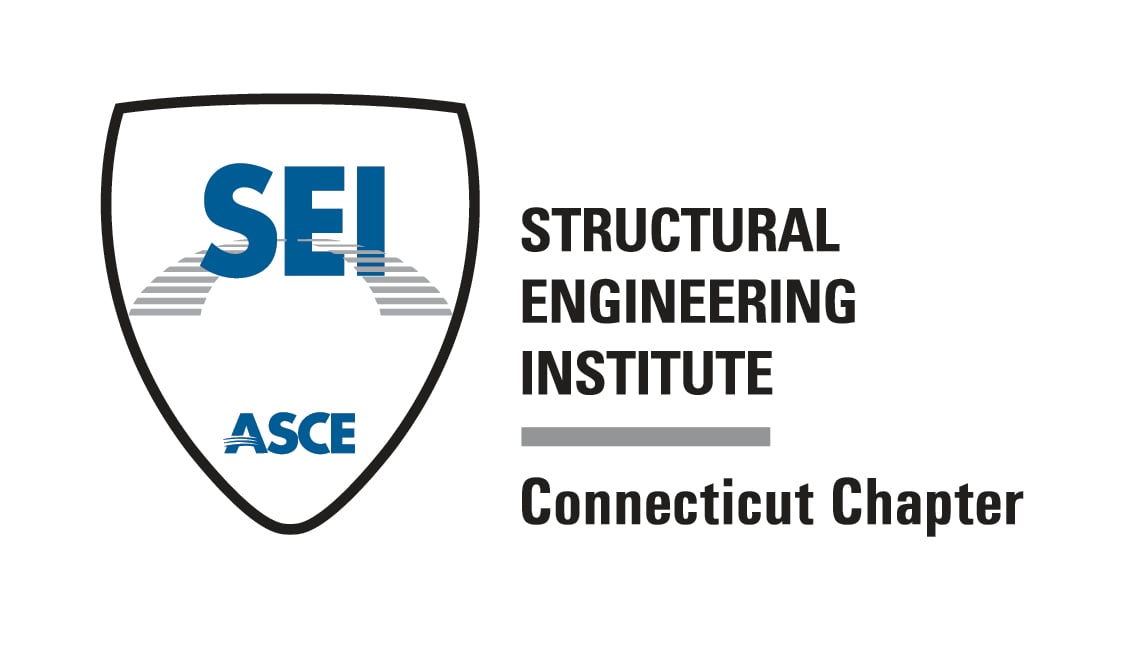 Topic: Improved Bridge Management through Innovative Ways in Condition Assessment of Concrete Bridge Decks: Data Collection Using Robotics and Advanced Data Interpretation
Nondestructive evaluation (NDE) technologies open opportunities for more comprehensive and accurate assessment of bridge decks. In addition, the speed of NDE data collection, one of the main causes of still limited use of NDE technologies in bridge deck assessment, is being resolved through the development of new systems. One of them is a fully automated (robotic) system named RABIT (Robotics Assisted Bridge Inspection Tool) that was developed with the support from Federal Highway Administration (FHWA).
The system concentrates on the characterization of internal deterioration and damage, in particular three most common deterioration types in concrete bridge decks: rebar corrosion, delamination, and concrete degradation. RABIT implements four NDE technologies: electrical resistivity (ER), impact echo (IE), ultrasonic surface waves (USW) and ground-penetrating radar (GPR). The ER Wenner probes enable characterization of the concrete's corrosive environment, while IE enables detection and characterization of delamination in the deck. The USW test concentrates on the assessment of concrete quality by measuring the concrete elastic modulus. Finally, GPR provides a qualitative assessment of concrete deck deterioration, mapping of rebars and measurement of concrete cover. RABIT utilizes multiple probes or sensor arrays for the four NDE technologies, which significantly improve the data collection speed and spatial resolution of the results. The NDE technologies are used in a complementary way to enhance the overall condition assessment and certainty regarding the detected deterioration. In addition, the system utilizes high resolution cameras to image the surface of the deck for crack mapping and documentation of previous repairs.
This workshop will provide in depth discussion of NDE technologies commonly used in concrete bridge deck inspection, benefits stemming from application and from periodical NDE surveys, NDE data collection using the RABIT robotic system, and innovative ways of data interpretation and visualization.
Additional information about this topic can be found at the link below:
https://www.fhwa.dot.gov/publications/research/infrastructure/structures/ltbp/13035/index.cfm
Speaker(s)
Presenter: Professor Nenad Gucunski of Rutgers University. Dr. Gucunski is professor and chairman of Civil and Environmental Engineering at Rutgers University. He is also Director of Infrastructure Condition Monitoring Program at Rutgers' Center for Advanced Infrastructure and Transportation (CAIT). His primary expertise is in nondestructive testing/evaluation (NDT/NDE) of transportation infrastructure, soil dynamics, problems of dynamic soil-structure interaction, numerical modeling, and geophysical methods. He has published more than 250 publications, primarily on various aspects of the development of NDE/NDT technologies, and their application and automation. He was one of the lead investigator of the FHWA's Long Term Bridge Performance (LTBP) Program that resulted in the development of RABIT.
Times
APPROVED FOR 2 New York State Professional Development Hours (PDHs)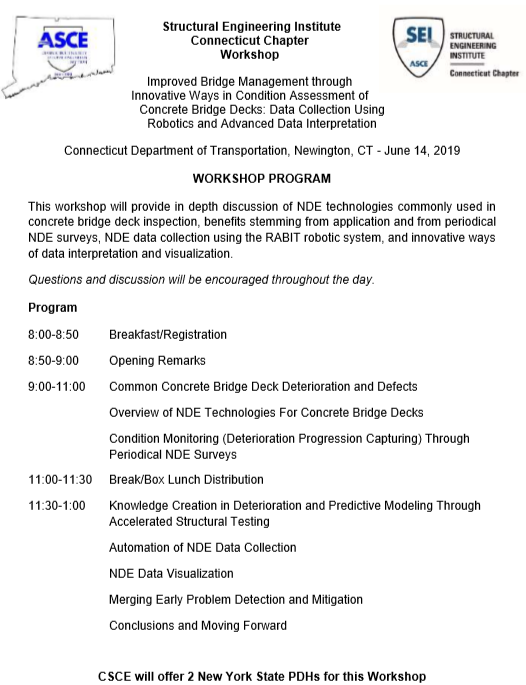 Location
Connecticut Department of Transportation, 2800 Berlin Turnpike, Newington, CT 06111
Registration
Sponsorships
Sponsorships Opportunities (Note: Sponsorships do not include registration)

Box Lunch Sponsor - $600
Your company will be recognized during the event on signage and from the podium during the lunch. Submit your logo when you register to csceinfo@gmail.com.

Breakfast Sponsor - $300
Your company will be recognized during the event on signage during breakfast/registration and from the podium. Submit your logo when you register to csceinfo@gmail.com.

Binder Sponsor - $125
Your company will be recognized during the event on the binders given to each attendee and from the podium at the beginning of the event. Submit your logo when you register to csceinfo@gmail.com.

To become an sponsor of this event, please click on the following link: SPONSOR