---
SECTION ANNOUNCEMENTS AND JOB POSTINGS
---
Job Postings
Job opportunities are available from Section Sponsors, they can be viewed here.
---
2018 PA Infrastructure Report Card Release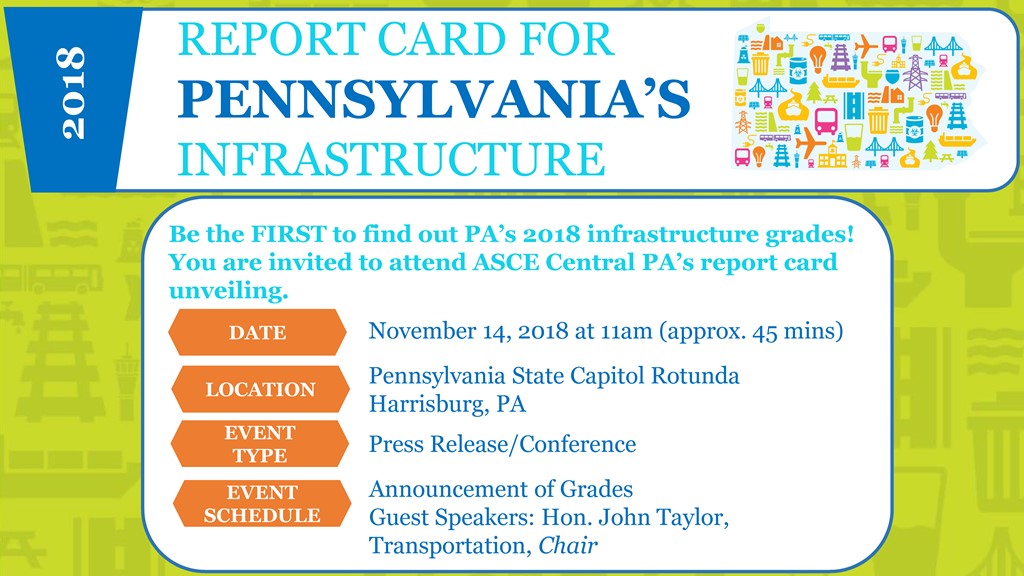 ---
Volunteer Positions are Available Within the ASCE Central PA 2018-2019 Board of Directors
Director of Communications
Construction Management and Ethics Technical Chair
Legislative Committee Chair
Awards Committee Chair
If you are interested in one of these positions and want to learn more, please contact Section President Kerry Henneberger.
---
Central PA Section Member Michelle E. Madzelan, P.E. Elevated to ASCE Fellow
The ASCE Central PA Section congratulates Michelle on this prestigious honor!
More information about Ms. Madzelan can be found here.
---
The 2017 Report Card for America's Infrastructure Is Now Available, the Overall Grade... D+
Access the grades of all 16 Sectors by clicking the icon below.
---
Dream Big: Engineering Our World - ASCE's First Feature Film!
All around the world, engineers are pushing the limits of ingenuity and innovation in unexpected, imaginative, and amazing ways. Dream Big: Engineering Our World, a giant-screen film about engineering, will take viewers on a journey of discovery from the world's tallest building to a bridge higher than the clouds. Along the way, the audience will witness how today's engineers are shaping the world of tomorrow.
More information about the film can be found here.
---
The ASCE Central PA Section would like to Extend a Special Thank You to Our 2018 - 2019 Section Sponsors
Click on each company's business card for more information.