2020 – 2021 Alaska Section President
Justin Kanouse is a Civil Engineer and project manager at DOWL. He has been with DOWL since 2012 and specializes in civil site, and utility designs. Justin was born in Alaska and has lived in Juneau since 1996. Justin has been active in ASCE since 2012 on the branch level, and now on the Section level. He currently serves as the President of the Alaska Section. He is a past president of the Juneau Branch. Justin attended and graduated with a BS in Civil Engineering from the University of Nebraska, Lincoln. After college he returned to Juneau and had 2 beautiful daughters. He returned to engineering in 2012 after successfully running several Juneau businesses.
---
2020 – 2021 Alaska Section Vice-President
Jennifer has over ten years of experience in civil engineering design and construction management throughout Alaska, Wyoming, Nebraska, Montana, and Colorado. Jennifer holds a Bachelor's of Science degree in Engineering Physics from Northwest Nazarene University. Jennifer's project experience includes mining engineering, geotechnical investigation, site planning and development, pavement design, storm water and drainage design, water and sewer design, project management, environmental documentation, and traffic engineering. Jennifer currently works as a Civil Engineer on Fort Wainwright and is responsible for managing road and airfield paving projects; she has previously worked for the City of Fairbanks and Kinney Engineering, LLC in Alaska. When not working, Jennifer enjoys playing in the outdoors with her family.
---
2020 – 2021 Alaska Section Treasurer
Doug has been active in the Anchorage branch since 2013. He served as newsletter editor and then has been an officer for the branch for the last 5 years. He also leads ASCE's Community Engineering Corpsefforts in Anchorage. Doug is the Geotechnical Services Manager at HDL Engineering Consultants where he likes getting muddy and playing with groundwater. When he is not working or volunteering, he canoes and camps with his kids.
---

2020 – 2021 Alaska Section Secretary
Ali served as Secretary of the ASCE Anchorage Branch for two years, assisting with the Branch newsletter and communications. She has a B.S. in Civil Engineering and a M.S. in Geoscience, and is currently working as a geotechnical engineer in Anchorage.
---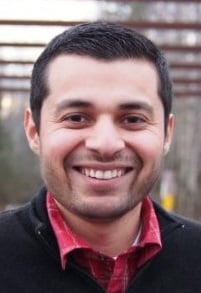 David Gamez, P.E., M.ASCE
2020 – 2021 Alaska Section Past-President
David Gamez is a Civil Engineer with Lounsbury & Associates specializing in geometric design and signalization on highway projects. He holds a B.S. in Civil Engineering from California State University, Fullerton. He is experienced in several aspects of roadway and site design for public agencies across Alaska and the Pacific Northwest.
David has been involved with ASCE and has served in leadership roles with the organization since 2007. He is a contributor to the ASCE Alaska State Report Card, particularly to the Roads portion. He also chaired the Committee on Autonomous Vehicles for the Institute of Transportation Engineers – Alaska Section.
---