031219 Monthly Dinner Meeting at the Norwalk Inn
Tuesday, March 12, 2019 -

5:30pm

to

9:00pm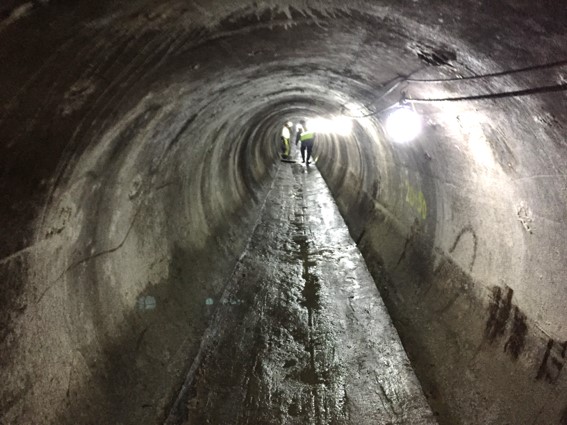 Please join CSCE at this month's dinner meeting at the Norwalk Inn for a presentation on the Great Hill Tunnel Emergency Repair Project in North Branford, CT. Underground utility tunnels present unique construction and operational considerations that require specific approaches to maintenance, repair and rehabilitation. After a leak was discovered on a 1927 vintage 48-inch cast iron pipe (CIP) that transports raw water from its largest reservoir to a treatment plant which serves over 60 percent of its 430,000 customers, the South Central Connecticut Regional Water Authority (RWA) was faced with a critical, complex and challenging emergency repair that was essentially completed within six months at a cost of approximately $15 million. In this case, restoring a tunnel system, which included a 6'-4" wide by 6'-4" high, 2,700-foot long concrete-lined tunnel, transitioning to the 48-inch CIP was far from routine. An innovative, expedited and specialized solution was needed for the water utility's most critical piece of infrastructure. Emergency repairs to the tunnel system required the design and construction of a temporary bypass system that could handle transporting 40 million gallons of water a day. This bypass system included installing 36,000-feet of above-ground, temporary pipelines from the lake intake, up a 150-foot ridge, down and through an active quarry and reconnecting to existing piping near the existing gate house. The bypass system needed to be operational in order to perform the tunnel restoration and complete the installation of a structural liner on the 48-inch CIP under a 30-foot embankment leading to the quarry's main road and rail system. The leak in the CIP was the result of a diver's weight belt being dropped at the transition from the tunnel to the pipeline some 45 years ago during a lifeline rescue.
This presentation will outline the complex planning, engineering, design and construction of a temporary bypass system and detail the full restoration of the concrete-lined tunnel that was required to swiftly and successfully complete this project. It will also examine the steps that the RWA took to confirm the theory of galvanic corrosion of the stainless steel belt buckle on the cast iron pipe.
Speaker(s)
Rose M. Gavrilovic, P.E., Director of Capital Planning and Delivery, South Central Connecticut Regional Water Authority
Orville A.D. Kelly, Capital Construction Lead, South Central Connecticut Regional Water Authority
Darleen P. Buttrick, P.E., Associate, Senior Project Manager, Tighe & Bond
Times
5:30-6:30 p.m. Registration & Social Hour
6:30 p.m. Dinner & Presentation
Location
Norwalk Inn, 99 East Avenue, Norwalk, CT 06851
Registration
CSCE Members: $40
Unemployed CSCE Members: Free
Full-Time Students: $10
ASCE Members who are not CSCE Members: $45
Non-Members: $50
Reservations received and accepted after midnight on March 5th, will incur a $10 additional fee. Payment is required with registration unless other arrangements are made. CSCE cannot give refunds after the final dinner order has been placed.
Please register to attend this dinner meeting by clicking on the following link:
Sponsorships
Table Top Sponsor - $100 - Table signs with your company logo on each dinner table
Flyer Sponsor - $250 - Your company logo on event promotional emails and upcoming events flyer distributed at dinner meeting
Social Hour Sponsor - $1000 - Your company logo will be included on meeting promotional material and signage recognizing your sponsorship will be displayed at the social hour.
To sponsor this dinner meeting, please click on the following link:
Donation Opportunities
Please consider a donation to the CSCE scholarship fund to help civil engineering students at universities in Connecticut. All donations will help students in need. To make a donation to CSCE, please click on the following link: