Organization Links
American Council of Engineering Companies (ACEC)
American Society of Civil Engineers (ASCE)
American Water Works Association (AWWA)
Connecticut Association of Land Surveyors, Inc.
Connecticut Department of Public Health - Drinking Water Section
Connecticut Construction Industries Association (CCIA)
Deep Foundations Institute (DFI)
Engineers Without Borders (EWB-USA)
Institute of Electrical and Electronics Engineers, Inc. (IEEE)
National Society of Black Engineers (NSBE)
National Society of Professional Engineers (NSPE)
Society of Hispanic Professional Engineers (SHPE)
Society of American Military Engineers (SAME)
Society of Women Engineers (SWE)
U.S. Environmental Protection Agency (EPA) Office of Groundwater & Drinking Water
Library Links
Linda Hall Library
Wendt Commons Library
Student Links
ACE Mentor Program
ASCE Student Chapter Faculty Advisors in Connecticut
Central Connecticut State University (CCSU) - ASCE Student Chapter Webpage
MastersinEngineering.com
Quinnipiac University Civil Engineering - ASCE Student Chapter Webpage
Three Rivers Community College - Three Rivers Courses Update: As many of you already know, the last remaining 2-year Civil Engineering Technology program in the state is now terminated, leaving us without any ABET-accredited A.S. programs that count toward professional licensing. However, we are thrilled to report that the TRCC Math and Science Department has responded by creating two new Geomatics classes within the Environmental Engineering Technology program!
The Geomatics classes will continue to be taught by Kevin Franklin, PLS in a classroom/lab setting, and the focus will continue to be on GPS, surveying and mapping fundamentals. Additionally, through recent acquisitions, students will be exposed to robotic and conventional total stations, RTK network rovers, and multiple lab activities conducted on a Carlson Survey 2018 platform.
Seats in the fall Geomatics I course (ENV K163) are filling up quickly. We already have 12 students signed up with only 8 spaces remaining. Please help the Math & Science department with this fledgling program, by lending your support and sending your entry level team members. There is a new (familiar) home in Connecticut for developing Geomatics technicians!

U.S. Coast Guard Academy - Student Chapter Webpage
University of Connecticut - Student Chapter
University of Hartford - ASCE Student Chapter Webpage
University of New Haven - ASCE Student Chapter Facebook Page
Younger Member Links
ASCE - Younger Members Groups
Connecticut Department of Consumer Protection - Licensing Board for Professional Engineers & Land Surveyors
Habitat for Humanity
Brightwood Engineering Education (formerly Kaplan) - FE, PE & SE study materials
National Council of Examiners for Engineering and Surveying
Professional Publications, Inc. - FE, PE & SE study materials
Local ASCE Section and Branch Websites
ASCE Region 1
Boston Society of Civil Engineers Section
Buffalo Section
Maine Section
Ithaca Section
Metropolitan Section (New York City Metropolitan Area)
Mohawk - Hudson Section
New Hampshire Section
New Jersey Section
Puerto Rico Section
Rhode Island Section
Rochester Section
Syracuse Section
Vermont Section
Voluntary Benefits
Real Estate Related Member Benefits
Best of Connecticut
CSCE would like to gather together pictures from projects around Connecticut for its new Biggest in State campaign. The goal is to promote major civil engineering projects in Connecticut. If you know of the longest bridge, tallest building, deepest cut, highest embankment, etc. (be creative), please send a brief description and a photo of it to
admin@csce.org
for inclusion in the next CSCE newsletter and on the CSCE website.
Longest and Deepest Curved Steel Box Girder Bridge
I-84 Eastbound Ramp to I-291 Westbound, in Manchester, CT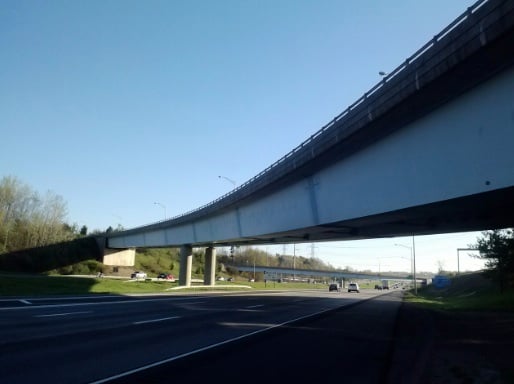 The Longest Curved Cast-In-Place Concrete Box Girder Bridges
I-384 Ramps to Westbound I-84, Manchester, CT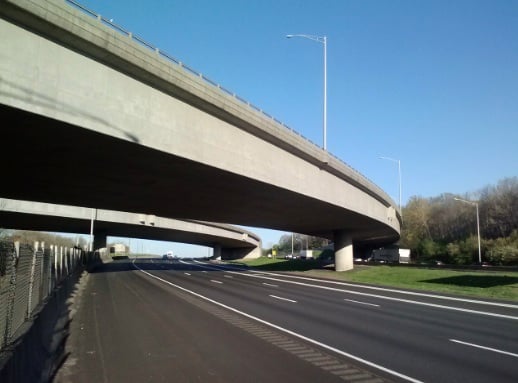 Longest Steel Arch Bridge
South Street over I-84 near Middlebury, CT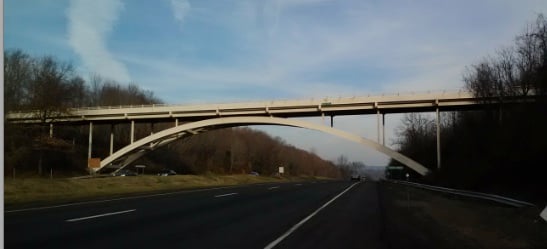 Longest Integral Abutment Bridge
Route 184 over Whitford Brook, Stonington, CT
Integral Abutments - No Deck Joints, 30" Precast Concrete Box Beams w/ 6" Topping
80'-0" Span - 45 Degree Skew