031621 Virtual Lunch Meeting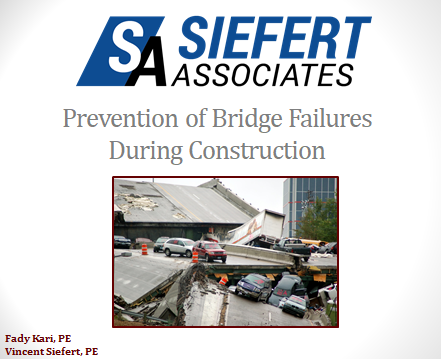 Meeting Sponsor: Fairfield County Branch of CSCE
Topic: Prevention of Bridge Failures During Construction
Please join CSCE at a virtual lunch meeting on Tuesday, March 16, 2021. At this meeting, Vincent Siefert, P.E., and Fady Kari, P.E., of Siefert Associates will provide an overview of the causes of notable bridge collapses and case studies showing better designs that prevent bridge failures.
Vincent Siefert is the President of Siefert Associates, LLC, founded in the NYC-Metro area 20 years ago, and now a leading Construction Engineering firm with projects throughout North America. Vince has a BS from Villanova and a MS from Manhattan College. He is a licensed professional engineer in 12 states and the province of Ontario, with a broad spectrum of experience on many iconic bridges including the World Trade Center reconstruction, the Brooklyn Bridge, Tappan Zee, George Washington, Bayonne and Gordie Howe International Bridge, and numerous Foundation, Railroad, Marine and Utility Projects. Vincent is Chairman of the ASCE Temporary Structures in Construction National Committee, and was inducted in 2017 as a member of the Moles, a fraternal organization for the underground and heavy construction industry.
Fady Kari is the Vice President of Branch Operations and Human Resources at Siefert Associates, LLC. Fady has a BS in Civil Engineering from St. Joseph University in Lebanon and a MS in Construction Management from the University of Kentucky. Fady is a licensed professional engineer in 4 states and has over 25 years of engineering experience with an emphasis on construction engineering. Fady has worked on many significant bridges including the Throgs Neck, Tappan Zee, Bayonne, George Washington and Brooklyn Bridge.
Attendees will have the opportunity to earn 1 New York State Professional Development Hour (NYS PDH) at this event.
Times

12:00 - 1:30 p.m. - This meeting will be virtual. A link will be sent to registrants prior to the meeting.
Registration