April Dinner Meeting & Presentation
(Bridge 1-717 Accelerated Bridge Deck Replacement Using Precast Panels - Design and Lessons Learned)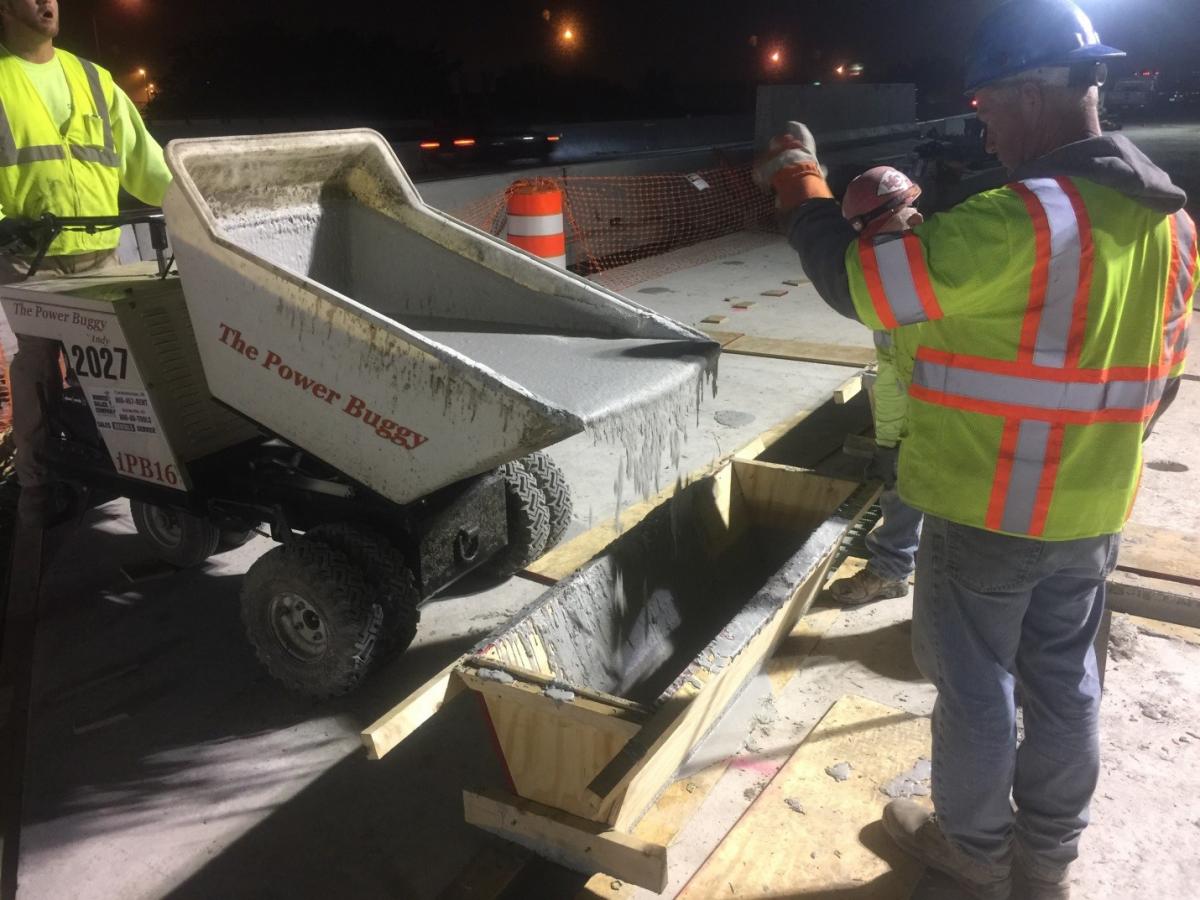 Join the Delaware Section on Wednesday, April 5th, and earn 1.0 PDH as we host our Spring Dinner Meeting featuring a presentation on the fast tracked bridge deck replacement for the bridge carrying Interstate 95 Northbound over Rt. 7/ Rt. 1. As the major artery between Baltimore and Philadelphia, the four lane northbound Interstate 95 bridge carries approximately 85,000 vehicles per day through northern Delaware. When the bridge deck began to deteriorate and the decision was made that a replacement was required, DelDOT quickly determined that the high traffic volumes carried by the bridge made this project a prime candidate for ABC (Accelerated Bridge Construction) techniques. Of several ABC alternatives investigated, full-depth precast panel replacement using Ultra High Performance Concrete (UHPC) transverse and longitudinal joints with a polyester polymer concrete (PPC) overlay was selected as the preferred alternative. Through phased construction, this alternative allowed work to be completed while maintaining 3 lanes of open traffic at all times with on-site work limited to 38 days rather than the 5 months which would have been required for a cast-in-place deck replacement. The presentation will walk through the decisions made during design that lead to the preferred alternative and highlight the critical ABC deck panel design details by the designer in addition to the presentation of construction photos and discussion of construction lessons learned by DelDOT.
The event will begin at 5:00pm and be held at the Sheraton Wilmington South Hotel on Airport Road. The cost for this event is $30 for professionals and $15 for students. Price includes buffet dinner and 1.0 PDH for attending. You can reserve your space now by emailing deasce.rsvp@gmail.com. The deadline for RSVP's is Friday, March 31, 2017 at 2:00pm. See the event page for more information!
---
MATHCOUNTS Volunteers Needed
The Delaware Engineering Society is currently looking for volunteers to help with this year's MATHCOUNTS Competition. The event will be held at the Stanton Campus of the Delaware Technical Community College. 11 Schools and 104 students will be participating in this year's Delaware State Competition. Volunteers are needed to proctor the exam, grade the tests, and provide overall support for the event. Anyone interested in volunteering should contact James Quigley at jquigley@pennoni.com or 302-351-5248.
---
Emergency Repair of Bridge 1-813
On Wednesday March 1st, the Delaware Section is teaming with the Delaware Section of the American Society of Mechanical Engineers (ASME) for a follow-up presentation looking back at the initial emergency situation, data collection, design, construction, and lessons learned. The event will start at 5:00pm and be held at the Composites Manufactruing Science Laboratory, Room 106 on the University of Delaware Campus. The cost for the event is $10 for members and $15 for non-members of ASCE or ASME and students are FREE. The price includes1 - 2 PDH's (depending on the length of the presentation) and a light dinner. You can reserve your space now by emailing langleyt2@asme.org. The deadline for RSVP's is February 28, 2017. See the event page for more information!
---
Special Offer on ASCE webinars for Delaware Section Members
Did you know that as a Delaware Section member you get a discount on ASCE National Webinars? Plus some of the registration fee comes back to help fund other Section activities!
Live Webinars: http://mylearning.asce.org/diweb/catalog/t/2125/c/79
ASCE's live webinars provide cost-effective training for large and small groups. Use Promo Code WEBDELSEC to secure your preferred rate.
On-Demand Webinars: http://mylearning.asce.org/diweb/catalog/t/2135/c/79
ASCE's on-demand webinars provide real-world knowledge and convenient delivery to fit your demanding schedule. Use Promo Code WEBDELSEC to secure your preferred rate.
Announcements
ASCE Remembers
Please join ASCE Delaware as we offer our condolences to 2 of our own Fellow Members who recently passed away. Per the ASCE membership discriptions; "ASCE Fellows have made celebrated contributions and developed creative solutions that change lives around the world. It is a prestigious honor held by fewer than 3.5% of ASCE members." The accomplishments of Dr. Dennis Mertz and Dr. Bangalore Laskshman will be celebrated for years to come and the void left in the Civil Engineering Community by their passing will be challenging to fill. Additional information about a memorial service for Dr. Mertz to be held on UD's Newark Campus can be found here: http://www.udel.edu/udaily/2016/september/in-memoriam-dennis-mertz/
Dr. Dennis Mertz (7/3/1953 – 8/12/2016)
Dennis R. Mertz, professor of civil engineering and director of the Center for Innovative Bridge Engineering at the University of Delaware, died Friday, Aug. 12, 2016, at Christiana Care Hospital. Prof. Mertz, who lived in Newark, was 63. A service celebrating his life will be held at 5 p.m., Monday, Oct. 10, in Gore Recital Hall of the Roselle Center for the Arts on UD's Newark campus. The doors will open at 4:15 p.m. A reception will follow.
Mertz was born in Trexlertown, Pennsylvania, on July 3, 1953. He earned his bachelor's, master's, and doctoral degrees at Lehigh University, where he conducted research under the advisement of John Fisher. The results of his work greatly impacted today's design and evaluation procedures with regard to fatigue of steel connections.
After completing his Ph.D., Mertz went to work for Modjeski and Masters, a major bridge design firm, where he contributed to the design and rehabilitation of numerous important bridges. While at Modjeski and Masters, together with John Kulicki, Mertz was the co-principal investigator of National Cooperative Highway Research Program (NCHRP) Project 12-33, "Development of a Comprehensive Bridge Specification and Commentary," which led to development of the current AASHTO LRDF Bridge Design Specifications, the guidelines by which virtually all bridges in the U.S. are designed.
Mertz accepted a position at UD as an associate professor in 1992. He founded the University's Center for Innovative Bridge Engineering, and he was the founding editor of ASCE's Journal of Bridge Engineering. He published extensively in the field of bridge engineering and helped numerous states and foreign countries to develop and revise their bridge design specifications. Mertz won numerous awards for his work, including most recently the 2016 John A. Roebling Award, awarded for lifetime achievement in bridge engineering. A beloved teacher, Mertz was an avid wine enthusiast and pet lover. He and his wife, Madelyn, enjoyed spending time at their second home in Rehoboth Beach, Delaware.
In addition to his wife, Mertz is survived by his brother, Richard, and sister-in-law, Ann of Allentown, Pennsylvania.
Contributions in memory of Prof. Mertz can be sent to: University of Delaware, Gifts Processing, 83 E. Main St, 3rd Fl., Newark, DE 19716. Checks should be made payable to the "University of Delaware.". Please include Department of Civil and Environmental Engineering/Dennis Mertz when making your contribution.

Dr. Bangalore T. Laskshman (6/8/1934 – 9/16/2016)
Obituary: http://www.legacy.com/obituaries/delawareonline/obituary.aspx?n=bangalore-t-lakshman&pid=181496531&fhid=30260
Dr. Lakshman was a Life Member of The American Society of Civil Engineers since 1999 and was also a Member/Fellow of ASCE. Bangalore was a member of the Delaware Section and named the 2010 ASCE Delaware Section Civil Engineer of the Year. Dr. Lakshman's passion for Civil Engineering led him to found the BTL Foundation which has funded scholarships for numerous Civil Engineering students. Bangalore was a University of Delaware Distinguished Alumni and the Delaware Engineering Society's 1993 Engineer of the Year. His contributions and generosity to our industry will be missed for years to come.