April Dinner Meeting
Wednesday, April 5, 2017 - 5:00pm
Presentation Topic: Bridge 1-717 Accelerated Bridge Deck Replacement using Precast Panels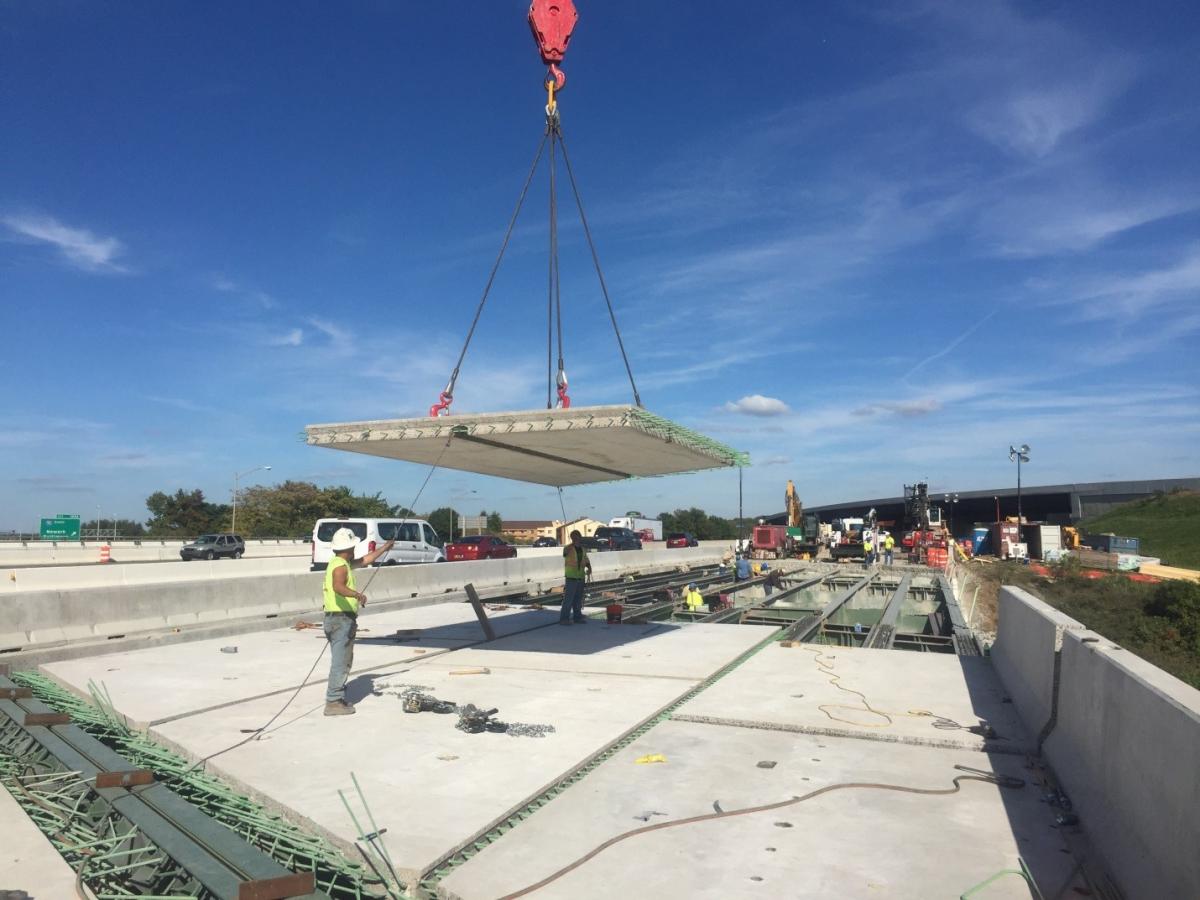 As the major artery between Baltimore and Philadelphia, Interstate 95 carries large volumes of traffic through northern Delaware. With a current ADT of 85,000, Bridge 1-717 carries four lanes of Interstate 95 Northbound over Rt. 7/ Rt. 1, the major North-South route in Delaware. When the bridge deck began to deteriorate and the decision was made that a replacement was required, DelDOT quickly determined that the high traffic volumes carried by the bridge made this project a prime candidate for ABC techniques. Of several ABC alternatives investigated, full-depth precast panel replacement using UHPC transverse and longitudinal joints with a polyester polymer concrete (PPC) overlay was selected as the preferred alternative. Through phased construction, this alternative allowed work to be completed while maintaining 3 lanes of traffic open at all times and the duration of on-site work to be limited to 38 days rather than 5 months which would have been required for a cast-in-place deck replacement. This presentation will walk through the decisions made during design that lead to the preferred alternative and highlight the critical ABC deck panel design details by the designer in addition to the presentation of construction photos and discussion of construction lessons learned by DelDOT.
Attendees at this meeting will earn 1.0 PDH!
Speaker(s)
Jonathan R. Eberle, PE - Jon is a Structural Engineer within AECOM's transportation group. He received his B.S. in Civil Engineering from Bucknell University in 2010 and also holds a M.S. in Civil Engineering from Virginia Tech. Jon works largely for AECOM's complex bridge group based in Mechanicsburg, PA. He has worked on several projects in and around Delaware including projects on the Commodore Barry Bridge, Delaware Memorial Bridge and the I-495 over the Christina River emergency repairs. He is currently working as the senior engineer for the arch span re-decking of Minnesota DOT's High Bridge, a long span steel arch with prestressed ties.
Kevin Lindell, PE - Kevin is a Professional Engineer licensed in the State of Delaware. He is a project manager for the Delaware Department of Transportation (DelDOT). Kevin has 1 year of experience in DelDOT's Construction Section where he manages bridge contracts for the State. Kevin previously worked in DelDOT's Bridge Section for 13 years starting off as a designer and later served as a squad manager overseeing a team of project engineers. Most of his experience in the Bridge Section involved managing and designing bridge replacement and rehabilitation projects in Delaware. He received a B.S. degree in Civil Engineering from the University of Delaware in 2003.
Stephen Richter, PE - A Professional Engineer licensed in the State of Delaware, Steve has 22 years of experience with DelDOT managing the design of bridges, dams and structures throughout the State of Delaware. Steve is a 1983 graduate of the University of Delaware and holds a Masters of Civil Engineering and MBA. Steve is also a US Army veteran serving 29 years in numerous locations including Europe, the Middle East, Bosnia and Panama. With the Department, Steve is involved in determining the scope of work, selection of structure type, overseeing the design process, and providing support during construction. He also coordinates with federal, state, local, and private organizations and conducts public outreach. He has worked on several accelerated bridge projects within Delaware in addition to BR 1-717.
Times
5:00pm - ASCE Social and Cash Bar
6:00pm - Dinner followed by Presentation
Registration
Cost:
$30 - Professionals
$15 - Students
Checks should be made payable to "ASCE Delaware Section".
Please RSVP to deasce.rsvp@gmail.com by March 31, 2017 at 2:00pm.