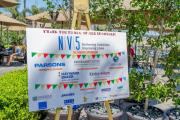 Our 29th Annual ASCE Awards Luncheon at the Dana was a huge success! We had the honor of presenting 15 project awards and 4 individual awards this year. The attendance was through the roof at nearly 230 attendees (the largest I can remember for quite some time) and our sponsors really stepped up to support us, which is the only way we can afford these types of events. I want to personally thank our sponsors one last time: NV5, Parsons, Pasco Laret Suiter & Associates, Geocon, Kimley-Horn, Hayward Baker, Rick Engineering, Dokken Engineering, Michael Baker International, Kleinfelder, Jacobs, Psomas, Moffat & Nichol, STC Traffic, TY Lin International and StormTrap.
I could not have put on this event without the help of many talented and hardworking individuals, which include Trish Pietrzak, Kristen D'Agostino, Kyle Wood, Jose Ramirez, Heather Marshall, John Klemunes, Bobette Bowman, Karina Guevara, Kimberly Wender, Jeff Cooper, Jackie Martinez and Mehdi Khalili. Thank you all for dedicating your time to make this such a great event!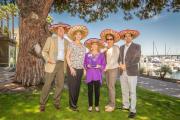 We tried some new things this year, starting with a Friday lunch time event. My committee developed poster boards with all the individual and project award winners for the first time. Our intent was to speed up the formal ceremony to allow more time for socializing, mariachi music, margaritas and the popular "piñata smash"! We hope to continually improve our Awards event each and every year. Feel free to send me an e-mail (
craig.shannon@parsons.com
) with any feedback you may have. Hope to see you all at our next great event, the
Summer Social
at the Point on Mission Bay.
And don't forget to check out the event photos courtesy of Faro Mojahedi (@FaroPhotography, FaroMojahedi@yahoo.com). CLICK THE LINK FOR PHOTOS: https://drive.google.com/open?id=1HG6t8PMExmZccc1BfPIMJgBll4yYgMqe
Sincerely,
Craig Shannon, P.E., ASCE San Diego Section Vice President