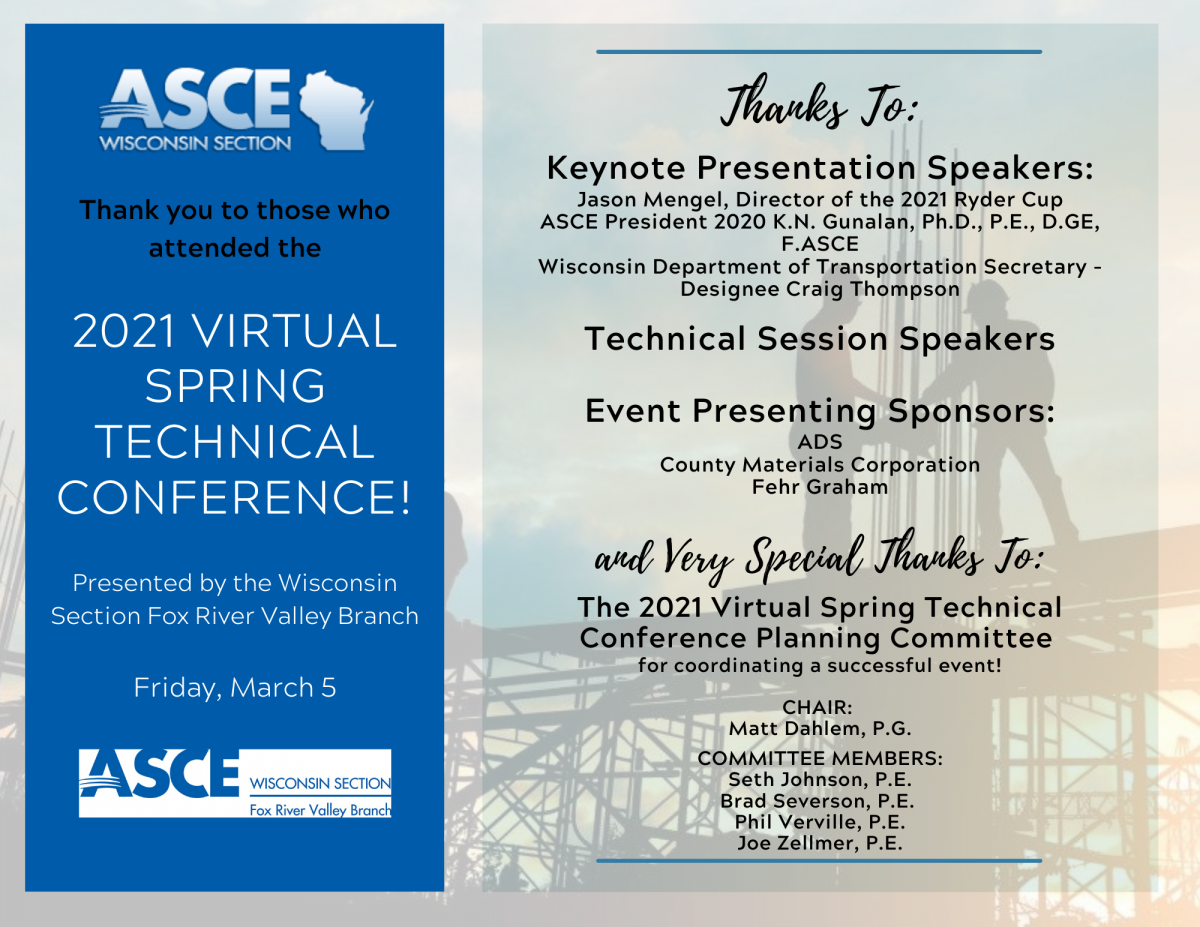 ---

.
---

---
Congratulations ASCE Wisconsin New Life Members for 2021! View the details here.
---

Thank you to over 50 ASCE members who worked diligently over the past 18 months to co-author the report! Check out the full report at www.infrastructurereportcard.org/wisconsin.
---
Welcome to The American Society of Civil Engineers Wisconsin Section
Founded in 1852, the American Society of Civil Engineers (ASCE) represents more than 140,000 members of the civil engineering profession worldwide and is America's oldest national engineering society. The Wisconsin Section of ASCE was originally organized as the Milwaukee Section. The Milwaukee Section started on March 20, 1923. Several meetings were held jointly with the Engineers and Scientists of Milwaukee (ESM) and in September 1926, a contract was signed affiliating the two groups. In April 1938, the Milwaukee Section changed its name to the Wisconsin Section. Over time, four branches have been established-Southwest in 1962, Fox River Valley in 1966, Northwest in 1974, and Southeast in 1977. The Wisconsin Branch currently consists of approximately 2000 members.
ASCE's Mission
Provide essential value to our members and partners, advance civil engineering, and serve the public good.
---

Online Discussion Site for ASCE
Collaborate is the website for ASCE members to discuss issues important to the profession. Just use your already-created ASCE credentials to login and join "Communities" of your choosing, such as the Wisconsin Section and your local branch. Check it out and start collaborating!
---
Announcements
The ASCE 2020 Wisconsin Infrastructure Report Card has been released! What's next?
Follow us on our new LinkedIn Page!
Follow our LinkedIn Company Page to stay connected with us!
We'll use this page to provide updates on all things ASCE-Wisconsin, including industry updates, section events, PD opportunities, Wisconsin Section awards, etc.
Congratulations 2021 New Life Members!
Congratulations 2021 New Life Members!
By: Darrell Berry, PE, F.ASCE-Life, Awards Committee Chairman
We congratulate our newest five Life Members for 2021 listed below. To obtain Life Member status, individuals in the grade of Fellow, Member, Associate Member, or Affiliate must be at least 65 years old, have paid dues in any membership grade except student for at least 35 years and have had ten years continuous membership immediately preceding the attainment of Life Member. 2021 is the year in which our new Life Members satisfy these criteria. Our newest Life Members will be recognized during the 2021 Virtual Spring Technical Conference. Each new Life Member will receive a certificate from ASCE national and a Life Member pin.
Awad Soliman Hanna, F.ASCE
Martin John Hanson, P.E., F.ASCE
Hector R Bravo, P.E., M.ASCE
Candace Susan Groth, P.E., M.ASCE
Thomas William McCoy, P.E., M.ASCE