President's Address
Thursday, November 29, 2018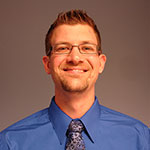 Welcome to the November 2018 issue of the ASCE Wisconsin Section newsletter! I would like to thank you for the opportunity to serve as your President of the Wisconsin Section. I would like to thank my predecessor, Justin Bilskemper, for the great work that he has done over the past year as President of the Wisconsin Section. During his term as President, the Section brought Impact Services on board to help with the administrative duties of our Section. This has helped to bring more consistency to our meetings and planning committees. He also led our group as we decided to undertake the report card. Thank you, Justin, for your contributions this past year and I look forward to continuing to work with you and the rest of the people on the Section Board of Directors as we continue to advance the Wisconsin Section!
If you were not able to attend the Annual Meeting held in Appleton in September, I had mentioned that the Section was looking for volunteers for the report card committee, most notably, chairs of the committee. The report card is a great way for our members to demonstrate our commitment to protecting the public's health, safety, and welfare. Since October, ASCE has released 4 state report cards:
2018 Report Card for California's Surface Transportation Infrastructure
2018 Report Card for Minnesota's Infrastructure
2018 Connecticut Infrastructure Report Card
2018 Report Card for Pennsylvania's Infrastructure
Each of these releases helped to inform voters and had impacts at the polls as many ballot initiatives focused on infrastructure investments were successful. Our Board of Directors sees this a worthwhile endeavor as we push for the 1st update to the Wisconsin report card since 2007. I am happy to announce that Ken Mika from Geosyntec and Jennifer Schaff from County Materials have stepped forward as co-chairs. Both Ken and Jennifer have been active in ASCE at the Branch and Section levels for a number of years. They have already started to generate a plan and are beginning to form a committee. If you are interested in assisting with the report card effort, please email either of them to express your area of interest.
Finally, I would like to mention that the Section is always looking to increase member involvement. This can be as simple as attending a local Branch event or becoming active at the Section or Branch level. As I'm sure that you've heard countless times from many, many others, you get out of a professional organization what you put in. I can definitely say that being actively involved and volunteering for different activities has helped me to develop as a professional and leader while also providing me with a much greater network than what I would have had otherwise. If you are interested in getting more out of your membership and helping us to grow the Section, please contact me or any of your other Board of Directors representatives.
Jared Wendt, P.E.
ASCE WI Section President
November 2018 President's Message
Archived Newsletters
November
August
May
February
November
August
May
March