President's Address
Tuesday, September 10, 2019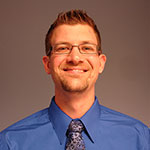 Greetings fellow ASCE Wisconsin Section members. It's hard to believe that this is my final President's Message already. I have really enjoyed serving as your President for the past year. The Section Board of Directors, the localBranch Boards, and our administrative management team (Impact Association Management) have made my job easy. Please thank them for their service to ASCE when you see them at the upcoming Annual Meeting on October 4 in Madison.
As I reflect on what we have accomplished in the past year, I am excited for the direction that the Section is heading. Over the past year, we have really seen the benefit of our partnership with Impact Association Management as our administrative services provider. They have helped us to gain more consistency in our Section events and by taking many of the administrative tasks on, have helped to free up the Board members to be more focused on Section matters. We have recently updated our administrative manual and bylaws to be more in line with current practices and are currently looking at other policies such as the Wisconsin Section reimbursement policy. We have also expanded our newsletter, as you may have noticed in the past few editions, with the addition of new sections and a revised format.
Lastly, the Section is also working hard in developing an Infrastructure Report Card. We have focused a lot of attention to this effort as we have brought in members from the Society for trainings and have sent Wisconsin members to the Legislative Fly-in in Washington, D.C. I am excited for the release next spring and look forward to using it in discussions with legislators. Thank you to Ken Mika, Jennifer Schaff, and the Report Card Committee for your continued efforts towards the report card. Looking ahead to next year, I am excited for the direction that Ken Mika will take us as your next President. Ken is a devoted member of ASCE with involvement in a number of levels of the Society. I have no doubt that he will continue to advance our Section towards our goals and continuing to provide value to our members.
Thank you again for the opportunity to serve you as your Section President this past year.
Sincerely,
Jared Wendt, PE
ASCE WI Section President
Archived Newsletters
November
August
May
February