President's Address
Wednesday, February 20, 2019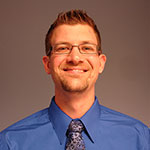 Welcome to the February 2019 issue of The ASCE Wisconsin Section newsletter. With this being the 1st issue of 2019, there's a lot happening at the ASCE Wisconsin Section.
The Section is well underway in its planning for the 2020 Infrastructure Report Card for Wisconsin. Part of the efforts include involvement in the 2019 ASCE Legislative Fly-in in Washington, D.C. March 12-14. This event serves as a great opportunity for ASCE members to meet with their members of congress and to advocate for infrastructure. This year, Wisconsin will have a good showing with 6 members representing 3 of our 4 Branches. With advocacy being the reason for the event, the Report Card will be front and center, making this event a great fit for us as Wisconsin is preparing for its 1 st update to the Wisconsin Report Card since 2007. Most of the attendees have been or will be involved in our update and will be able to bring back great information and experience from the trip in addition to having a valuable meeting with their representatives. If you are interested in getting more involved in advocacy for our profession, Greg Schroeder offered up some great recommendations in the last newsletter. A great recommendation is to join the ASCE Key Contacts. Becoming a Key Contact will help to keep you informed on important developments in public policy. For more information and to sign up, please go the ASCE website and check out the Advocacy Programs, or click here.
Engineers Week is nearly here! This year it is from February 17-23. The purpose of engineers week is to celebrate how engineers make a difference in our world, increase public dialogue about the need for engineers, and bring engineering to life for kids. The various Branches in the Wisconsin Section do a great job with outreach activities throughout the year with various events throughout the year to increase exposure to our industry. Three of our members have been recognized for their involvement as volunteers in K-12 outreach and local community service. Congrats to Larry Ryan (WI Section), Kyle Bareither (WI Section – SE Branch), and Teresa Davis (WI Section – NW Branch) for being recognized for outstanding service for 2018 within Region 3! In addition, STEM Forward in Milwaukee is recognizing ASCE members John Kissinger from GRAEF as the 2018 Engineer of the Year and Kyle Bareither from Ramboll(formerly OBG) as the 2018 Young Engineer of the Year. Congrats to both and thank you for your commitment to STEM! For more information on Engineers Week, please check out this link from the ASCE website.
This past year, the Wisconsin Section partnered with the ASCE National to provide copies of the ASCE movie "Dream Big: Engineering Our World" to every middle school in the state of Wisconsin! The DVD's have begun to arrive at schools and should all be delivered in the next few months. If you have not seen this movie, I would recommend checking it out on Netflix, and share it with others.
Lastly, the Northwest Branch has been busy planning the ASCE Wisconsin Section Spring TechnicalConference. I look forward to seeing you in Eau Claire on March 14!
Jared Wendt, P.E.
ASCE WI Section President
February 2019 President's Message
Archived Newsletters
November
August
May
February
November
August
May
March