President's Address
Wednesday, February 26, 2020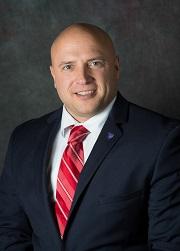 Greetings,
Welcome to 2020 everyone! This is going to be the year of infrastructure for our Section and it couldn't have come at a better time. The state of our nation's infrastructure has been in the news headlines for the last 12-24 months, and Wisconsin is no exception. As a Section, we are on track to release a Wisconsin Infrastructure Report Card in 2020, our first since 2007. This is an important document for our State and Section, as elected officials and governmental agencies consider how to allocate a finite amount of resources toward this issue. Development of this report has been a huge undertaking and has involved many of our Section members. Our Report Card Release fundraiser in Green Bay last month kicked off our year on infrastructure which was very successful. Thank you Carl Sutter, Debby Jackson, Eric Rakers, and Martin Hanson for speaking at the event! Another fundraiser is scheduled in Milwaukee for March and is looking to be very successful, as well. Topic presenters for Milwaukee include Carl Sutter, Kevin Shafer, and Bryan Kennedy. There are also plans in the works for a fundraiser in Madison for some time in April, stay tuned. Depending on where you are located in Wisconsin, you may have a different perspective as to where infrastructure needs to be improved upon. Some parts of the state have had reoccurring flooding. According to the U.S. Army Corps of Engineers Detroit District, water levels on each of the Great Lakes are higher at the beginning of 2020 than they were at the beginning of 2019, which was a year where many record-high water levels were set across the lakes. Other parts of the state are dealing with water quality issues, including the presence of constituents in our groundwater ranging from natural bacteria to man-made chemicals. Ensuring access to clean drinking water can be difficult if you are battling water quality issues like those. This raises a few questions. How can we have too much water in some areas and also have water quality issues in the same or other areas? How do we get clean drinking water to areas of need and also reduce excess water in other areas? Can one of these situations present at least a temporary solution for the other situation? Do we have the infrastructure to solve these problems? These are just two examples of infrastructure concerns we currently face in Wisconsin. These and several other similar issues will be highlighted in the upcoming 2020 ASCE Wisconsin Section Infrastructure Report Card.
Besides all the excitement around the Report Card, we have many more exciting events coming up in Wisconsin over the next few months! The UW-Madison ASCE Student Chapter is hosting the ASCE Great Lakes Student Conference April 2 through 4. Then from June 13 to 15, they are hosting the ASCE National Concrete Canoe Competition in Madison. This will be a great opportunity to see regional, national and even international schools compete in many different events. These events provide excellent platforms to showcase the bright future our industry has with these innovators of tomorrow. If you are interested in sponsoring or volunteering for either event, please see the links below.
Finally, the Wisconsin Section's Spring Technical Conference is right around the corner, being held April 3 in Sheboygan, WI. If you are not assisting with the ASCE Great Lakes Student Conference in Madison that day, the Fox River Valley Branch would love to you see you at the Conference. More information on the Conference can be found here.
Sincerely,
Ken Mika, P.E., ASCE WI Section President