President's Address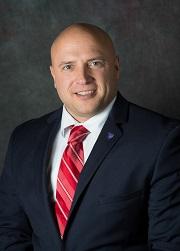 Greetings,
As I said in our last newsletter, this still stands true, I hope every one of our members and their families are staying safe and healthy during these challenging times. I had a wish that life would be back to normal (pre-March 2020), but unfortunately we are living in a new normal.
While we are trying to navigate this new normal, there is a lot of excitement coming in September. On September 15 at 10 am, the Section will be having our virtual release of the Wisconsin Infrastructure Report Card. I am extremely excited to see everyone's efforts come to a reality. Since the effort started in 2019, our members have put in countless hours for approximately 18 months. Thank you to everyone who has contributed, we are almost there!
I am also excited that the Southeast Branch is showing how resilient engineers can be during the pandemic! They have worked tireless to modify the 2020 Annual Meeting to be a virtual event. The event is on Friday, September 18, and will have the general session as well as technical sessions. This is the first time, to my knowledge, that the Wisconsin Section has hosted a virtual Annual Meeting or Spring Technical Conference. I applaud the Southeast Branch's additional efforts from taking an event following typical best practices from an in-person event and doing the extra leg work to turn the event virtual. In addition to the general and technical sessions, the Section will still be awarding the Distinguished Service, Individual Merit, and Project Awards.
The Annual Meeting will also bring the changing of leadership. I know Larry Buechel will be a great President as he already has experience as a Past-President of the Southeast Branch. Larry is very much a hands-on person, does whatever needs to be done to meet a goal, and has no problem getting his hands dirty. Larry is ushering in new opportunities for the Section of which I am excited to see! Coming in as President-Elect is Jennifer Schaff. I have known Jennifer for years and can attest that she is a great leader. She has been passionate about ASCE and leadership in ASCE for years and that reflects on her ASCE resume. I would also like to welcome back Matt Dahlem as Secretary and Andy Walters and Danny Xiao as Directors at Large. All three have been passionate about ASCE and continue to provide great value to our membership.
As I close out my last President's Message, I hope everyone and their families continue to stay safe and healthy during these challenging times. Hopefully we will all get to see each other face to face at the 2021 Spring Technical Conference in Sheboygan, WI.
Sincerely,
Ken Mika, P.E., ASCE WI Section President
Archived Newsletters
November
August
May
February