President's Address
Friday, November 15, 2019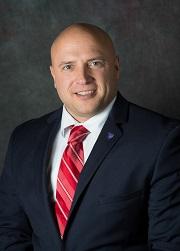 Greetings fellow ASCE Wisconsin Section members. I am very excited to reach out to all of you with my first's president's message! I am honored to be the President ofsuch a devoted group of engineers. Earlier this month, I attended the Committee on Professional Advancement and constituent committees' weekend as part of the Committee on Preparing the Future Civil Engineer. It was a great weekend talking about our plans and goals for 2020 around preparing the future civil engineer. One item that came up a lot in discussion is the ASCE Civil Engineering Body of Knowledge (3rd edition; CE-BOK), which outlines 21 foundational, technical, and professional practice learning outcomes for individuals entering the professional practice of civil engineering. I encourage all members to review the CE-BOK, which can be found here.
I am looking to hear from members this year on what they would like to see more of from our Section. I am a believer that we can always improve. While I know the Section has been doing great work, there is always room for improvement. I am always looking for process improvements and if there is a process improvement that the Section could take on to better meet the needs of our members, I would love to hear about it. Please feel free to reach out to me at my email address (KMika@Geosyntec.com).
I would like to thank Justin Bilskemper for all of his efforts that he has provided to the Section over the years. Justin was involved in the Section for many years and his energy will be missed. I would like to thank Jared Wendt for his leadership to the Section over the last year and I am looking forward to his mentorship as he serves as Past President.
I am excited for our 2019-2020 Section Board of Directors! Besides Jared returning, we have Jennifer Schaff and Marty Hanson still providing great leadership in the Secretary and Treasurer positions as well as Andrew Walters and Danny Xiao as Directors at Large. Larry Buechel will be re-joining the Section as our President – Elect. Former Section leaders have come back to serve again as Directors at Large, Gary Amel and Tom Walther. We also have four new Branch Directors that will help connect our Branches to the Section; Kyle Bareither, Ann Thielmann, Ryan Trzinski, and Corona Woychik. This is a very exciting and diverse group to have involved in the Section's leadership! I can't wait to report back to everyone in early 2020 on what our Section Leadership has been up to!
I hope everyone has safe and happy holidays and hope to see everyone in 2020!
Sincerely,
Ken Mika, P.E.
ASCE WI Section President
Archived Newsletters
November
August
May
February
November
August
May
February