President's Address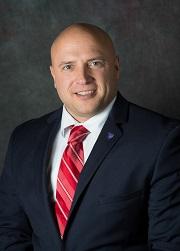 Greetings,
First and foremost, I hope everyone of our members and their families are staying safe and healthy during these challenging times. While COVID-19 has been affecting everyone's work and personal lives, it is also affecting our Society. As a community of engineers, we encourage you to share how COVID-19 has affected you. Please go to ASCE Collaborate and comment in the Wisconsin Section forum on how COVID-19 has affected you. More information on this is in Gregory Schroeder's article in this newsletter.
I am excited to announce that we are closing in on the release of the 2020 Wisconsin Section Report Card! Just over a year ago we had our first meeting to kick off the effort. Many volunteers dedicated hours away from family and friends to research, report and grade our infrastructure. This is a huge undertaking, one that hasn't happened since 2007 in Wisconsin! The planning committee has been carefully weighing our options between an in-person release event and a virtual event. We have watched other states such as Mississippi, push out virtual release events. Based on conversations with our public relations consultant, we feel we could leverage the most impact out of our report card through an in-person event prior to the election cycle (October 1, 2020). We will continue to work with our public relations consultant in monitoring the situation in our state and will finalize our plans when the timing is right. Please continue to monitor your emails and social media for more information on the release.
Another bright spot is the approval of The University of Wisconsin Green Bay Student Chapter! With official recognition from the Society they can participate in all ASCE events and activities. Congratulations to the students and professors who have worked hard to achieve this goal! This is the first Student Chapter in the Fox River Valley Branch and the sixth for the Wisconsin Section! When we return to in-person meetings and events, make sure to congratulate their student chapter members for their efforts!

One of the great things about engineers is our ability to adapt and be resilient. The Southeast Branch is showing us that right now as they are planning to host the 2020 Wisconsin Section Annual Meeting. Due to the unknowns that are to come in the fall of 2020 due to COVID-19, the Southeast Branch is working on developing a virtual format for the meeting. More to come in the next few months on what the virtual event will look like.
As you are aware, we have had some events cancelled. Here are a few updates:
The Fox River Valley Branch was to host the 2020 Wisconsin Section Spring Technical Conference in Sheboygan, WI. The planning committee had worked so hard and requested to host the 2021 Conference in Sheboygan, WI. The Section Board agreed to change the event cycle and the Southwest Branch did not have an issue forgoing the 2021 Spring Technical Conference, we hope everyone is understanding of the situation. More information to come on the 2021 Wisconsin Section Spring Technical Conference in early 2021.
The University of Wisconsin-Madison Student Chapter was to host the 2020 ASCE Great Lakes Student Conference and National Concrete Canoe Competition. They had put a lot of effort into planning and unfortunately, due to COVID-19, these events were cancelled for 2020. The Wisconsin Section shares their disappointment and applauds their ambition and tremendous efforts! We are fortunate to have such dedicated student members!
Now for more excitement! I am excited to announce the 2021 ASCE Concrete Canoe Competition (ASCE is rebranding the name due to the event being an international competition) is scheduled to be hosted in the Wisconsin Section as well. The University of Wisconsin-Platteville will be hosting the event! Congratulations to the UW-Platteville Student Chapter for being awarded the event! Stay tuned for more information from the Student Chapter at UW-Platteville on how you may help put on the event.
It is that time of year for the Wisconsin Section Elections. The Board of Director positions open for this election are President-Elect, Secretary, and two Director at Large positions. If you are interested in any of these positions, please contact Jared Wendt. Ballots are scheduled for electronic delivery by the middle of June and elections will end by the middle of July.
In closing, now that spring is here, we should see summer in a month or two. I hope everyone and their families continue to stay safe and healthy during these challenging times.
Sincerely,
Ken Mika, P.E., ASCE WI Section President
Archived Newsletters
November
August
May
February
November
August
May
February