Welcome to the website of the Cincinnati Section of the American Society of Civil Engineers (ASCE), a professional society for civil engineers. Inside you can find more information about the Section, Section contacts, Section activities and upcoming events by using the Navigation Bar at the top of the page.
The health and safety of our members is our highest priority. Based on guidance from federal, state, and local health officials and National ASCE, the Section cancelled most in-person meetings and events beginning in March 2020 in response to the COVID-19. The Section sponsored virtual seminars and events, and limited in-person activities in the last few years. Now that the pandemic health restrictions have been lifted, we are restarting our in-person programming in late 2022 and plan to be back to our traditional monthly in-person meetings in Calendar year 2023. Please check the events section of this webpage and your email for updates.
Cincinnati Section 100-Year Anniversary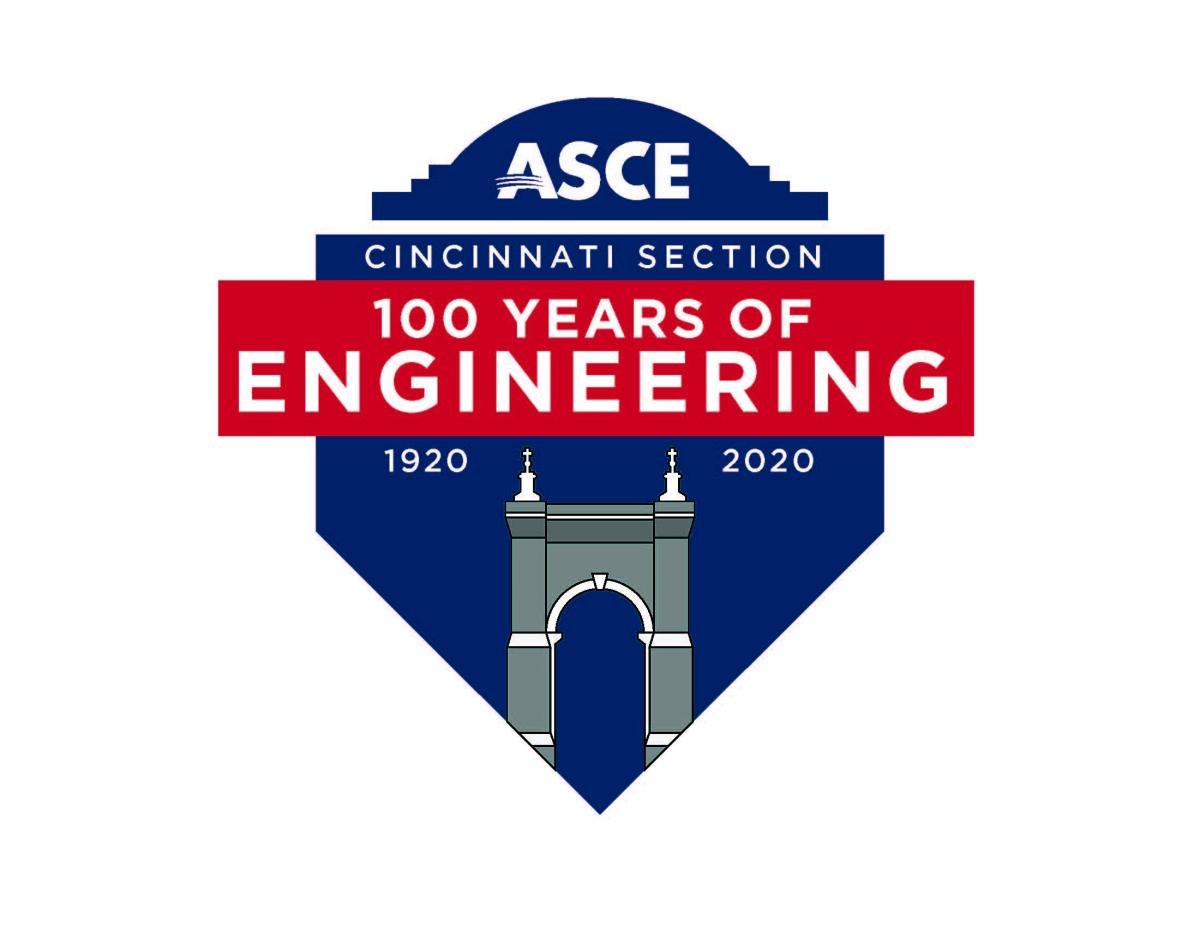 The Cincinnati Section was founded in 1920 and was planning to celebrate its 100-Year Anniversary in 2020. The Section planned a series of events throughout the year to commemorate and celebrate the anniversary. The 100-Year Anniversary activities kicked off on February 22, 2020 with a dinner meeting and a great presentation on Cincinnati's Waterfront by John Deatrick, PE, and John Schneider, two Cincinnati leaders that were involved in many of the decisions and projects that created today's waterfront. After that February event, all in-person meetings and the 100-Year Anniversary events were cancelled. However, as we restart our meetings, we will have a few special events to commemorate the Section's 100-year anniversary and recognize our Anniversary sponsors. Click here for a list of the Section's of 100-Year Anniversary Sponsors.
Section Meetings
Throughout the year, the Section traditionally holds monthly meetings from September through May. Each meeting consists of a technical presentation on a specific project, or civil engineering discipline, and sometimes a tour of a job site when possible. Section events are typically held on the third Thursday of the month, but are adjusted based on speaker schedules and other issues. More information about upcoming events will be included in the events portion of our web page. Details will be added as event plans are finalized.
Section Sponsors
Every year, the Cincinnati Section gives back by providing deserving students in the Cincinnati area with Scholarships that are made possible by generous donations from our Sponsors, which are listed below. If your company is interested in sponsoring the Section, please Contact a Section Officer through the Contacts page, or fill out the Contact Form found on the About page.