Mississippi Section News and Member Information
---
The 2023 ASCE Mississippi Section Meeting will be held September 20-22 in Jackson (Ridgeland), MS.

Mark your calendars and plan to join us for the 2023 Annual Meeting on September 20-22 at the Embassy Suites - Jackson (North Ridgeland)! We plan to have two days filled with wonderful speakers and great networking opportunities.
Click here for more information including a link to registration
Meeting Agenda:
---
2020 Report Card for Mississippi's Infrastructure
2020 Report Card GPA: D+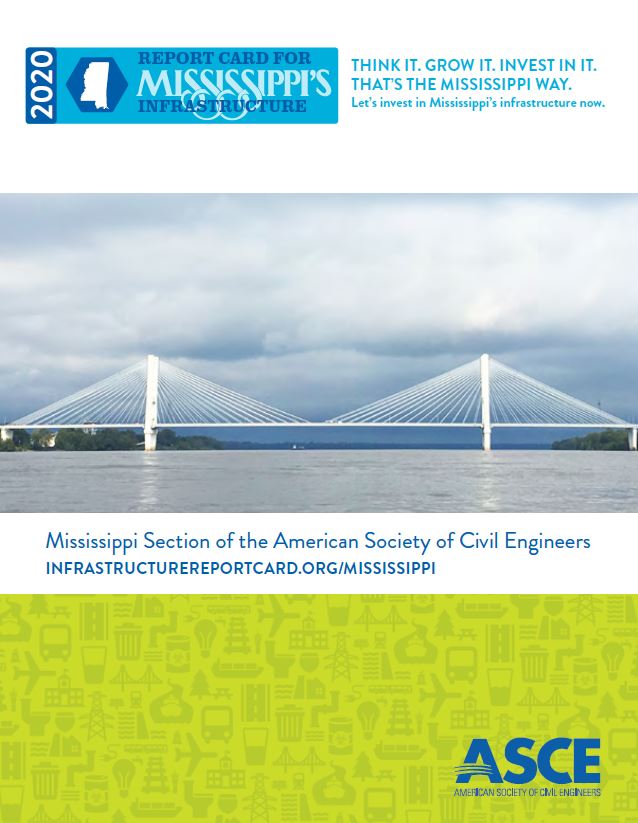 Mississippi's infrastructure systems play a critical role in the state's economic prosperity and help preserve – and can enhance – the quality of life for all Mississippians. However, over the past 15 years, our infrastructure systems have faced numerous, unprecedented challenges in the form of hurricanes, tornadoes, droughts, and floods. Yet, every time Mississippians are faced with a challenge, they rise to meet it. Our infrastructure systems have helped us meet these challenges; now it's our time to help our infrastructure systems. To continue to raise, retain, and attract the best and brightest, Mississippi must invest in strategic infrastructure efforts.
After all, we want Mississippi to continue its long-standing tradition of hospitality, good Lord willing, even if the creek does rise. This is why local engineers with the Mississippi Section of the American Society of Civil Engineers (ASCE) have conducted an exhaustive evaluation of Mississippi's infrastructure, based on publicly available data, reports, analyses, and conversations with state and local agencies. The 2020 Report Card for Mississippi's Infrastructure was developed as a public service to citizens and policymakers to inform them of the infrastructure needs in 12 different categories in the state.
To view the Mississippi Report Card executive summary brochure, click here.
---
Through the support of ASCE and active membership, and the voluntary efforts of elected officers, the Mississippi Section is committed to promoting the growth and advancement of the civil engineering profession in Mississippi, as well as, recognizing individual excellence and leadership.

If you are a member, we invite you to take advantage of the information provided through this website. If you are not currently an ASCE member, we encourage you to join now by clicking here. Membership offers numerous advantages and benefits. We also encourage members to consider volunteering to serve the Mississippi Section of ASCE as a section or branch officer and take advantage of the opportunity to showcase and improve your networking, leadership and speaking skills. Contact one of our section officers to find out how to volunteer for service. We look forward to your participation.
---
Member Information:
Track State Legislation Monitored by ASCE
We are excited to announce ASCE's new legislative and regulatory information service!
StateTrack by CQ Roll Call will provide you with the latest information on bills and regulatory items that ASCE's State Government Relations Staff is tracking in your state. You can access this platform at any time by visiting: http://cqrcengage.com/asce/state/mississippi
---
Knock your meetings out of the park! Sign on an ASCE Speaker.
ASCE's Speakers Bureau, matches speakers and subject matter experts with those who are looking to utilize one of the Society's strongest assets – its members' professional expertise. The Speakers Bureau makes that expertise available through a quality, online program now available as a benefit available only to ASCE members.
Check out the Speakers Bureau http://www.asce.org/online-speakers-bureau/.