CONGRATULATIONS TO THE 2022 AWARD RECIPIENTS
LeTellier Cup -  for Outstanding Lifetime contribution to the profession of Civil Engineering
Mark Lorah PE,

 Johnson Laschober and Associates, Augusta, GA  (CSRV Branch) for his service to the Society since his college career, serving in many elected or appointed leadership roles,  including past president of the South Carolina Section, serving in all Branch officer positions and continuing activities mentoring future Engineers from young children (via Lego projects) through College Senior Capstone Projects.  He was instrumental in obtaining ASCE historical status for the Augusta Canal.
---
SC Civil Engineer of the Year - Engineer that has demonstrated the most outstanding contribution to the profession in South Carolina. 
| | |
| --- | --- |
| | Kevin Krick, PE, LEED AP, AECOM's South Carolina Stormwater Practice Leader (Eastern Branch). He currently serves as ASCE Region 4 Governor as well as on various committees of the South Carolina Board of Professional Engineers and Surveyors.  After the devastating flooding events in 2015 with the "1,000-year flood", 2015 with Hurricane Matthew, and 2018 with Hurricane Florence, Kevin worked with the South Carolina Office of Resilience (SCOR) to develop a Flood Mitigation Study for the Pee Dee and Santee Watersheds.  In the study, potential flood mitigation projects were identified in the watersheds and a prioritization tool was developed to determine how those projects could be implemented with Federal funding over the next 12 years.  Over the past year, Kevin has been influential in working with coastal communities to solve very difficult flooding challenges.  He is currently working wit municipalities, developing stormwater m aster plans and detailed infrastructure designs to mitigate damaging floodwaters i Low-to-Moderate Income (LMI) areas.  |
---
Government Civil Engineer of the Year Award - Outstanding Civil Engineer working for a Federal, State, or Local government service in the state.
---
SC Young Civil Engineer of the Year
–
 member under the age of 35 who has demonstrated the most outstanding contribution to the profession of Civil Engineering in South Carolina in Fiscal Year 2021
 Grace Porter, EIT,

Transportation Design Engineer for AECOM Columbia, SC Office (Midlands Branch).  Grace is the Vice President of the Midlands Branch.  Representing AECOM, she has recently become a member of the Central SC Committee of 100 (C100), a group organized to promote economic development in the South Carolina Midlands.  She mentors Middle and High school students in various venues, including the School of the Minds Science Competition (2019), Kershaw County School District 'Rosie the Riveter' event (2022) and setting up meetings with working engineers and students interested in a career in engineering.  She has mentored two University of South Carolina Design Teams (2019,, 2021), providing assistance to the teams completing their capstone project. 
---
Section Leadership Award – Member of the ASCE South Carolina Section or Local Branch that has demonstrated outstanding leadership and/or service during the past fiscal year.
| | |
| --- | --- |
| | Mr. Jonathan Thrasher (Upstate Branch and Mr. Jonathan Ard (Eastern Branch) for their dedication to the multi-year effort to develop and approve the first South Carolina Infrastructure Report Card.  Their hard work making the Report Card happen led to local and national awareness for our state's infrastructure which can potentially shape future rehabilitation and maintenance budgets for our State's infrastructure.  |
| |   |
---
Section Educator of the Year - Educator within the South Carolina Section Boundaries that has demonstrated excellence at developing the next generation of Civil Engineering Students. 
Dr. Mary Katherine Watson,

 Associate Professor, Department of Civil and Environmental Engineering at The Citadel (Eastern Branch).  She is the senior faculty leading The Citadel's environmental and water resources curriculum, as well holding classes introducing the students to civil engineering.  She encourages discussion, reflection and student engagement with consideration of real-world engineering issues.  She serves as Faculty Advisor for the ASCE Citadel Concrete Canoe Team for four years and as the primary academic advisors for students in their College Transfer Program, working with 35-40 students per year in this role.  She also is the Principal Investigator on several NSF programs tied to educating students in STEM curricula, Excellence in Civil Engineering Leadership (ExCEL) scholarship program as well as exploring the impacts on course modality on cognitive load and self-directed learning. 
---
Technical Merit Award
– 
Recognition for an outstanding project [does not need to have completed in the year] or technical innovation toward the profession of Civil Engineering.
Improving SCDOT Project Delivery through identifying Potentially Suitable Locations for Mitigation and Standardizing Section 401/404 Permit Application Process (Midlands Branch).  The web applications developed by the University of South Carolina for this research project have been adopted and used by the South Carolina Department (SCDOT) to overcome the following shortcomings which had significant effect on its ability to deliver transportation /infrastructure projects on time and on budget: 1) inconsistent permit application submittals among consultants that led to delay in approval by the U.S. Army Corp of Engineers (USACE), 2) inability to consistently identify "red flags" early in the project development process, and 3) lack of mitigation credit coverage.  SCDOT's ability to deliver projects on time and on budget reduces travel delay and safety risks for the traveling public and maximizes the return on investment for the taxpayer. 
---
Project of the Year - The most outstanding civil engineering project completed within the state of South Carolina in Fiscal Year 2021.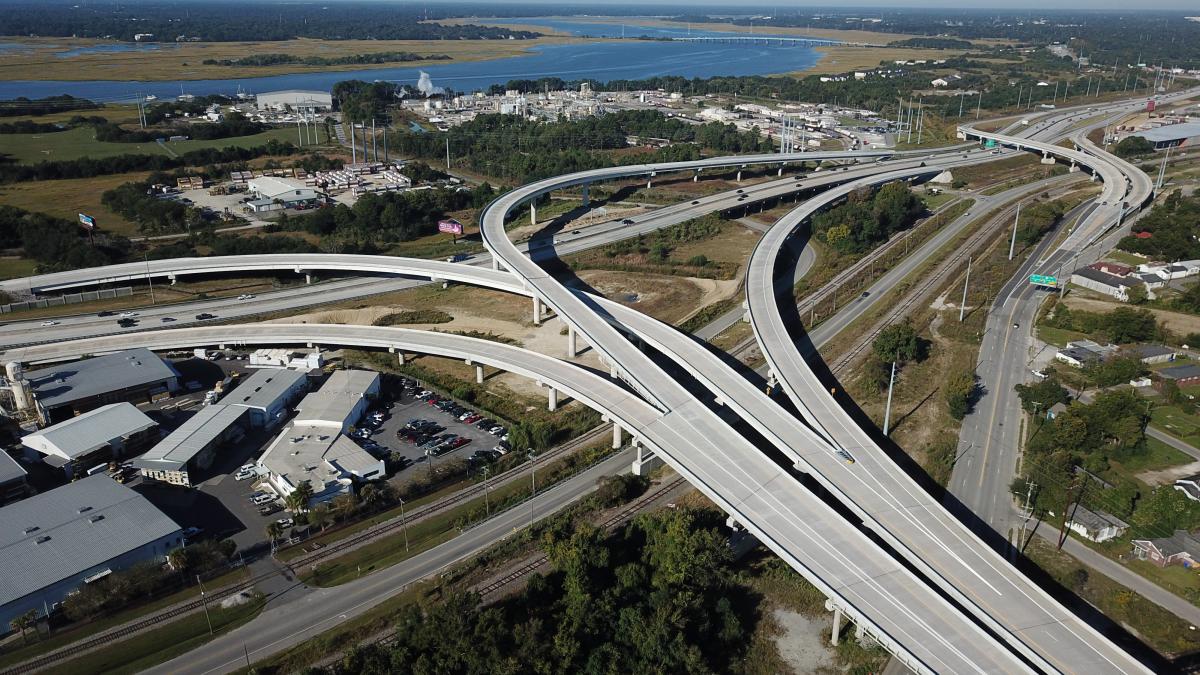 The Port Access Road (Eastern Branch). The engineering design of the Port Access Road Project represents the state-of-the-art in geo-structural and seismic design.  Through in-depth collaboration, the engineering team successfully delivered a functional, constructible and cost-effective design to be enacted for this Design-Build project.  The final design achieved all SCDOT performance goals for every-day use as well as seismic sustainability.  The completed design is a testament to design innovation born from true collaboration.  The Port Access Road for the new Hugh Leatherman Terminal in Charleston provides a critical link between the interstate system and the port, alleviating increased truck travel from the local road system and direct access to I-26. 
---
President's Award
– 
Person, group or firm that has demonstrated significant contributions to the ASCE South Carolina Section by the ASCE SC Section President.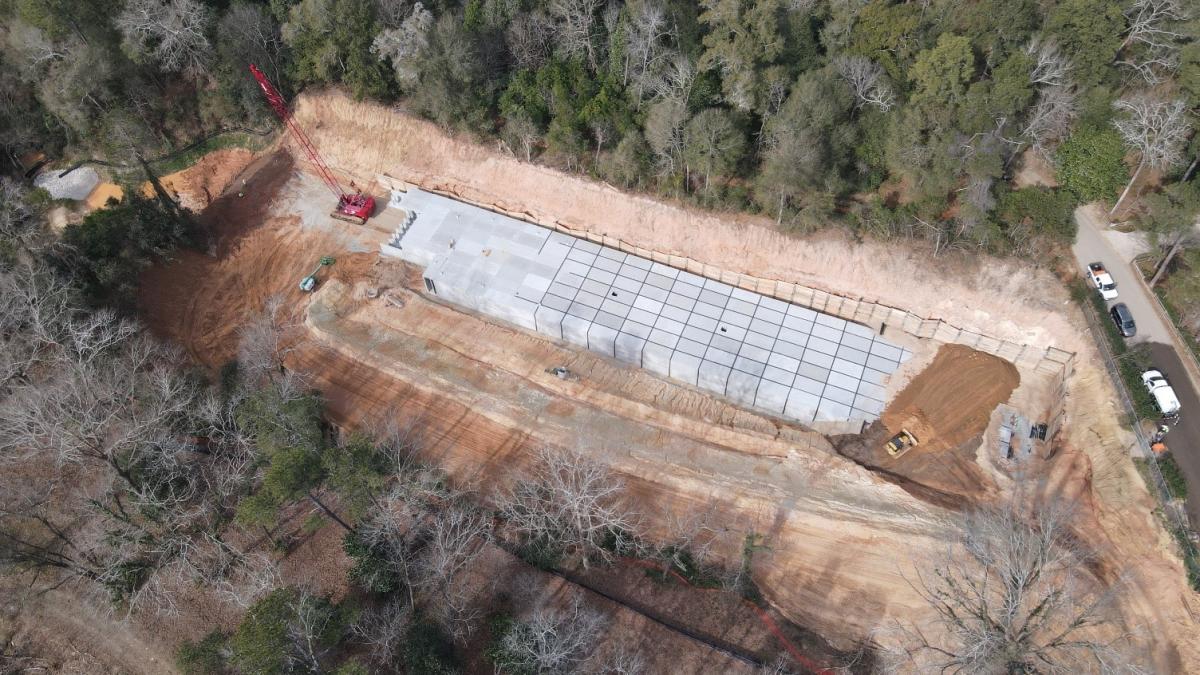 McCormick Taylor (Columbia, SC) in recognition of their work on the Hitchcock Woods Stormwater Project.  This project, when completed, will provide a significant contribution to the South Carolina Section, both as a model for other municipalities struggling with stormwater, and for protecting the remnants of the Historic Hamberg Railway Line (an historic Civil Engineering Landmark) as well as the Hitchcock Woods which is on the National Register of Historic Places ana Heritage Trust Preserve. 
---