NEW ANNOUNCEMENTS
Centennial Book!
To memorialize our 100th Anniversary season and cite the many local landmarks, facilities and efforts that have been brought "to life" by members of our Section over that time, we are creating a keepsake commemorative Centennial Book. The first set of orders are being shipped out this month so there are limited supplies of this book remaining! The final proof of the book will be available for a sneak peek at the January dinner meeting. At future dinner meetings, ASCE Board Members will have a limited number of copies for sale. In addition, you can order this book via the link below:
Order your copy of the ASCE Philadelphia Centennial Book here!
Orders will be processed monthly with anticipated arrival dates at the middle of the month, starting in February
ASCE Presents - Dream Big: Engineering Wonders of the World
ASCE is proud to announce that Dream Big: Engineering Wonders of the World, will premiere in giant-screen theaters Engineers Week, February 2017.
Combined with educational programming and powerful media, Dream Big will:
Inform the public about the important work engineers do, helping to heighten interest and change perceptions about the profession
Inspire young people to consider careers in engineering
Answer the demand for K-12 engineering education resources, in alignment with the Next Generation Science Standards
Stay tuned for more information on how you can view ASCE Dream Big film here in Philadelphia.
Notice: Philadelphia Section New Mailing Address
This summer the Engineers' Club closed its office and will be using its own Post Office Box, which will not be available to other societies as it has in the past. We thank the Club for its assistance with this over the years. Accordingly, Urban Engineers has generously offered to be our "mail drop" for the foreseeable future.
We would suggest that you continue to reach us through our website (www.asce-philly.org) and our e-mail address, info@asce-philly.org, as you need. If you must send us hard copy (non-financial) items, please direct them as follows:
ASCE Philadelphia Section
c/o Urban Engineers, Inc.
530 Walnut Street
Philadelphia, PA 19106
Beginning this season, if you're paying by check to attend Section dinner meetings, please include 1) a copy of receipt generated when registering for the event with your check 2) the event name in the check's memo. Checks can be mailed to:
Marc Preim
STV Inc.
1818 Market Street
Suite 1410
Philadelphia, PA 19103-3616
As a reminder, if you opt to reserve for a Section meeting or event through our website, and would prefer to pay by check, you can certainly bring your check to the meeting and pay at the door. There will be no "at the door" penalty for reservations made by the deadline in this instance.
ASCE Call for Volunteers - Philadelphia Section Committees
We are looking for motivated volunteers to support/lead our various committees. As you can see from below, there is no shortage of options.
- Scholarship
- Social
- Membership
- Public Info/Relations
- Awards
- Publications
- Section History and Heritage
- Legislative Affairs
- Government Employee Outreach
- Humphrey Fund
- Delaware Valley Science Fair Judging
- Engineers Week Programing
- Professional Development/Continuing Education
- OTHER (Is there something you want the Section to focus on? – Let us Know!)
If you are interested in joining any of the above committees or just want to learn about what these committees are all about please contact our Section Membership Secretary, Nha Truong (Nha.Truong@phila.gov) or our Section President, Guy DiMartino (gdimartino@trafficpd.com).
ASCE Philly is on Facebook!
Like our Facebook Page!
ASCE Philadelphia is now on Facebook! Come check out our page for interesting articles, goings on of the Section and YMF, and information on ASCE National.
Thanks for liking our page and sharing! (www.facebook.com/ASCEPhilly)
Special Offer on ASCE webinars for Philadelphia Section Members

Did you know that as a Philadelphia Section member you get a discount on ASCE National Webinars? Plus some of the registration fee comes back to help fund other Section activities!
Live Webinars: http://mylearning.asce.org/diweb/catalog/t/2125/c/79
ASCE's live webinars provide cost-effective training for large and small groups. Use Promo Code WEBPHISEC to secure your preferred rate.
On-Demand Webinars: http://mylearning.asce.org/diweb/catalog/t/2135/c/79
ASCE's on-demand webinars provide real-world knowledge and convenient delivery to fit your demanding schedule. Use Promo Code WEBPHISEC to secure your preferred rate.
Local News Story Features ASCE's Report Card for Pennsylvania's Infrastructure
In June of 2014, the Philadelphia Section, along with the other three Pennsylvania Sections, simultaneously released the 2014 Report Card for Pennsylvania's Infrastructure across the state. Immediately after its release, the Report Card garnered a lot of publicity in the newspapers and on local television news reports. Even more recently, in November of 2014, the report card prepared at the national level received a lot of attention by way of a story that aired on CBS 60 minutes. Shortly after that story aired, the Philadelphia Section was contacted by a local reporter to do a story that discusses the infrastructure needs of Pennsylvania. Having recently completed the PA Report Card, the Philadelphia Section was able to work with NBC Philadelphia to provide some technical expertise related to infrastructure.
Here is a video that NBC Philadelphia ran on February 12, 2015 that looks at the issues surrounding Pennsylvania's structurally deficient bridges. To read the full article, visit NBC's website by clicking here: Bad Bridges Slow Response Time for Firefighters.
2014 Report Card on PA's Infrastructure - Press Release Announcement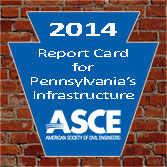 The 2014 Report Card for Pennsylvania's Infrastructure was officially released at 12:01 AM on June 25, 2014. The PA Report Card assigns letter grades in several categories including transportation, public transit, water resources, and other important infrastructure topics relating to public safety and economic development. The Philadelphia Section held a press conference at 30th Street Station to release and discuss the Report Card.
UPCOMING EVENTS
Visit our EVENTS PAGE for all upcoming events.
---
Our Sponsors
---
Our Partners
Announcements
Presidents Message - March 2017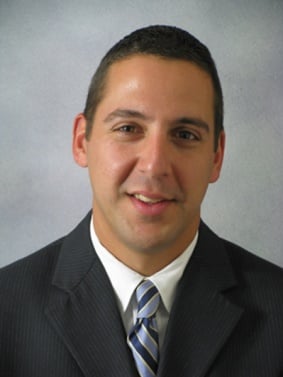 PRESIDENT'S MESSAGE

It's amazing how quickly the past 2 months have gone. The events and celebrations of Engineers Week have concluded, but I would like to extend congratulations on behalf of our Section to this year's Delaware Valley Engineer of the Year, John Nawn, and the Delaware Valley Young Engineer of the Year, Kazi Hassan, both of whom are Section members.
As we all know, the 2013 ASCE Report Card on America's Infrastructure estimated that $3.6 trillion investment is needed by 2020 to improve the Nation's infrastructure. President Trump had a campaign promise to pursue a $1 trillion infrastructure program. The administration has already compiled a list of 50 priority infrastructure projects nationwide totaling approximately $137 billion. This priority list includes 15 structurally deficient bridges on I-95 in Philadelphia. The attention to this critical issue is promising, but I encourage everyone to continue to use your voices to remind our elected officials of the critical condition of our infrastructure and the continued need for a solution.
On the Section front and as is the case with winter (hopefully), the Section's monthly dinner meetings are quickly coming to an end for the season. March will be our last meeting for the year at Maggiano's in Philadelphia, with an exciting presentation about the Delaware River Dredging. Our annual Technical Group Multi-Topic Meeting with breakout sessions will be held on Thursday, April, 6 at the Marriott in West Conshohocken, which is a new venue for the Section and has convenient access to public transportation. The Section is also hard at work on planning the Spring Social, to be held on Thursday, May 4 at the Top of the Tower in Center City. Also, the Section, with the efforts of the Delaware Valley YEOY and Section Board Member, Kazi Hassan, was successful in bringing the "Dream Big" film to Philadelphia for a private screening on April 11. Please check our website and keep an eye out for our emails with more information on these events.
Sincerely, Guy DiMartino, P.E.
President, ASCE Philadelphia Section