Thank You to Our Sponsors:
NEW ANNOUNCEMENTS
Community Health and Safety Update
Like all of you, ASCE Philadelphia and its Technical Groups are carefully monitoring the COVID-19 situation, including Governor Wolf's statewide orders. Our Section will continue to make judgement calls and recommendations based on federal and state guidance regarding hosting upcoming events. The Section holds the member's health and safety as our top priority. For events that we determine should not be held as planned, we will send out a cancellation or postponement notice. We ask for your patience as we continue to navigate through this situation and urge our membership to follow CDC's guidelines to stay safe and healthy.
While adjusting to this new norm of working from home, feel free to visit ASCE Society's COVID-19 Resource site.
If you have any questions regarding an event, please contact the event contact person listed on your registration and/or the event website.
Thank you for being a valued member of ASCE and its Philadelphia Section.
2018 PA Infrastructure Report Card Category of the Month: Ports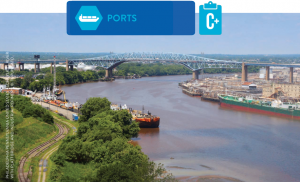 PA Ports Ranked 9th in the Country for Volume of Goods with an Economic Benefit of Nearly $50 Billion
With over 100 million tons of goods moving through Pennsylvania's ports, Pennsylvania ranks 9th in the country for volume of goods that move through ports, providing an annual economic benefit of nearly $50 billion to the Commonwealth. With substantial completion of the Delaware River Channel Deepening scheduled in 2019, and $300 million in major infrastructure capacity investments committed in 2016, the Commonwealth has demonstrated its commitment to be competitive in the global and regional economy. This momentum will need to continue to address condition as numerous facilities have aged past their useful life and are in need of significant infrastructure improvements in order to prevent Pennsylvania facilities from becoming obsolete, which will result in cargo finding another route into the country.
2020-2021 Philadelphia Section Officers and Board of Members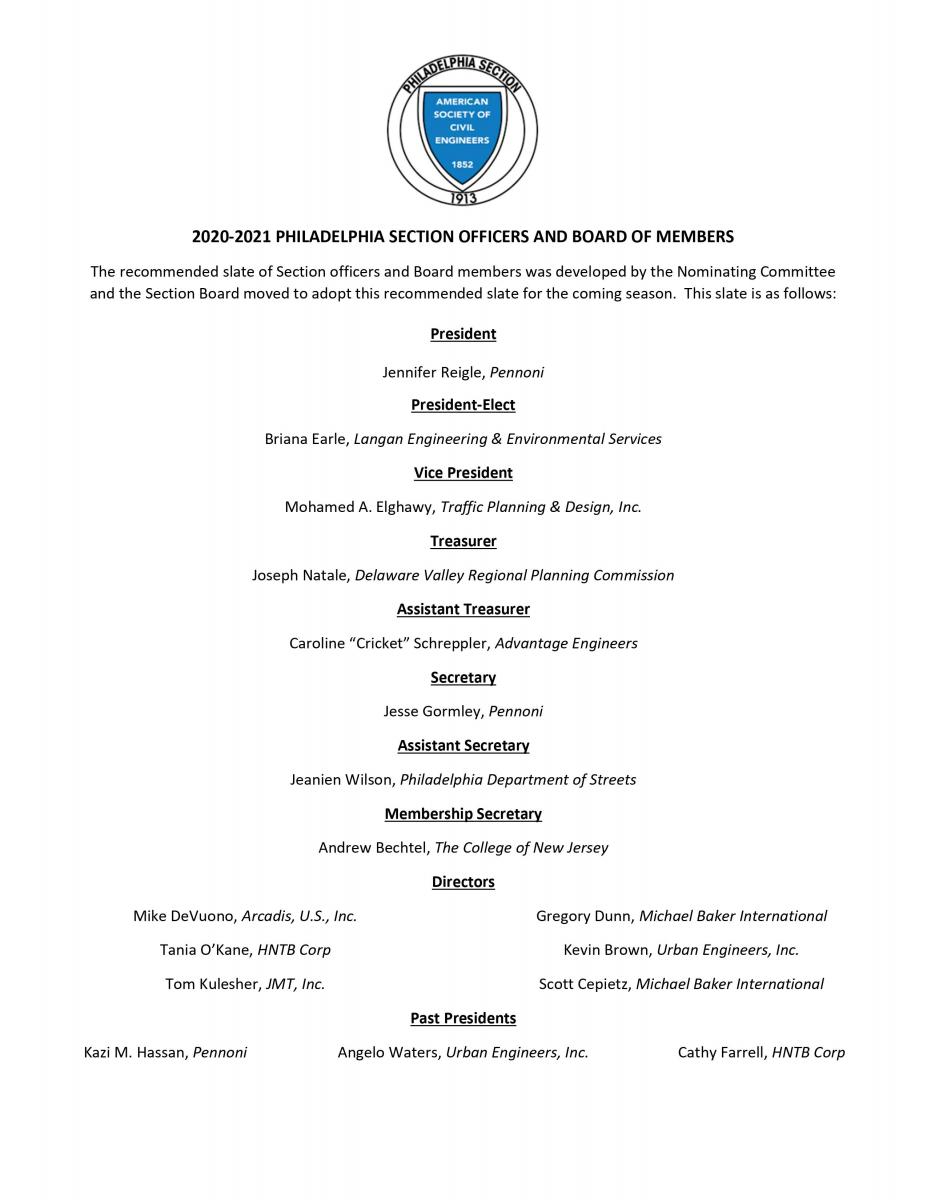 Centennial Book!
Haven't received your copy of the ASCE Philadelphia Section's Centennial Book yet? Don't miss out on your chance to order while supplies last. Preview pages from this book, as well as order the book by visiting our Centennial Book page!
Thanks to Our Section Sponsors - Starting Our 29th Season!
When we first rolled out our sponsorship program at the start of the 1991-92 season, a total of nine "pioneer" firms participated:
Lippincott Engineering Associates
National Timber Piling Council
Pickering Corts & Summerson, Inc.
J. Richard Weggel, PhD, PE
Some of these sound familiar, some are no longer. This season, we have begun our 29th year of the Section Sponsorship program. Thus far, 12 companies have committed to be participate for this season. We extend our special and collective THANKS to each sponsor for their financial commitment and support.
As a sponsor, your business card will appear in each edition of THE NEWS from October through May. Sponsor logos are displayed in a special Sponsors section of our website. Additionally, we provide direct links to sponsors' own websites so prospective employees can review all available and up-to-date positions. We also offer sponsors the opportunity to have a "spotlight" article in an edition of THE NEWS.
If you would like to join, renew or come back after a few years away, we look forward to bringing you into the Section Sponsor fold. All this could be yours for a mere $300 for the season.
Please contact Bob Wright at newseditor@asce-philly.org for more details.
Special Offer on ASCE webinars for Philadelphia Section Members

Did you know that as a Philadelphia Section member you get a discount on ASCE National Webinars? Plus some of the registration fee comes back to help fund other Section activities!
Live Webinars: http://mylearning.asce.org/diweb/catalog/t/2125/c/79
ASCE's live webinars provide cost-effective training for large and small groups. Use Promo Code WEBPHISEC to secure your preferred rate.
On-Demand Webinars: http://mylearning.asce.org/diweb/catalog/t/2135/c/79
ASCE's on-demand webinars provide real-world knowledge and convenient delivery to fit your demanding schedule. Use Promo Code WEBPHISEC to secure your preferred rate.
UPCOMING EVENTS
Visit our EVENTS PAGE for all upcoming events.
---
Our Partners
Announcements
President's Message - May 2020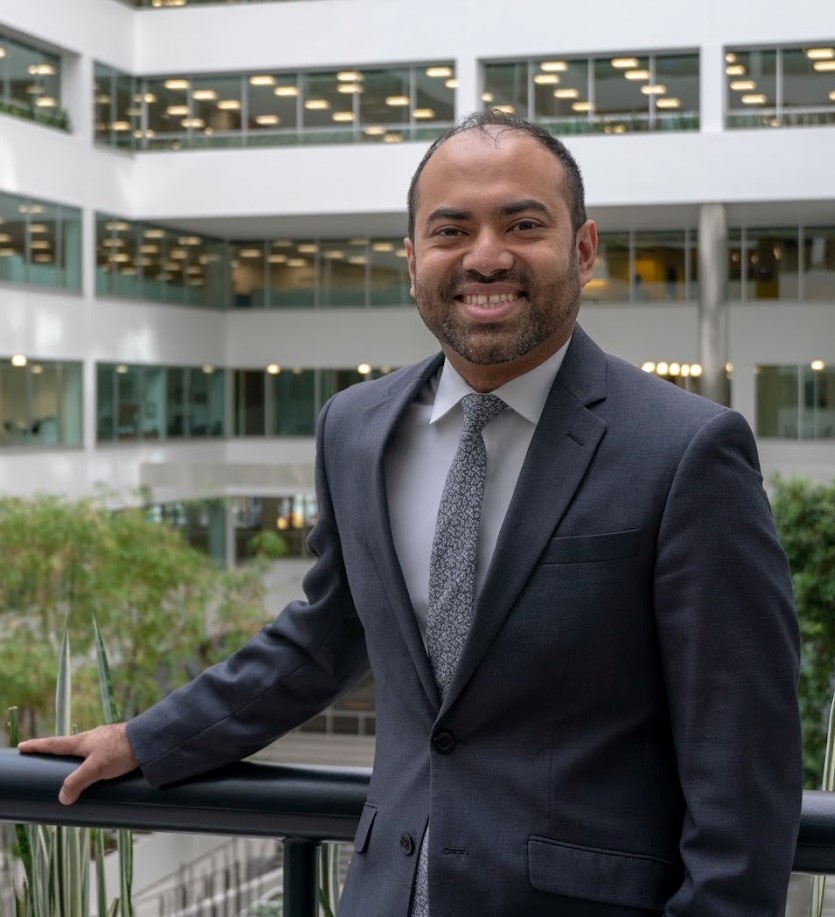 PRESIDENT'S MESSAGE
In years past, the Section's transition into a new year has been a normal and smooth process. Typically, we wrap up our technical events in April and host our Annual Spring Social in May. The social event lets us celebrate our award winners and gives us an opportunity to introduce our new Board members for the following season. This year, however, COVID-19 is continuing to wreak havoc in our communities and is redefining what normal is. Families all over the world are impacted and my heart goes out to those who lost someone in this COVID-19 battle. After weeks of stay-at-home orders and social distancing, we are all adjusting to this new virtual world. We do not know what history has written for us, but for now, we will continue to adapt and stay ahead of this pandemic.
Before we move on to next year, let's take a moment to reflect on a successful 2019-20 season. The Section kicked off its technical meetings in October presenting on "Edge Hill Road/Tyson Avenue reconstruction project in Montgomery County, PA". The November meeting topic covered the "Runway Rehabilitation at Trenton-Mercer Airport in Trenton, NJ". In December, we participated in the Multi-Society dinner meeting led by the Engineers' Club of Philadelphia where we discussed "Resiliency". In January 2020, we collaborated with American Society of Highway Engineers (ASHE) and presented "Scudder Falls Bridge Replacement Project Update". We took a break in our technical meetings in February to celebrate Engineers Week's social events and continued in March with the "Construction of Comcast Technology Center". These events only account for 25% of the 20 professional development hours (PDH) that were offered to our members last year. The remaining 75% of the PDH-worthy events were organized and hosted by our Tech Groups, including Structural Engineering Institute (SEI), Geotechnical Institute (DVGI), Construction Management (CM), Transportation and Urban Development (T&DI), Environmental and Water Resource Group (EWR) and the Younger Member Forum (YMF).
The Section was proud to be a part of the Eastern Regional Younger Member Conference (ERYMC) and Multi-Regional Leadership Conference (MRLC), which was held in downtown Philadelphia. ERYMC and MRLC 2020 brought more than 500 engineers and students from across the country to the City of Brotherly Love & Sisterly Affection. This conference set a new standard for regional conferences and it would not have been possible without the leadership of Kevin Brown and Joe Natale. The two co-chairs, along with the ERYMC planning committee, worked tirelessly to pull off an amazing 4-day conference.
If you are frequent reader of The News, you may have noticed our listing of the Section Committees. In addition to our Section officers and Board members, we are lucky to have numerous volunteers who spearhead or provide support to various committees. The committee members' effort eases the responsibility of all volunteers involved in the yearly operation.
My year as Section President flew by; I feel like it was just yesterday when I was handed the gavel by Angelo Waters at the Masonic Temple in Philadelphia. Leading this Section feels effortless and that is because of the amazing Board members who supported me the entire year. I was blessed to have people that are great leaders, passionate, strong communicators, and self-motivators. I could not have done it without you, so thank you!
To our upcoming President, Jen Reigle, I don't need to wish you luck. I know you will do an amazing job of leading the Section and if you ever need anything, you know where to find me.
Thank you to all our Section members for your continued support!
Kazi M. Hassan, PE
President, ASCE Philadelphia Section
215-254-7720