Thank You to Our Sponsors:
NEW ANNOUNCEMENTS
Nominations Open for 2021 Section Awards
We have opened our Section's Annual Awards Program for nominations. Our Section Awards recognize Section members and others for their contributions to the Civil Engineering profession. All awards will be presented at the Spring Social/Dinner, currently scheduled for May 13, 2021 (watch for updates in future emails).
We encourage you to submit nominations for individuals deserving of recognition for their contributions, achievements, and career milestones.
See the Awards Page for a complete list of awards and details.
Nominations must be received by Friday, February 5, 2021.
If you are interested in submitting a nomination for consideration, please contact Bob Wright, Committee Chair, at 215-433-1666, or via e-mail at newseditor@asce-philly.org, to obtain a nomination form. You may also call Bob if you have any questions or need any additional information on the Section's Awards Program.
Scholarships
Philadelphia Section Scholarships
Would you or a student you know benefit from $1,000 toward their college education? The ASCE Philadelphia Section awards two (2) unique scholarships to local students:
The SECTION STUDENT SCHOLARSHIP awarded to a full-time civil engineering student at one of the Philadelphia Section's five (5) Student Chapters -- Drexel University, Swarthmore College, Temple University, Villanova University, or Widener University; or

The SECTION MEMBER SCHOLARSHIP awarded to a child of an active Philadelphia Section Member when child is matriculating in

any

full-time civil engineering or architectural engineering program at an accredited college or university.
CLICK HERE for more details on the Annual Scholarship Program, including how to submit.
All applications are due February 19, 2021.
Technical Group and Partner Scholarships
Teachable – New Webinar Library is Up and Running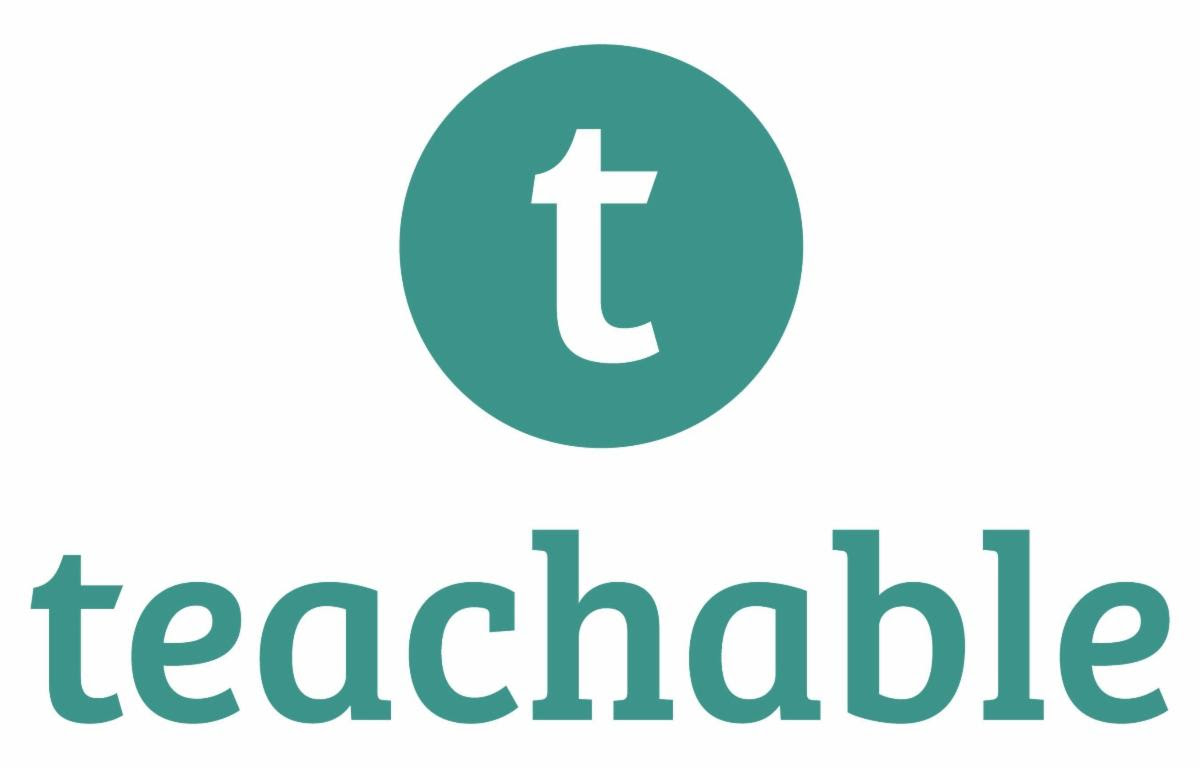 The Philadelphia Section has now launched the new Webinar Library on Teachable.com. As a reminder, Teachable.com is an online platform where the ASCE Philadelphia Section will upload our recorded PDH-worthy webinars, which can be watched at one's own pace and time to earn your PDH. There will still be a delay from the live webinar to its availability online, so don't miss the chance to ask questions at the live event!
Each active member of the ASCE Philadelphia Section has been automatically enrolled in and will receive an email from Teachable.com in the coming days, confirming that you have been added to this program. If your email address hasn't already been used to create a Teachable.com account, you'll also receive instructions on how to do so. For further questions please see our FAQ page. If you haven't received this email, but think you are current on your Philadelphia Section dues, please fill out this form, and we'll get back to you.
These webinars are provided for free to all Philadelphia dues-paying members, as an added benefit of being part of the Philadelphia Section. They will also be available for purchase by non-members, for the same price as the live webinar ($15) or as a 1-year access bundle of $70. In order to obtain the PDH, one must watch 90% of the webinar and get a 75% on the quiz, which is administered on the next screen.
We're very excited to bring this Webinar Library to our members!
PA Infrastructure Update - Bridges
Over the last 3 years, the estimated cost of needed bridge repairs has increased a whopping $9.5 Billion, despite overall progress towards decreasing the number of structurally deficient bridges, according to the 2020 ARTBA Bridge Report. Bridges earned a D+ in ASCE's 2018 PA Infrastructure Report Card.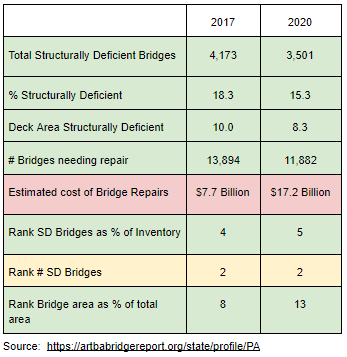 Read more here and don't forget to use this link to tell your elected officials about the Report.
DVGI 2020-2021 Geotechnical Project of the Year Competition
Details: The DVGI Board is excited to announce the 2nd Annual DVGI Geotechnical Project of the Year competition! Entries for will be accepted through April 1, 2021. All submissions will be featured in the DVGI newsletter, and the winner will be announced at DVGI's May 2021 meeting. The project submission template can be downloaded from the DVGI website. We hope that you will consider sharing the details of your recent project successes with us!
Entries due by Thursday, April 1, 2021
Questions: Theresa Loux; (e) tloux@aeroaggregates.com; (p) 610-447-8900
Community Health and Safety Update
Like all of you, ASCE Philadelphia and its Technical Groups are carefully monitoring the COVID-19 situation, including Governor Wolf's statewide orders. Our Section will continue to make judgement calls and recommendations based on federal and state guidance regarding hosting upcoming events. The Section holds the member's health and safety as our top priority. For events that we determine should not be held as planned, we will send out a cancellation or postponement notice. We ask for your patience as we continue to navigate through this situation and urge our membership to follow CDC's guidelines to stay safe and healthy.
While adjusting to this new norm of working from home, feel free to visit ASCE Society's COVID-19 Resource site.
If you have any questions regarding an event, please contact the event contact person listed on your registration and/or the event website.
Thank you for being a valued member of ASCE and its Philadelphia Section.
Government and Policy News
For the latest in Government affairs and policies, please see our Government and Policy page.
Thanks to Our Section Sponsors - Starting Our 29th Season!
When we first rolled out our sponsorship program at the start of the 1991-92 season, a total of nine "pioneer" firms participated:
Lippincott Engineering Associates
National Timber Piling Council
Pickering Corts & Summerson, Inc.
J. Richard Weggel, PhD, PE
Some of these sound familiar, some are no longer. This season, we have begun our 29th year of the Section Sponsorship program. Thus far, 12 companies have committed to be participate for this season. We extend our special and collective THANKS to each sponsor for their financial commitment and support.
As a sponsor, your business card will appear in each edition of THE NEWS from October through May. Sponsor logos are displayed in a special Sponsors section of our website. Additionally, we provide direct links to sponsors' own websites so prospective employees can review all available and up-to-date positions. We also offer sponsors the opportunity to have a "spotlight" article in an edition of THE NEWS.
If you would like to join, renew or come back after a few years away, we look forward to bringing you into the Section Sponsor fold. All this could be yours for a mere $300 for the season.
Please contact Bob Wright at newseditor@asce-philly.org for more details.
Special Offer on ASCE webinars for Philadelphia Section Members

Did you know that as a Philadelphia Section member you get a discount on ASCE National Webinars? Plus some of the registration fee comes back to help fund other Section activities!
Live Webinars: http://mylearning.asce.org/diweb/catalog/t/2125/c/79
ASCE's live webinars provide cost-effective training for large and small groups. Use Promo Code WEBPHISEC to secure your preferred rate.
On-Demand Webinars: http://mylearning.asce.org/diweb/catalog/t/2135/c/79
ASCE's on-demand webinars provide real-world knowledge and convenient delivery to fit your demanding schedule. Use Promo Code WEBPHISEC to secure your preferred rate.
UPCOMING EVENTS
Visit our EVENTS PAGE for all upcoming events.
---
Our Partners
Announcements
President's Message - January 2021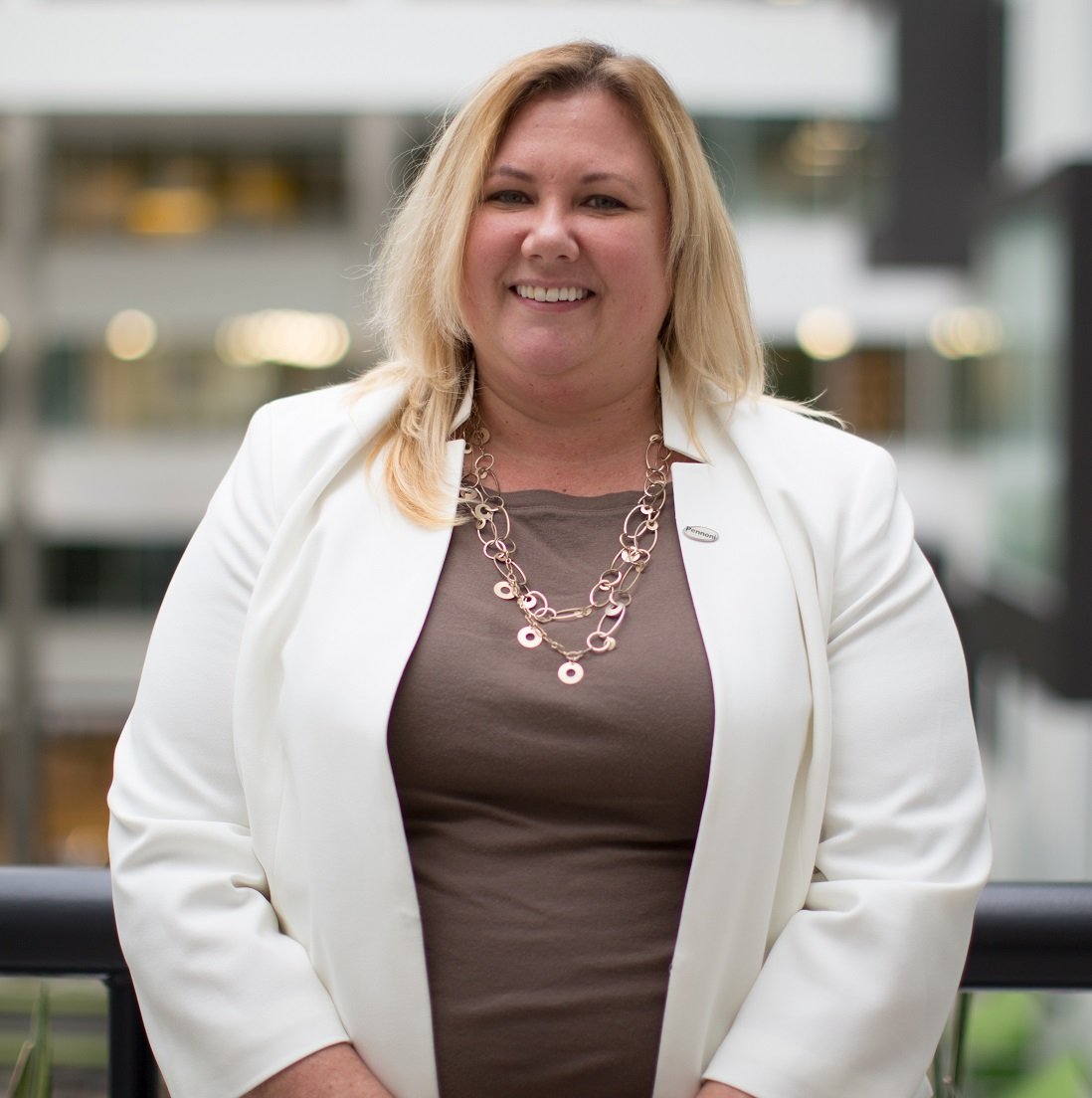 PRESIDENT'S MESSAGE
I write this message in the midst of the holiday season and am left wondering where this year has gone! I, like many of you, am looking forward to closing out the challenging year of 2020 and starting renewed and fresh in 2021. However, I do find myself reflecting over this past year and want to a moment to share the accomplishments of ASCE Philadelphia Section:
Held over 20 PDH worthy technical events, via in-person and virtual platforms, which were organized and hosted by the Section Board, Younger Member Forum (YMF), Technical Groups/Institutions, and partner organizations
Held our first Virtual Welcome Back Social and Awards Ceremony
Developed and implemented our Virtual Webinar Library to provide PDHs via the Section's recorded virtual events
Transitioned the Transportation & Development Tech Group to the Transportation & Development Institute (TD&I) Philadelphia Chapter through the institute approval process
Communicated to our valued members through over 2 dozen email blasts, 10 newsletters, website updates, and countless social media blasts.
Virtually met with government officials to discuss issues pertaining and included in the 2018 PA Report Card
Section and Tech Groups awarded over $10,000 in scholarships
YMF continued their positive impact on K-12 students with various outreach activities, including CivE Club participation
Served the community through Wissahickon Trail cleanup and Adopt-A-Highway programs
Completed the ASCE Mural
As you have heard me state over the past few months, these accomplishments have only transpired with the support of our members and tireless efforts of our volunteers. I cannot thank you all enough!
Looking ahead, we are planning on the following in 2021:
Unveil the ASCE Mural
Participate in the first virtual Delaware Valley Engineers Week (DVEW)
Expand our Diversity & Inclusion focused programs
Provide additional technical and outreach programming
Continue communication with local government officials through grassroots efforts
I hope everyone has had a joyous holiday season and wish everyone a happy and healthy New Year!
Best,
Jen Reigle, PE
Philadelphia ASCE Section President
jreigle@pennoni.com
215-254-7723