Thank You to Our Sponsors:
NEW ANNOUNCEMENTS
Delaware Valley Engineer's Week Award Recipients
As you may be aware, this week is National Engineers Week, a celebration of engineers from all disciplines and their many contributions to society. The diversity of engineering disciplines in the Greater Philadelphia region makes it all the more special that the local celebration, Delaware Valley Engineers Week (DVEW), hosted by the Engineers' Club of Philadelphia (ECP), selected two ASCE members for their top honors in 2021.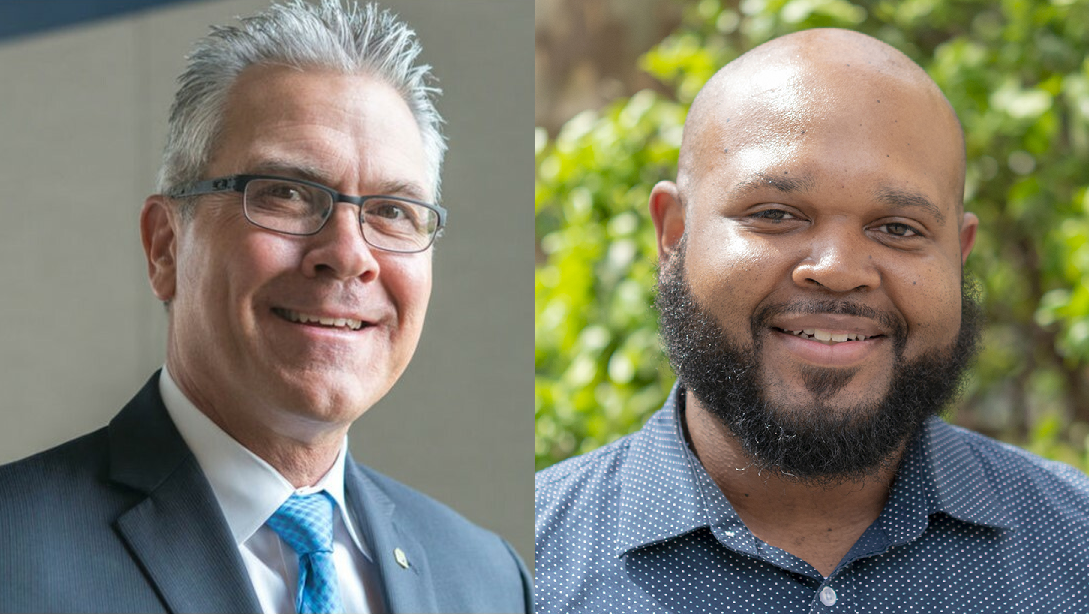 The Philadelphia Section would like to extend our heartfelt congratulations to Bill Thomsen for being named DVEW Engineer of the Year and Kevin Brown for being named DVEW Young Engineer of the Year. Bill is a past Section President and currently serves as the Chairperson for the Philadelphia Chapter of the Transportation and Development Institute. Kevin is a past Younger Member Forum President and currently serves as a Section Director. We thank them both for their contributions and continued commitment to ASCE.
Teachable – New Webinar Library is Up and Running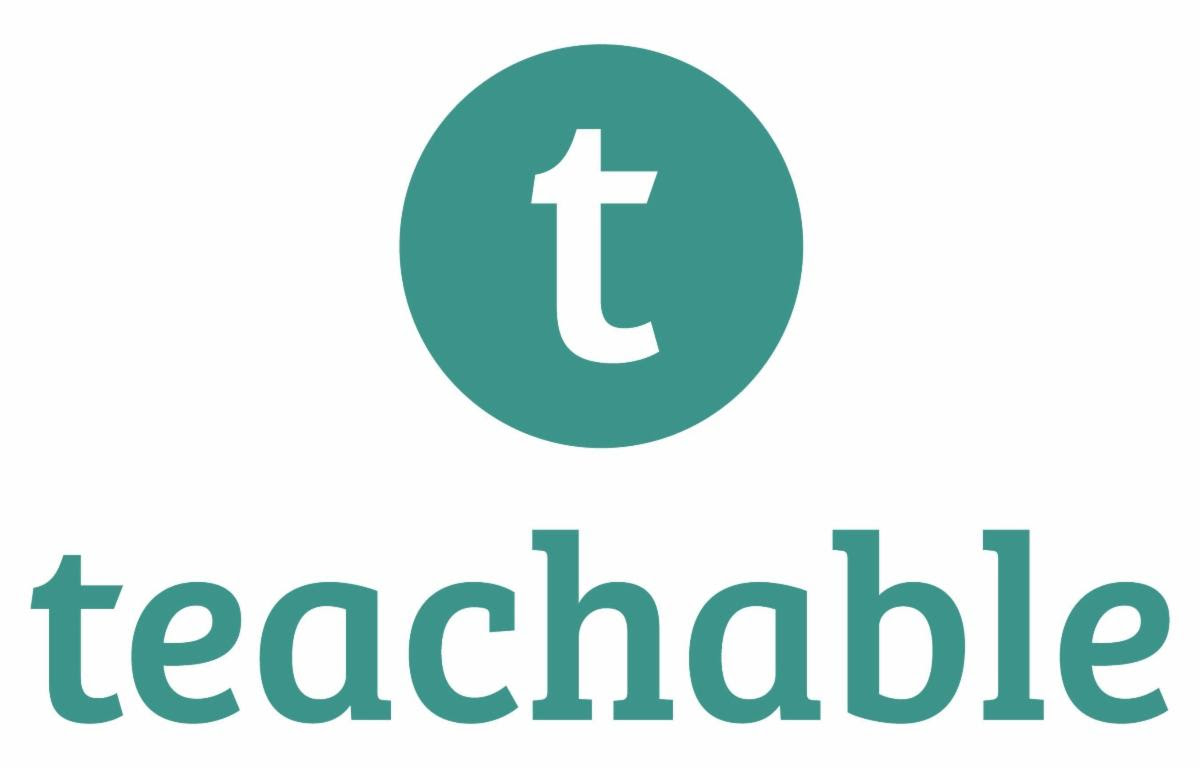 The Philadelphia Section has now launched the new Webinar Library on Teachable.com. As a reminder, Teachable.com is an online platform where the ASCE Philadelphia Section will upload our recorded PDH-worthy webinars, which can be watched at one's own pace and time to earn your PDH. There will still be a delay from the live webinar to its availability online, so don't miss the chance to ask questions at the live event!
Each active member of the ASCE Philadelphia Section has been automatically enrolled in and will receive an email from Teachable.com in the coming days, confirming that you have been added to this program. If your email address hasn't already been used to create a Teachable.com account, you'll also receive instructions on how to do so. For further questions please see our FAQ page. If you haven't received this email, but think you are current on your Philadelphia Section dues, please fill out this form, and we'll get back to you.
Hopefully everyone has had a chance to check out the PDH-worthy, recorded webinars on our Webinar Library on Teachable. Active, dues-paying members of the ASCE Philadelphia Section receive this benefit for FREE. Webinars are also available for purchase by non-members for the same price as the live webinar ($15) or as a 1-year access bundle of $70. Please see our FAQ page if you have any questions about the platform. Please note that membership renewal is currently ongoing (as of January 1, 2021) so your FREE access to the Webinar Library will only remain so if you renew your membership with the Section. If you have not yet renewed, you will receive an email from the Section in the next couple of weeks. Click here to renew your membership.
We're very excited to bring this Webinar Library to our members!
PA Infrastructure Update - Bridges
Over the last 3 years, the estimated cost of needed bridge repairs has increased a whopping $9.5 Billion, despite overall progress towards decreasing the number of structurally deficient bridges, according to the 2020 ARTBA Bridge Report. Bridges earned a D+ in ASCE's 2018 PA Infrastructure Report Card.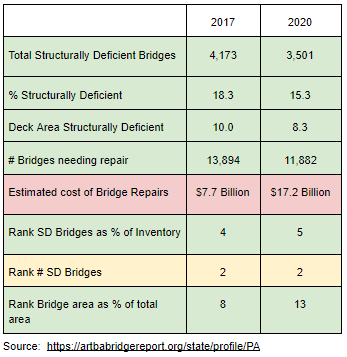 Read more here and don't forget to use this link to tell your elected officials about the Report.
DVGI 2020-2021 Geotechnical Project of the Year Competition
Details: The DVGI Board is excited to announce the 2nd Annual DVGI Geotechnical Project of the Year competition! Entries for will be accepted through April 1, 2021. All submissions will be featured in the DVGI newsletter, and the winner will be announced at DVGI's May 2021 meeting. The project submission template can be downloaded from the DVGI website. We hope that you will consider sharing the details of your recent project successes with us!
Entries due by Thursday, April 1, 2021
Questions: Theresa Loux; (e) tloux@aeroaggregates.com; (p) 610-447-8900
Community Health and Safety Update
Like all of you, ASCE Philadelphia and its Technical Groups are carefully monitoring the COVID-19 situation, including Governor Wolf's statewide orders. Our Section will continue to make judgement calls and recommendations based on federal and state guidance regarding hosting upcoming events. The Section holds the member's health and safety as our top priority. For events that we determine should not be held as planned, we will send out a cancellation or postponement notice. We ask for your patience as we continue to navigate through this situation and urge our membership to follow CDC's guidelines to stay safe and healthy.
While adjusting to this new norm of working from home, feel free to visit ASCE Society's COVID-19 Resource site.
If you have any questions regarding an event, please contact the event contact person listed on your registration and/or the event website.
Thank you for being a valued member of ASCE and its Philadelphia Section.
Government and Policy News
For the latest in Government affairs and policies, please see our Government and Policy page.
Thanks to Our Section Sponsors - Starting Our 29th Season!
When we first rolled out our sponsorship program at the start of the 1991-92 season, a total of nine "pioneer" firms participated:
Lippincott Engineering Associates
National Timber Piling Council
Pickering Corts & Summerson, Inc.
J. Richard Weggel, PhD, PE
Some of these sound familiar, some are no longer. This season, we have begun our 29th year of the Section Sponsorship program. Thus far, 12 companies have committed to be participate for this season. We extend our special and collective THANKS to each sponsor for their financial commitment and support.
As a sponsor, your business card will appear in each edition of THE NEWS from October through May. Sponsor logos are displayed in a special Sponsors section of our website. Additionally, we provide direct links to sponsors' own websites so prospective employees can review all available and up-to-date positions. We also offer sponsors the opportunity to have a "spotlight" article in an edition of THE NEWS.
If you would like to join, renew or come back after a few years away, we look forward to bringing you into the Section Sponsor fold. All this could be yours for a mere $300 for the season.
Please contact Bob Wright at newseditor@asce-philly.org for more details.
Special Offer on ASCE webinars for Philadelphia Section Members

Did you know that as a Philadelphia Section member you get a discount on ASCE National Webinars? Plus some of the registration fee comes back to help fund other Section activities!
Live Webinars: http://mylearning.asce.org/diweb/catalog/t/2125/c/79
ASCE's live webinars provide cost-effective training for large and small groups. Use Promo Code WEBPHISEC to secure your preferred rate.
On-Demand Webinars: http://mylearning.asce.org/diweb/catalog/t/2135/c/79
ASCE's on-demand webinars provide real-world knowledge and convenient delivery to fit your demanding schedule. Use Promo Code WEBPHISEC to secure your preferred rate.
UPCOMING EVENTS
Visit our EVENTS PAGE for all upcoming events.
---
Our Partners
Announcements
President's Message - March 2021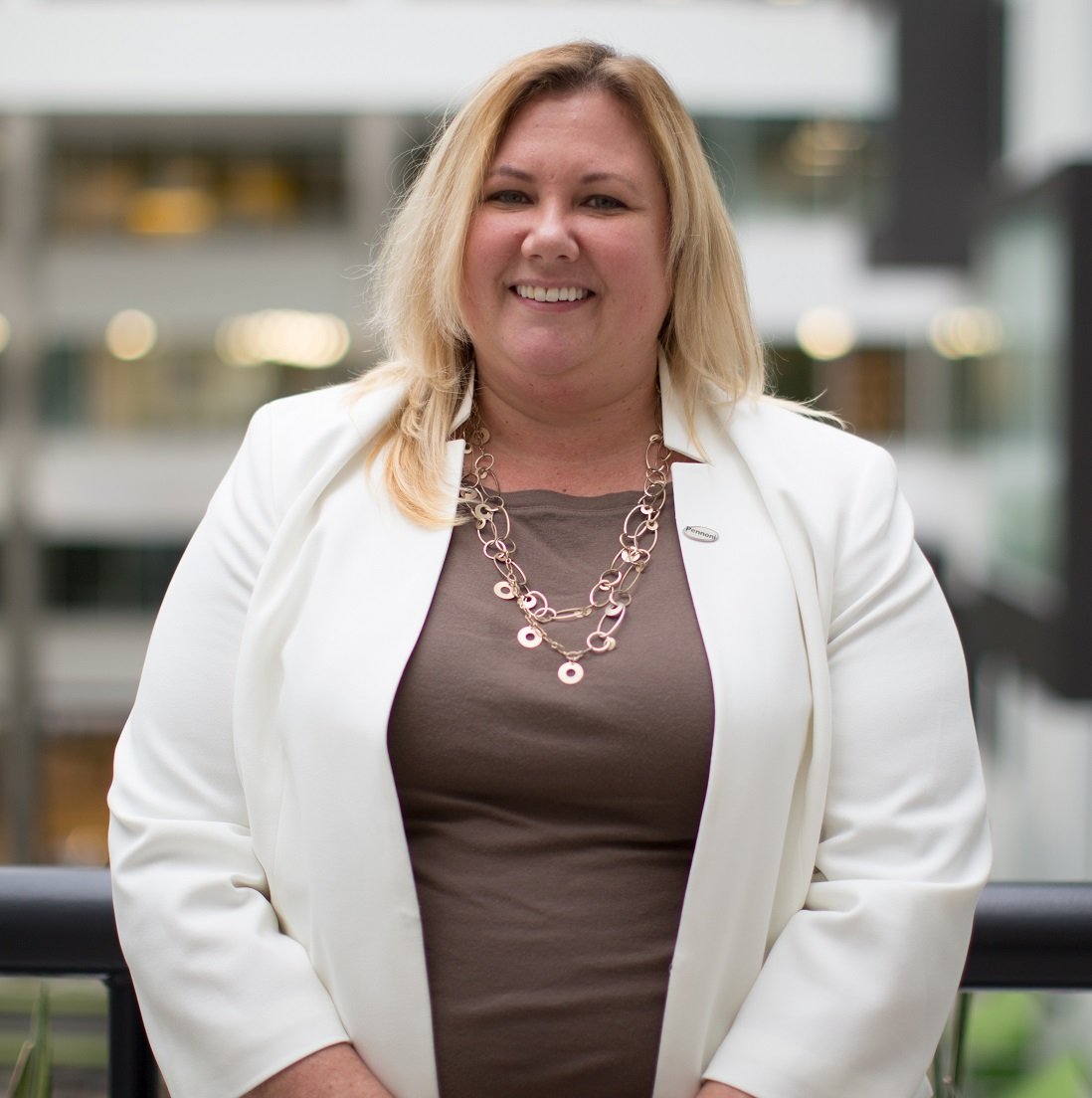 PRESIDENT'S MESSAGE
I am enjoying the warmth of the sunshine through my window, as I am writing this message, and catch myself daydreaming of the soon-to-be spring and summer days! So, hope everyone reading this is doing the same and thawing out from winter! The seasons are not the only changes worth noting and discussing. There are numerous changes occurring in the Nation's and State's Capitals, including new officials taking office and agendas being developed to assist with infrastructure improvement.
With new officials settling into their offices, now is the opportune time to reach out and introduce yourself as an infrastructure expert. Elected officials rely on the knowledge and experience of professionals who are exposed and understand the needs of infrastructure…so yes, you are an expert! What if your elected officials are not new? Reconnect with them to remind them that infrastructure needs their help! If you are not sure who your elected officials are, find out here.
Not sure what parts of infrastructure needs the most assistance? Check out the ASCE Report Card:
America's Infrastructure Report Card
The 2021 Report Card is being released on March 3, 2021. As I write this, I am looking back at the 2017 Report Card with an infrastructure score of D+. Could you imagine showing that one to your parents when you were in school?!
On a local level, there is also an ASCE PA Report Card, that focuses on the needs of PA's infrastructure. The current one was released in 2018 with the next one slated for release in 2022:
Report Card for Pennsylvania's Infrastructure - 2018
Additionally, PennDOT recently announced the exploration of alternative funding sources throughout the state via tolling on up to nine bridges throughout the state, including the I-95 Girard Point Bridge in Philadelphia:
PennDOT Major Bridge P3 Initiative
Here are a few leadership roles that are being filled at the National level:
Secretary of Transportation (confirmed) – Pete Buttigieg, former Mayor of South Bend, IN
Deputy Secretary (nominee) – Polly Trottenberg, former NYC Transportation Commissioner
There has been a lot of buzz related to their experience in transit, high speed rail, complete streets and pedestrian and bicycle infrastructure, which might bode well for these modes and for our urban centers.
We will continue to provide updates on the 2021 Report Card and potential infrastructure improvement bills that we, the experts, can assist in making the most positive impact and continue to protect the health, safety, and welfare of the public while improving the quality of life for all humanity.
As always, check out our website for upcoming events and hope to (virtually) see you all at one soon!
Best,
Jen Reigle, PE
Philadelphia ASCE Section President
jreigle@pennoni.com
215-254-7723