Thank You to Our Sponsors:
NEW ANNOUNCEMENTS
PARC Category of the Month: Parks and Recreation
The Statewide Comprehensive Outdoor Recreation Plan 2014-2019 found state parks require $783 million to bring the system back to a state of good repair.
Pennsylvania is home to more than 3.75 million acres of dedicated parks and recreational areas, including national trails and areas, recreational reservoirs and numerous county, municipal, and city parks. Overall capacity grew to accommodate the 44.5 million parks visitors in 2017 and the Commonwealth ranked fifth in the nation for how much users spend on outdoor recreation. However, national, state and local parks have significant needs. The Statewide Comprehensive Outdoor Recreation Plan 2014-2019 found state parks require $783 million to bring the system back to a state of good repair. The Pennsylvania Department of Conservation and Natural Resources (DCNR) has embraced new funding methods, via the Marcellus shale gas operation, and implemented long-range planning strategies like the PA Outdoor Recreation Plan. While overall state-wide funding may be holding strong, fluctuating budgets put some municipalities in a difficult position when trying to keep up with their increased needs.
Read more Here, and don't forget to use this link to tell your elected officials about the Report.
Leaders Call for Federal Infrastructure Investment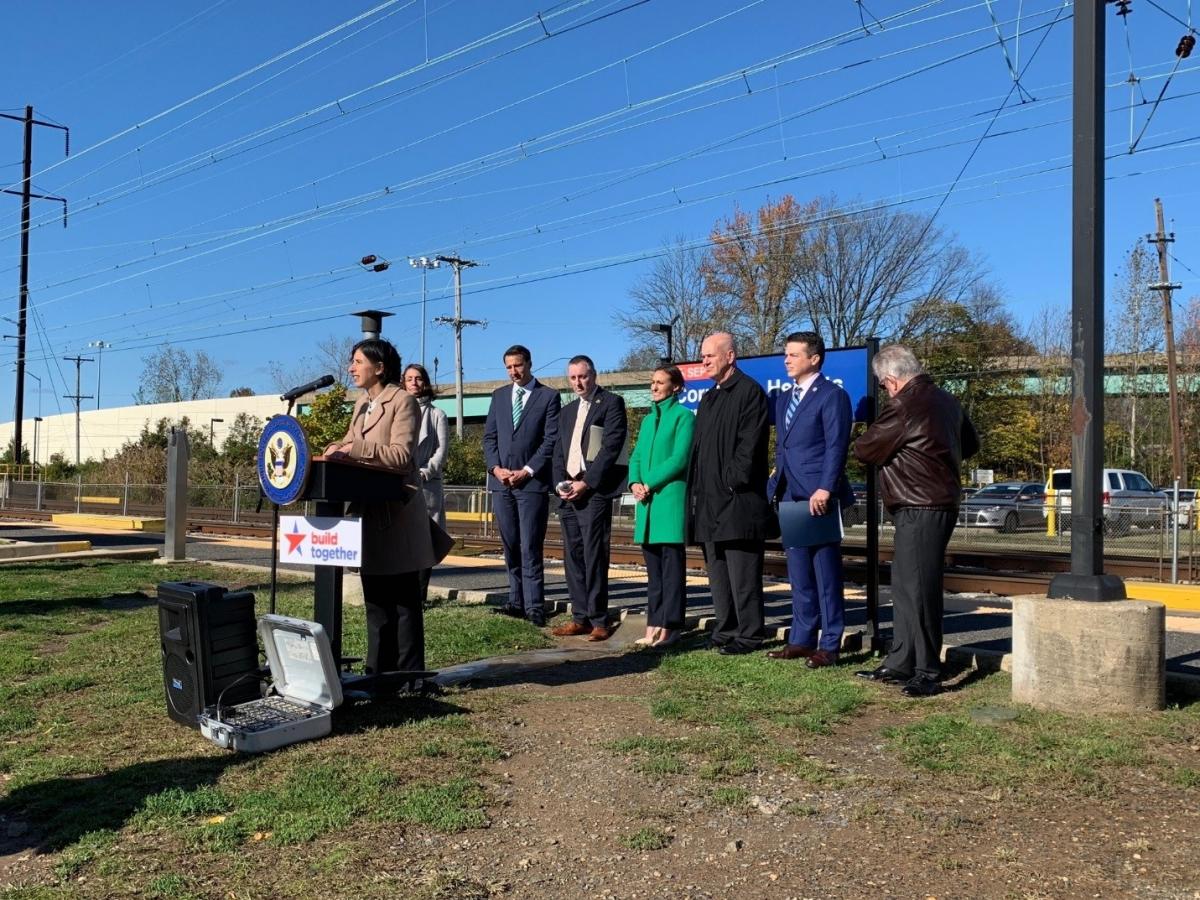 On November 1, Section Past President and PA Report Card Co-Chair Cathy Farrell was invited to a press event with local dignitaries and public officials to highlight the need for passage of a comprehensive federal infrastructure package. This bipartisan call for increased funding that will support union jobs, strengthening of the middle class, and continued environmental health and safety, was conducted at the Cornwells Heights SEPTA Regional Rail station in Bensalem, abutting I-95 and the nearby Delaware River.
Among the speakers at this event were Congressmen Brian Fitzpatrick and Brendan Boyle, former Congressman Ryan Costello, SEPTA General Manager (and Section Member) Jeffrey Knueppel, and community leaders. In addition to lifting up the need for federal mass transit investments, speakers discussed the necessity of improving local drinking water systems and wastewater treatment, bolstering high-speed rail, modernizing schools and the state's electrical grid, rebuilding roads and bridges, investing in local airports and ports, and increasing flood resilience.
In her remarks, Cathy noted, "Most of us take infrastructure for granted in our daily lives – the systems that deliver clean water to our taps, prevent our neighborhoods from flooding, provide essential mobility and process our trash once it's picked up from the curb. Infrastructure moves our economy – when the power goes out, we're not working, when the roads are congested people aren't earning or shopping. As civil engineers, we urge an all-hands-on-deck approach that will involve state, local and federal governments to take action, to increase investment in infrastructure and to make it priority number one."
The press conference was hosted by Build Together as the first stop in its nationwide listening tour growing grassroots support for federal infrastructure investments by elevating local impacts across the country. The tour launches on the heels of new polling and focuses group findings, which show an overwhelming majority of swing-state voters support a robust federal infrastructure plan, including 91% of voters polled in Pennsylvania.
2018 Report Card for Pennsylvania's Infrastructure Has Been Unveiled!
The eighteen categories of infrastructure earned an overall grade of "C-". You can learn more, and read the full report, by visiting http://www.pareportcard.org/.
Government and Policy Update
Starting this month, ASCE Philadelphia will be keeping all of us updated on Government and Policy issues that impact us, our professions, our projects, and our communities.
This month, ASCE is following the budget debate in Harrisburg, which as usual is contentious. For our full write-up by Spencer Finch, please visit our New Government and Policy Update Page!
Once you catch up on the happenings in Harrisburg, PLEASE contact your elected officials and let them know your opinion. It is as easy as one click and one email away: Contact your elected official.
If you would like more information, or would like help writing your message, please contact ASCE Philadelphia's Government Affairs Team: Ann Tomalavage, Bob Wirght, or Spencer Finch.
Centennial Book!
Haven't received your copy of the ASCE Philadelphia Section's Centennial Book yet? Don't miss out on your chance to order while supplies last. Preview pages from this book, as well as order the book by visiting our Centennial Book page!
Thanks to Our Section Sponsors - Starting Our 29th Season!
When we first rolled out our sponsorship program at the start of the 1991-92 season, a total of nine "pioneer" firms participated:
Lippincott Engineering Associates
National Timber Piling Council
Pickering Corts & Summerson, Inc.
J. Richard Weggel, PhD, PE
Some of these sound familiar, some are no longer. This season, we have begun our 29th year of the Section Sponsorship program. Thus far, 12 companies have committed to be participate for this season. We extend our special and collective THANKS to each sponsor for their financial commitment and support.
As a sponsor, your business card will appear in each edition of THE NEWS from October through May. Sponsor logos are displayed in a special Sponsors section of our website. Additionally, we provide direct links to sponsors' own websites so prospective employees can review all available and up-to-date positions. We also offer sponsors the opportunity to have a "spotlight" article in an edition of THE NEWS.
If you would like to join, renew or come back after a few years away, we look forward to bringing you into the Section Sponsor fold. All this could be yours for a mere $300 for the season.
Please contact Bob Wright at newseditor@asce-philly.org for more details.
Special Offer on ASCE webinars for Philadelphia Section Members

Did you know that as a Philadelphia Section member you get a discount on ASCE National Webinars? Plus some of the registration fee comes back to help fund other Section activities!
Live Webinars: http://mylearning.asce.org/diweb/catalog/t/2125/c/79
ASCE's live webinars provide cost-effective training for large and small groups. Use Promo Code WEBPHISEC to secure your preferred rate.
On-Demand Webinars: http://mylearning.asce.org/diweb/catalog/t/2135/c/79
ASCE's on-demand webinars provide real-world knowledge and convenient delivery to fit your demanding schedule. Use Promo Code WEBPHISEC to secure your preferred rate.
UPCOMING EVENTS
Visit our EVENTS PAGE for all upcoming events.
---
Our Partners
Announcements
President's Message - November 2019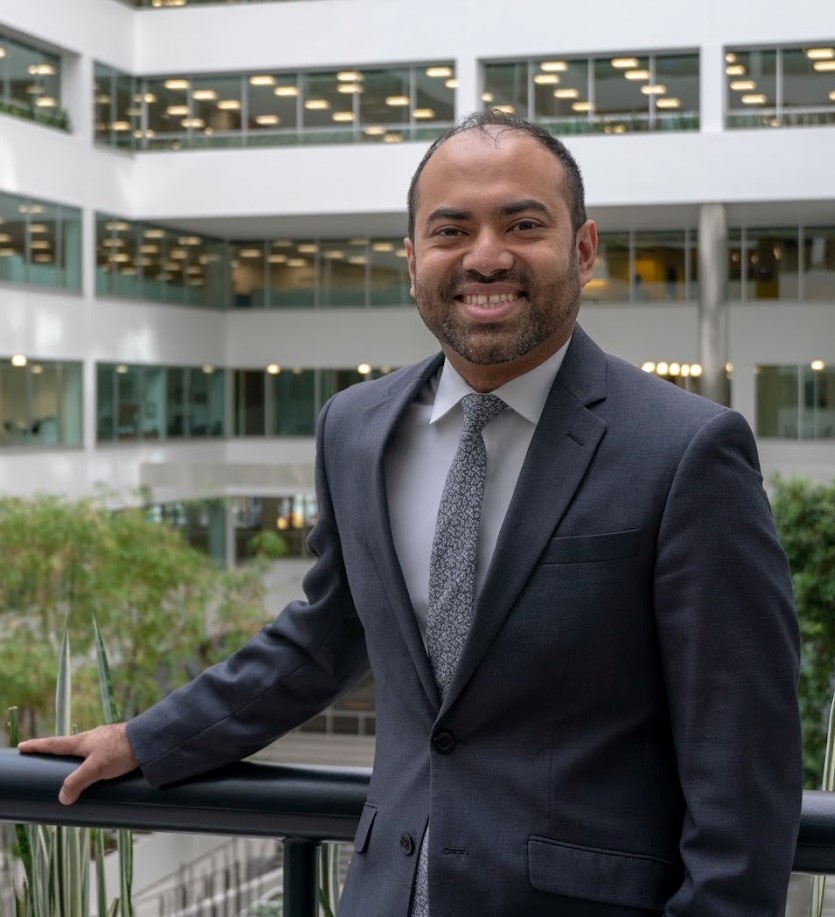 PRESIDENT'S MESSAGE
Our 2019-20 Section year is well under way. Our Section's October Dinner Meeting discussed the Edge Hill Road/Tyson Avenue project in Abington Township. The presentation covered the extensive drainage improvements along both roads, traffic reconfiguration of a portion of Edge Hill Road, and one-on-one coordination with more than 350 residents whose properties were impacted by the project. This project is a great example of how civil engineers has an impact on daily lives of local community and society.
The October dinner meeting, along with other lunch/dinner meetings offered by our Technical Groups, has resulted in five events that provided Professional Development Hours (PDH) this early in the season. We have many more events planned for the upcoming months and hope you can join us as we all learn together.
Last month, I shared my background story with you all to give you an idea that I might see the world a little differently. You all have your own stories and it's important for all of us to respect and understand the different life experiences everyone has been through because that's what make each of us unique. We can all accomplish this is by discussing Diversity & Inclusion (D&I). Our Younger Member Forum has created a Task Committee on D&I and they will create a path forward for our Section to promote D&I in our civil engineering community. If you have any ideas for our D&I committee or if there are topics you would like us to consider, please reach out to me.
"I challenge us all to have the courage of our convictions to fight for a
fair, justice and inclusive society."
~Opal Tometi
Kazi M. Hassan, PE
President, ASCE Philadelphia Section
215-254-7720