Thank You to Our Sponsors:
NEW ANNOUNCEMENTS
TAKE ACTION - Support State DOT Revenue Needs Amid Pandemic
The Fixing America's Surface Transportation (FAST) Act is set to expire on September 30, 2020. This deadline, coupled with COVID-19-related reductions in federal and state transportation revenues, will lead to project delays and risks a subpar transportation network. ASCE is urging Congress to pass legislation before September 30th that includes:
• A one-year extension of the current surface transportation law with increased investment levels
• Federal funding for state departments of transportation and public transit agencies - $37 billion and $32 billion, respectively
• Provisions to ensure Highway Trust Fund (HTF) solvency for the duration of the extension.
Please join us in our effort and remind to Congress act now! TAKE ACTION
CHECK OUT THE LATEST GOVERNMENT AND POLICY UPDATES
2018 PA Infrastructure Report Card In The News
Have you seen the 2018 PA Infrastructure Report Card in the news? The Report Card is designed as a simple tool to help residents, businesses, and policymakers understand the state of PA's infrastructure. Sharing the Report Card findings through news articles like these are key to continuing informed conversations about how to improve our infrastructure.
Notable to the conversation, critical decisions are going to be made in the coming year on infrastructure. Given the impact COVID 19 has had on sources of revenue for planned infrastructure work, government agencies have needed to change their paradigms; therefore, certain recommendations made in the 2018 Report Card on how to raise the grades need to be revised as we move forward. For example, a decrease in commuting has resulted in lower gas tax revenues, tolls, and transit fares. These considerations will be expanded upon in the future Report Card with the current 2018 Report card as a benchmark.Have you seen the 2018 PA Infrastructure Report Card in the news? The Report Card is designed as a simple tool to help residents, businesses, and policymakers understand the state of PA's infrastructure. Sharing the Report Card findings through news articles like these are key to continuing informed conversations about how to improve our infrastructure.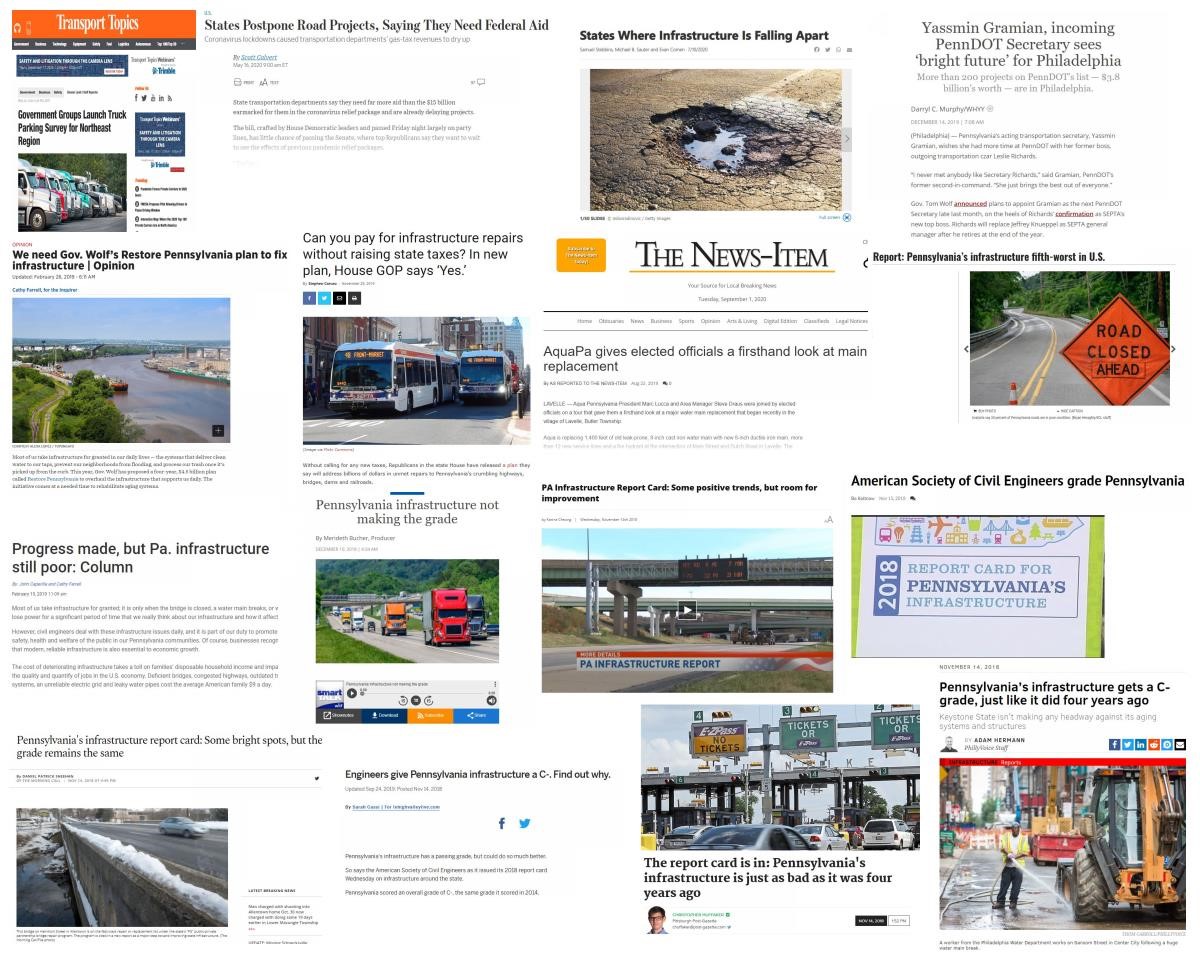 Community Health and Safety Update
Like all of you, ASCE Philadelphia and its Technical Groups are carefully monitoring the COVID-19 situation, including Governor Wolf's statewide orders. Our Section will continue to make judgement calls and recommendations based on federal and state guidance regarding hosting upcoming events. The Section holds the member's health and safety as our top priority. For events that we determine should not be held as planned, we will send out a cancellation or postponement notice. We ask for your patience as we continue to navigate through this situation and urge our membership to follow CDC's guidelines to stay safe and healthy.
While adjusting to this new norm of working from home, feel free to visit ASCE Society's COVID-19 Resource site.
If you have any questions regarding an event, please contact the event contact person listed on your registration and/or the event website.
Thank you for being a valued member of ASCE and its Philadelphia Section.
2020-2021 Philadelphia Section Officers and Board of Members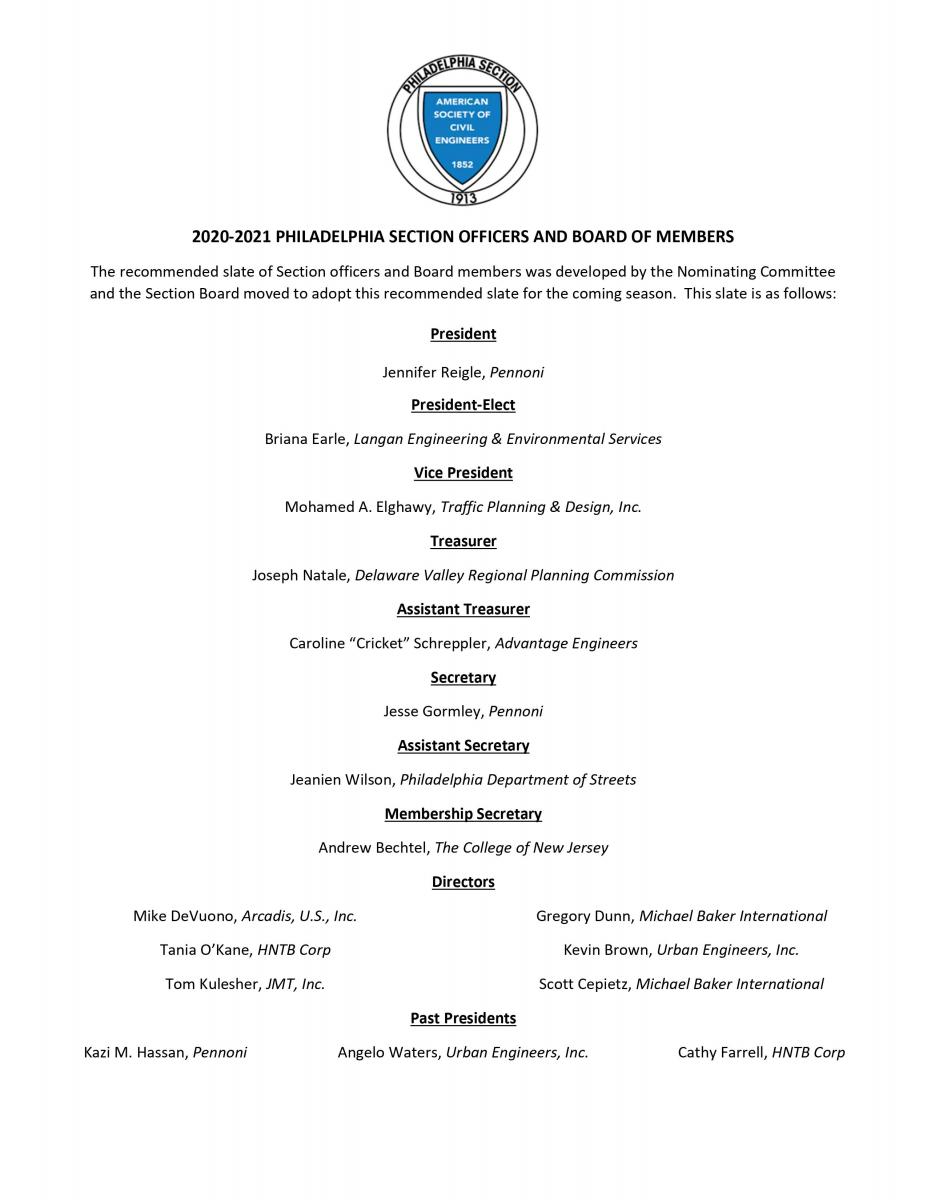 Thanks to Our Section Sponsors - Starting Our 29th Season!
When we first rolled out our sponsorship program at the start of the 1991-92 season, a total of nine "pioneer" firms participated:
Lippincott Engineering Associates
National Timber Piling Council
Pickering Corts & Summerson, Inc.
J. Richard Weggel, PhD, PE
Some of these sound familiar, some are no longer. This season, we have begun our 29th year of the Section Sponsorship program. Thus far, 12 companies have committed to be participate for this season. We extend our special and collective THANKS to each sponsor for their financial commitment and support.
As a sponsor, your business card will appear in each edition of THE NEWS from October through May. Sponsor logos are displayed in a special Sponsors section of our website. Additionally, we provide direct links to sponsors' own websites so prospective employees can review all available and up-to-date positions. We also offer sponsors the opportunity to have a "spotlight" article in an edition of THE NEWS.
If you would like to join, renew or come back after a few years away, we look forward to bringing you into the Section Sponsor fold. All this could be yours for a mere $300 for the season.
Please contact Bob Wright at newseditor@asce-philly.org for more details.
Special Offer on ASCE webinars for Philadelphia Section Members

Did you know that as a Philadelphia Section member you get a discount on ASCE National Webinars? Plus some of the registration fee comes back to help fund other Section activities!
Live Webinars: http://mylearning.asce.org/diweb/catalog/t/2125/c/79
ASCE's live webinars provide cost-effective training for large and small groups. Use Promo Code WEBPHISEC to secure your preferred rate.
On-Demand Webinars: http://mylearning.asce.org/diweb/catalog/t/2135/c/79
ASCE's on-demand webinars provide real-world knowledge and convenient delivery to fit your demanding schedule. Use Promo Code WEBPHISEC to secure your preferred rate.
UPCOMING EVENTS
Visit our EVENTS PAGE for all upcoming events.
---
Our Partners
Announcements
President's Message - September 2020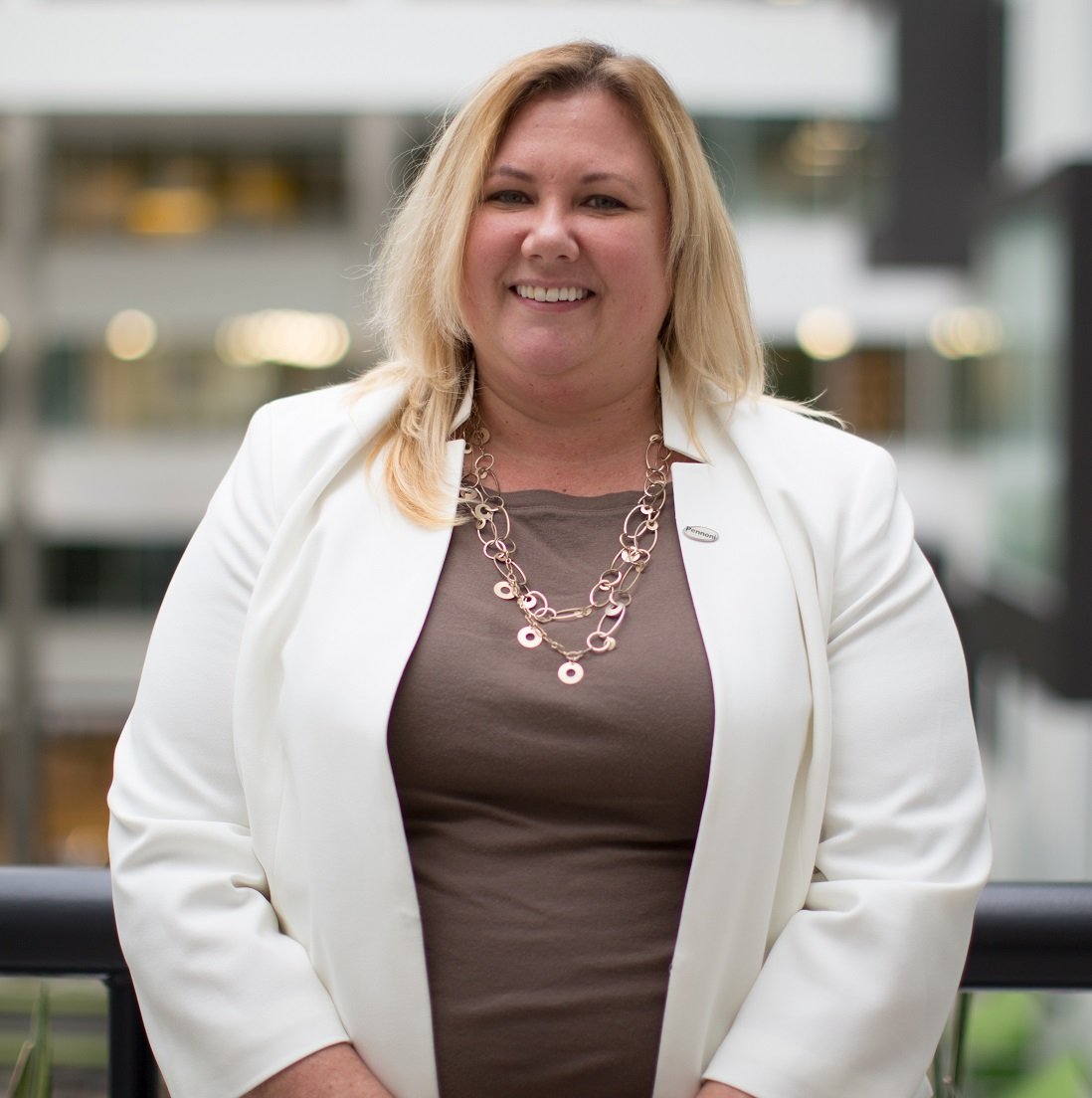 PRESIDENT'S MESSAGE
Welcome to a new ASCE year, one sure to be unlike any year we have experienced thus far! Like you, I was hoping by now I would be writing this message in my office in Center City Philadelphia, while prepping for our first dinner meeting at Maggiano's. Sadly, that is not the case. These last six months have isolated us from each other and redefined our "typical" day, but they have also provided us opportunities. Opportunities to appreciate our family, neighborhoods, and communities; and opportunities to innovate and find solutions to the new problems the pandemic has presented. Our profession has done a fantastic job of embracing these opportunities and finding new ways to communicate and collaborate, allowing the progression of much-needed local infrastructure projects.
Like our profession at-large, our Section has found success adapting our yearly programming and events to run virtually allowing us to provide continuing education and professional development opportunities to all of our members in a safe manner, adhering to local health guidelines. We have already hosted two virtual meetings:
Schuylkill Crossing at Grays Ferry (Swing Bridge) Project webinar in mid-May
Multi-Technical event featuring three concurrent presentations at the end of August
This latter event included presentations from two of our technical groups. Did you know that our Section has six active subsidiary groups, including five technical ones that each focusing on a specific area of civil engineering?
Structural Engineering Institute (SEI)
Delaware Valley Geo-Institute (DVGI)
Construction
Environmental & Water Resources (EWR)
Transportation & Development (T&D)
Younger Member Forum (YMF)
These groups host their own events and provide additional resources to our membership and industry. Please check them out via our website.
Our tech groups also contribute to ASCE's diversity and inclusion, which has always been important the Section, however recent events across the country has made us more aware of its necessity. It is my goal to raise our awareness of diversity and inclusion and establish this as a focal point for the Section throughout the year. ASCE is a proud advocate for diversity and inclusion, taking actions like forming the Members of Society Advancing an Inclusive Culture (MOSAIC) committee in 2016 and providing a wealth of resources on this topic more members: https://www.asce.org/diversity-and-inclusion/.
With all the challenges facing us this year, it is vital that civil engineers advocate for the needs of our profession and industry to continue holding the safety, health, and welfare of the public paramount. It is up to us to inform and guide policy makers on what the priority issues are and what resolutions need to be made, from funding to STEM education to infrastructure needs.
ASCE offers a couple of tools to assist us with this. First, there is the Key Contact program, through which you can sign-up to receive news and updates on state and federal issues pertaining to the civil engineering industry, as well as communicate with your legislators on these issues. ASCE provides form letters and look-up tools to determine your local legislators so communicating with them is as simple as a few keystrokes and mouse clicks. The second tool is the ASCE 2018 PA Report Card, which identifies the state's infrastructure deficiencies and provides guidance for prioritizing infrastructure funding.
Before I sign off for this month, I want to thank everyone who has supported and continues to support ASCE Philadelphia; whether by reading these messages, attending events, or volunteering for one of our many Committees your support is what makes this organization so successful! Please feel free to let us know if you have any suggestions to improve upon our success.
"See" you all at our September 24th Welcome Back Social & Awards Ceremony and October 8th technical presentation!
Best,
Jen Reigle, PE
Philadelphia ASCE Section President
jreigle@pennoni.com
215-254-7723