Thank You to Our Sponsors:
NEW ANNOUNCEMENTS
2019-2020 Philadelphia Section Officers and Board of Directions
The recommended slate of Section officers and Board members was developed by the Nominating Committee and presented to the Section Board at its March meeting. The Board moved to adopt this recommended slate for the coming season. This slate is as follows:
President
Kazi M. Hassan, Pennoni
President-Elect
Jennifer Reigle, Pennoni
Vice President
Briana Earle, Langan Engineering & Environmental Services
Treasurer
Joe Natale, Delaware Valley Regional Planning Commission
Assistant Treasurer
Caroline "Cricket" Slattery, Advantage Engineers
Secretary
Mohamed A. Elghawy, Traffic Planning & Design, Inc.
Assistant Secretary
Jeanien Wilson, Philadelphia Department of Streets
Membership Secretary
Andrew Bechtel, College of New Jersey
Directors
Kevin Brown, Urban Engineers, Inc.
Mike DeVuono, Arcadis
Greg Dunn, WSP
Spencer Finch, Langan Engineering & Environmental Services
Tania O'kane
Nha Truong, Ernst & Young
Past Presidents
Angelo Waters, Urban Engineers, Inc.
Cathy Farrell, HNTB
Guy DiMartino, Traffic Planning & Design, Inc.
PARC Category of the Month: Bridges
More Than Double the National Average – 18.3% of PA's Bridges are Rated in "Poor" Condition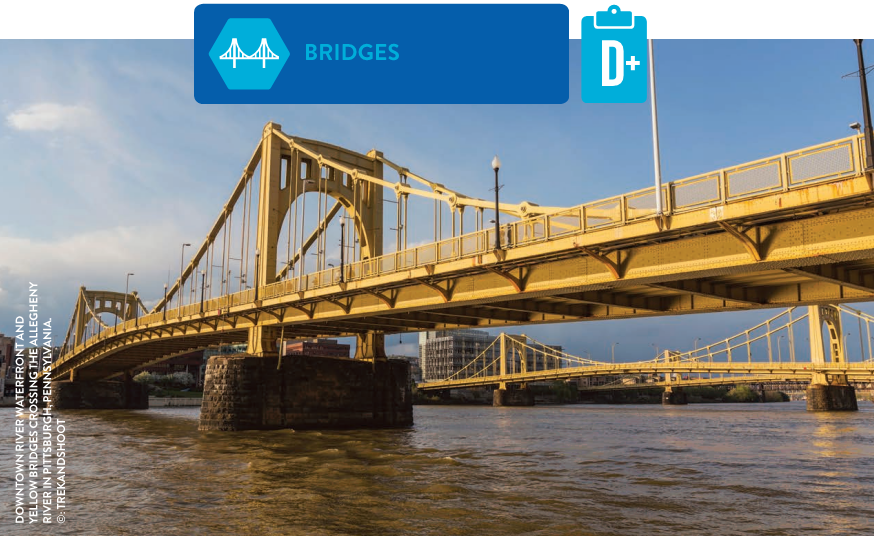 Of Pennsylvania's more than 22,779 highway bridges – the ninth largest inventory in the nation – 18.3% (4,173 bridges) are classified as being in poor condition, down from 24.4% in 2014. On average, Pennsylvania's bridges are 15 years older than the national average and continue to be in need of repair and modernization. The additional funding from Act 89 passed in November 2013 has brought much needed investment to the transportation system, but more work needs to be done. While there have been many improvements over the past four years, Pennsylvania's bridge asset managers still face several challenges, and Pennsylvania has more than double the national average of bridges rated in "poor" condition.
Read more Here, and don't forget to use this link to tell your elected officials about the Report.
2018 Report Card for Pennsylvania's Infrastructure Has Been Unveiled!
The eighteen categories of infrastructure earned an overall grade of "C-". You can learn more, and read the full report, by visiting http://www.pareportcard.org/.
Government and Policy Update
Starting this month, ASCE Philadelphia will be keeping all of us updated on Government and Policy issues that impact us, our professions, our projects, and our communities.
This month, ASCE is following the budget debate in Harrisburg, which as usual is contentious. For our full write-up by Spencer Finch, please visit our New Government and Policy Update Page!
Once you catch up on the happenings in Harrisburg, PLEASE contact your elected officials and let them know your opinion. It is as easy as one click and one email away: Contact your elected official.
If you would like more information, or would like help writing your message, please contact ASCE Philadelphia's Government Affairs Team: Ann Tomalavage, Bob Wirght, or Spencer Finch.
Centennial Book!
Haven't received your copy of the ASCE Philadelphia Section's Centennial Book yet? Don't miss out on your chance to order while supplies last. Preview pages from this book, as well as order the book by visiting our Centennial Book page!
New Check-In Procedure
ASCE Philadelphia Section will be conducting a new Check-In procedure at our upcoming dinner meeting. We will now have a express line for people that paid in advance (electronically via PayPal). All other payment types (Check or Pay at Door) will continue to check-in similar to the process in the past. Name tags for all attendees will be found in the dining area and not at the Check-in table. Less time outside to check-in equals more time to network inside. So please take advantage of our electronic payment system.
To implement this new procedure, it is prudent to bring your printed tickets with you. If you have not printed out ticket(s) for you and/or your guest, click on "View and print my ticket(s)" in your confirmation e-mail. If you have trouble downloading and printing your tickets, please contact Kazi M. Hassan at kazihassan@pennoni.com prior to the event.
For this event, we will not be accepting any ticket(s) on mobile devices, so please print out a hard copy of the ticket.
Thanks to Our Section Sponsors - Starting Our 27th Season!
When we first rolled out our sponsorship program at the start of the 1991-92 season, a total of nine "pioneer" firms participated:
Lippincott Engineering Associates
National Timber Piling Council
Pickering Corts & Summerson, Inc.
J. Richard Weggel, PhD, PE
Some of these sound familiar, some are no longer. This season, we will enter our 27th year of the Section Sponsorship program. We ended last season with 14 firms participating as Section Sponsors and, thus far, 11 companies will be participating in 2017-18. We extend our special and collective THANKS to each sponsor for their financial commitment and support.
As a sponsor, your business card will appear in each edition of THE NEWS from October through May. Sponsor logos are displayed in a special Sponsors section of our website. Additionally, we provide direct links to sponsors' own websites so prospective employees can review all available and up-to-date positions. We also offer sponsors the opportunity to have a "spotlight" article in an edition of THE NEWS.
If you would like to join, renew or come back after a few years away, we look forward to bringing you into the Section Sponsor fold. All this could be yours for a mere $300 for the season. The October edition of THE NEWS will feature the cards of all sponsors who commit by September 18.
Please contact Bob Wright at newseditor@asce-philly.org for more details.
Notice: Philadelphia Section New Mailing Address
This summer the Engineers' Club closed its office and will be using its own Post Office Box, which will not be available to other societies as it has in the past. We thank the Club for its assistance with this over the years. Accordingly, Urban Engineers has generously offered to be our "mail drop" for the foreseeable future.
We would suggest that you continue to reach us through our website (www.asce-philly.org) and our e-mail address, info@asce-philly.org, as you need. If you must send us hard copy (non-financial) items, please direct them as follows:
ASCE Philadelphia Section
c/o Urban Engineers, Inc.
530 Walnut Street
Philadelphia, PA 19106
Beginning this season, if you're paying by check to attend Section dinner meetings, please include 1) a copy of receipt generated when registering for the event with your check 2) the event name in the check's memo. Checks can be mailed to:
Jen Reigle
Pennoni Associates
1900 Market Street
Suite 300
Philadelphia, PA 19103
As a reminder, if you opt to reserve for a Section meeting or event through our website, and would prefer to pay by check, you can certainly bring your check to the meeting and pay at the door. There will be no "at the door" penalty for reservations made by the deadline in this instance.
Special Offer on ASCE webinars for Philadelphia Section Members

Did you know that as a Philadelphia Section member you get a discount on ASCE National Webinars? Plus some of the registration fee comes back to help fund other Section activities!
Live Webinars: http://mylearning.asce.org/diweb/catalog/t/2125/c/79
ASCE's live webinars provide cost-effective training for large and small groups. Use Promo Code WEBPHISEC to secure your preferred rate.
On-Demand Webinars: http://mylearning.asce.org/diweb/catalog/t/2135/c/79
ASCE's on-demand webinars provide real-world knowledge and convenient delivery to fit your demanding schedule. Use Promo Code WEBPHISEC to secure your preferred rate.
UPCOMING EVENTS
Visit our EVENTS PAGE for all upcoming events.
---
Our Partners
Announcements
President's Message - April 2019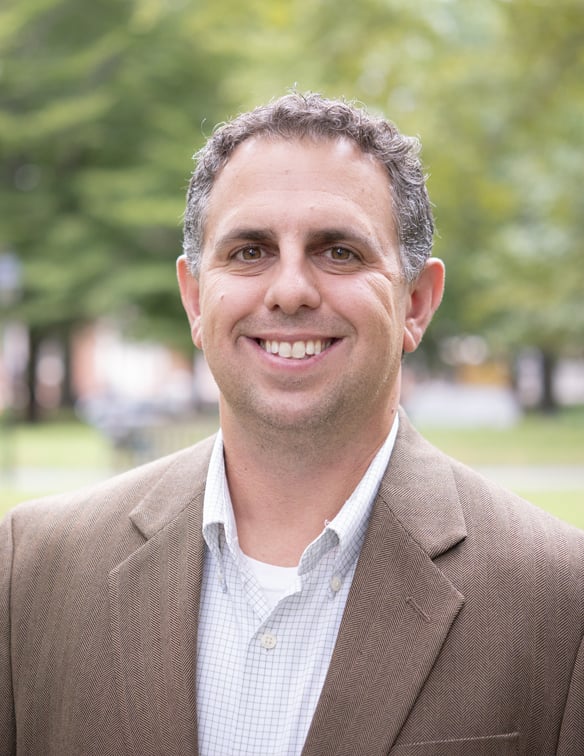 PRESIDENT'S MESSAGE
This monthly spot has come to be one of the more enjoyable activities of my term as Section President since it provides me with a forum to highlight the many informative, value added programs our Section has to offer its members. This month I would like to turn the spotlight to our Technical Groups and Institutions that provide our section diverse and multi-discipline knowledge base and networking opportunities.
Our section has two Institutes: Delaware Valley Geo-Institute (DVGI), Structural Engineering Institute (SEI) and three active technical groups: Construction, Environmental & Water Resources (EWR), and Transportation & Urban Development.
DVGI is focused on geo-professionals and the geo-industry with the specific mission to educate on ways to improve the built environment; prevent the loss of life from natural and man-made hazards; and construct sound and reliable engineered facilities and structures. DVGI is currently chaired by Archie Filshill, Ph.D. DVGI holds monthly technical seminars with its next scheduled event: Geo-Congress 2019 held in Philadelphia between March 24th and March 27th.
SEI advances its members' careers, stimulates technological advancement, and improves professional practice. SEI drives the practical application of cutting-edge research by improving coordination and understanding between academia and practicing engineers. SEI is currently chaired by Joseph Fazio, P.E. SEI also holds monthly technical meetings and recently held a session on the Pocono Raceway – Tunnel Turn Rehabilitation.
Our Construction technical group offers individuals and organizations working in all sectors of the construction industry the opportunity to network with other professionals, sharpen skills, and shape the future of the industry by participating in technical activities, conferences, and the development of internationally recognized standards. The Construction group is chaired by Dennis MacBride, P.E. Earlier this year the group presented the Wells Fargo Center Remodeling Project.
EWR is our Section's technical source for environmental and water-related issues. Focus areas include: groundwater, surface water, urban water sources, and irrigation & drainage. The EWR group is chaired by Eric Lindhult, P.E. EWR has an upcoming Tour of the Philadelphia Water Department Baxter Plant on April 16th.
Our Transportation and Urban Development technical group combines the talents and perspectives of its members to promote professional excellence in all aspects of transportation engineering, urban planning, and development. The group is chaired by William Thomsen, P.E. The Transportation and Urban Development group recently held a lunchtime seminar on PennDOT District 6-0 – Interstate 76 Integrated Corridor Management Program.
April has become a tradition for our Section to offer a mutli-technical session and this year is no different. On April 18th DVGI and SEI will be on hand at The Inn at Villanova to present how their respective disciplines contributed to two major projects in our region:
DVGI - Pile Design at Camden Technology Center
SEI - PA Turnpike 1-276/I-95 Interchange Project
These groups are only as good as the volunteers that support them. I ask anyone that is interested in our Institutes and Technical Groups to reach out to the Chairs mentioned above or just shoot me an email.
Best,
Angelo J. Waters, PE, LEED® AP
President, ASCE Philadelphia ASCE Section
ajwaters@urbanengineers.com | 215-284-3161