Mississippi Section News and Member Information
---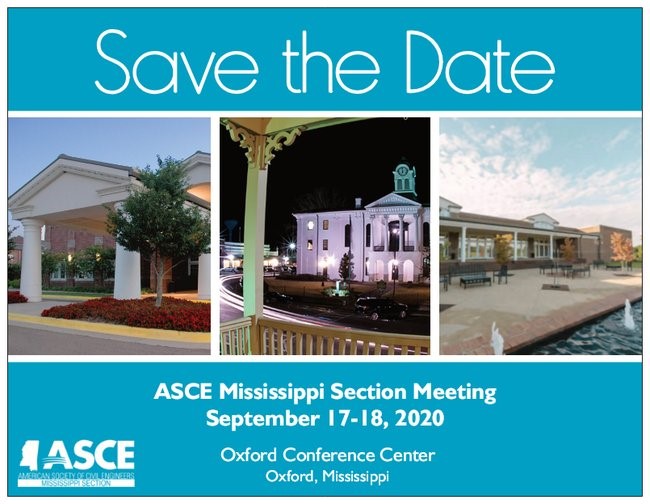 The 2020 ASCE Mississippi Section Meeting will be held on September 16-18 in Oxford, MS.

The meeting will take place at the Oxford Conference Center in Jackson. We will kick off Wednesday evening with a social at The Sipp. Thursday and Friday will be filled with technical presentations, vendors, keynote speakers, and site visits. 12 PDHs, including ethics, will be available. Registration is now open. We look forward to seeing you in Oxford!
---
Through the support of ASCE and active membership, and the voluntary efforts of elected officers, the Mississippi Section is committed to promoting the growth and advancement of the civil engineering profession in Mississippi, as well as, recognizing individual excellence and leadership.

If you are a member, we invite you to take advantage of the information provided through this website. If you are not currently an ASCE member, we encourage you to join now by clicking here. Membership offers numerous advantages and benefits. We also encourage members to consider volunteering to serve the Mississippi Section of ASCE as a section or branch officer and take advantage of the opportunity to showcase and improve your networking, leadership and speaking skills. Contact one of our section officers to find out how to volunteer for service. We look forward to your participation.
---
Member Information:
Track State Legislation Monitored by ASCE
We are excited to announce ASCE's new legislative and regulatory information service!
StateTrack by CQ Roll Call will provide you with the latest information on bills and regulatory items that ASCE's State Government Relations Staff is tracking in your state. You can access this platform at any time by visiting: http://cqrcengage.com/asce/state/mississippi
---
Knock your meetings out of the park! Sign on an ASCE Speaker.
ASCE's Speakers Bureau, matches speakers and subject matter experts with those who are looking to utilize one of the Society's strongest assets – its members' professional expertise. The Speakers Bureau makes that expertise available through a quality, online program now available as a benefit available only to ASCE members.
Check out the Speakers Bureau http://www.asce.org/online-speakers-bureau/.