The Mississippi Section of ASCE was founded in 1969 and currently has almost 1,000 active members from all disciplines and sectors of civil engineering. The Section is divided into four branches including the Jackson Branch, Vicksburg Branch, North Mississippi Branch and Gulf Coast Branch. The Section also includes three student chapters at Jackson State University, Mississippi State University and the University of Mississippi.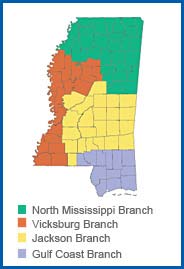 The Section hosts an annual meeting in the Fall, and the individual branches and student chapters host numerous meetings and events throughout the year to provide our membership opportunities for continuing education or PDH's, networking and fellowship. Opportunities to speak, exhibit and sponsor at these events are available and are an excellent way to gain exposure to our membership. The Section annually recognizes the individual excellence of professionals and students through scholarships and awards such the Young Engineer of the Year and Engineer of the Year awards.
---
2018 Mississippi Section Officers
Officers for the 2018 term were elected at the 2017 Section Meeting and were sworn in by Dr. Norma-Jean Mattei who just finished her term as the Society President. Section Leadership for 2018:
Steven Worley - President
Austin Moore - Vice President
Will Pentecost - Treasurer
Luke Pettersen - Secretary
Steven Worley - Webmaster
Jennifer Sloan-Zigler - Younger Member Chair
Jacob Forrester - Director
Shawn Wozencraft - Director
Shelly Watson - Director
Congratulations to all of our officers!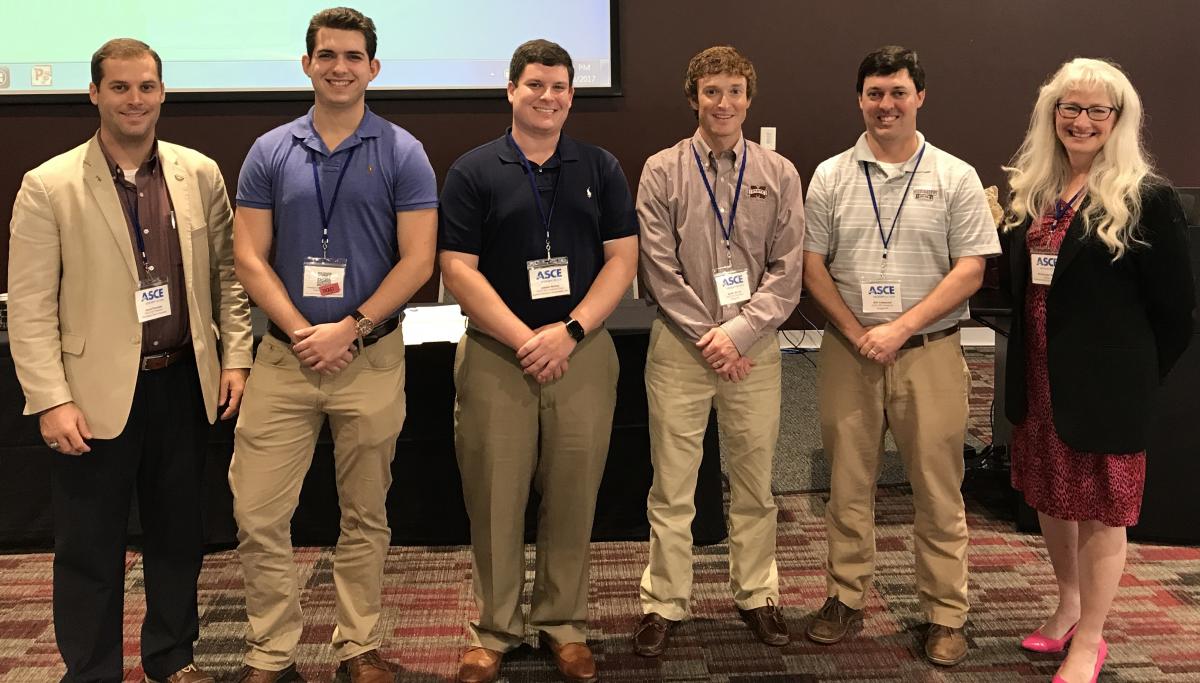 2018 Mississippi Section Leadership, From Left: Jacob Forrester - Board of Directors, Luke Pettersen - Secretary, Steven Worley - President, Austin Moore - President-Elect, Will Pentecost - Treasurer
Also Pictured: Past ASCE President Dr. Norma-Jean Mattei
Present and past officers are organized below by service year:
ASCE Mississippi Section Officers

| | | | | | | | | | |
| --- | --- | --- | --- | --- | --- | --- | --- | --- | --- |
| Year | President | President-Elect | Treasurer | Secretary | Website | Younger-Member | Director | Director | Director |
| 2018 | Steven Worley | Austin Moore | Will Pentecost | Luke Pettersen | Steven Worley | Jennifer Sloan-Zigler | Jacob Forrester | Shawn Wozencraft | Shelly Watson |
| 2017 | Jacob Forrester | Steven Worley | Will Pentecost | Austin Moore | Steven Worley | Jennifer Sloan-Zigler | Shawn Wozencraft | Shelly Watson | Dustin Pittman |
| 2016 | Shawn Wozencraft | Jacob Forrester | Will Pentecost | Steven Worley | Steven Worley | Jennifer Sloan-Zigler | Shelly Watson | Dustin Pittman | Katie Wimberly |
| 2015 | Shelly Watson | Shawn Wozencraft | Jacob Forrester | Wayne Black | Shelly Watson | Trey Triplett | Dustin Pittman | Katie Wimberly | Quincy Alexander |
| 2014 | Dustin Pittman | Shelly Watson | Jacob Forrester | Wayne Black | Shelly Watson | Trey Triplett | Katie Wimberly | Quincy Alexander | Billy Grantham |
| 2013 | Katie Wimberly | Dustin Pittman | Shelly Watson | Jacob Forrester | Shelly Watson | Dustin Pittman | Quincy Alexander | Billy Grantham | Brian Nettles |
| 2012 | Quincy Alexander | Katie Wimberly | Shelly Watson | Jeff Williams | Jonathon Griffin | Dustin Pittman | Billy Grantham | Brian Nettles | Brad Ormon |
| 2011 | Billy Grantham | Quincy Alexander | Allen Taylor | Shelly Watson | Corey Ray | Dustin Pittman | Brian Nettles | Brad Ormon | Amber Cutcliff |
| 2010 | Brian Nettles | Billy Grantham | Allen Taylor | Jonathan Griffin | -- | Glen Ulrick | Brad Ormon | Amber Cutcliff | Chad Gartrell |
| 2009 | Brad Ormon | Brian Nettles | Acey Roberts | Allen Taylor | -- | Glen Ulrick | Amber Cutcliff | Chad Gartrell | Jackie Pettway |
| 2008 | Amber Cutcliff | Brad Ormon | Acey Roberts | Lucy Priddy | -- | Brandon Rut | Chad Gartrell | Jackie Pettway | Thomas Henderson |
| 2007 | Chad Gartrell | Amber Cutcliff | Brad Ormon | Lucy Priddy | -- | -- | Jackie Pettway | Thomas Henderson | Jeb Tingle |
| 2006 | Jackie Pettway | Chad Gartrell | Brad Ormon | Lucy Priddy | -- | -- | Thomas Henderson | Jeb Tingle | Tommy Dunlap |
| 2005 | Thomas Henderson | Jackie Pettway | Chad Gartrell | Chad Gartrell | -- | Amber Cutcliff | Jeb Tingle | Tommy Dunlap | -- |
| 2004 | Jeb Tingle | Thomas Henderson | Chad Gartrell | Chad Gartrell | -- | Amber Cutcliff | Tommy Dunlap | -- | -- |
| 2003 | Tommy Dunlap | Jeb Tingle | Chad Gartrell | Chad Gartrell | -- | Amber Cutcliff | -- | -- | -- |