011723 CSCE Dinner Meeting
Tuesday, January 17, 2023 - 05:30 PM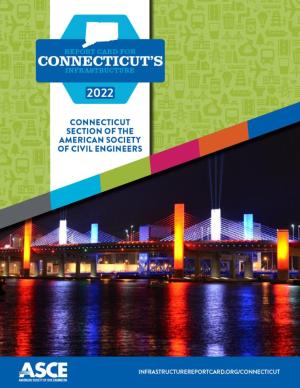 Please join CSCE at our monthly meeting at the University of Hartford, on Tuesday, January 17, 2023. At this meeting, Roy Merritt. P.E., of Lochner and other Report Card Authors, will give an update on the 2022 Connecticut Infrastructure Report Card. The meeting co-sponsors are the CSCE Legislative Affairs Committee and the ASCE Student Chapter at University of Hartford. Attendees may earn 1 NYS PDH at this event.
The people of Connecticut are concerned about the State's economy. Residents and elected leaders seek a business-friendly environment and improvements to their quality of life. Infrastructure is vital for our society's economic health – a cornerstone that is especially important to a densely populated state such as Connecticut. Infrastructure includes surface transportation networks such as bridges, streets for motorists, bicyclists, and pedestrians, and railroads carrying freight and passengers. Infrastructure also includes water systems: sourcing, treating, and sending clean water to the tap, plus wastewater collection and treatment facilities. Infrastructure is the backbone of our modern communities. Investments in our physical capital lead to increased opportunities for economic prosperity and help improve the quality of life for residents.
The Connecticut Society of Civil Engineers, in conjunction with the American Society of Civil Engineers, has evaluated five infrastructure networks important to the State of Connecticut – roads, bridges, rail transportation, drinking water systems, and wastewater systems. Grades ranged from a D+ for roads to a B for rail, with an overall grade of C. Three out of five categories – bridges, drinking water, and wastewater showed incremental improvement in their grades over the last four years since the first Connecticut Infrastructure Report Card was issued in 2018 – and no categories had their grades go down. The age of our infrastructure is a challenge across the categories. Connecticut has some of the oldest infrastructure in the country, much of it over 50 years old and beyond its intended life. While some conditional improvements have been made in recent years, there remains a significant long-term funding gap between predicted funding and needed capital improvements. This gap puts any progress at risk.
The recent passage of the federal Infrastructure Investment and Jobs Act (IIJA) is expected to provide Connecticut with over $5 billion in infrastructure funding over the next five years, which will help address some of the age, capacity, and condition challenges. Inflation levels at 40-year highs and Connecticut's gas tax suspension through November 30, 2022 present additional headwinds. Capital improvement projects out for bid today are coming in significantly higher and gas tax receipts have been reduced. Connecticut's civil engineers are working hard to do more with recent public investment. But it remains vital that Connecticut's leaders back a bold vision for our infrastructure to foster opportunities that improve our economy and increase prosperity for residents.
The 2022 Connecticut Infrastructure Report Card looks at the five categories of infrastructure in the State, highlighting concerns and challenges while offering several proposed solutions. Click here to read the 2022 Connecticut Infrastructure Report Card Executive Summary.
Important Times
5:30 p.m. Social Hour, 6:30 p.m. Dinner & Presentation
Location
1877 Club, Gray Conference Center. University of Hartford, 200 Bloomfield Avenue, West Hartford, CT 06117
Registration
CSCE Members - No NYS PDH: $40.00
CSCE Members who want to earn 1 NYS PDH: $50.00
Non CSCE Members - No NYS PDH: $50.00
Non CSCE Members who want to earn 1 NYS PDH: $60.00
Full Time Students - No NYS PDH: $10.00
Unemployed CSCE Members: No Charge
Only attending the presentation - No meal: No Charge
Reservations received and accepted after midnight on January 6th, may incur a $10 additional fee.
Payment is required with registration unless other arrangements are made. CSCE cannot give refunds after the final dinner order has been placed.
Please register to attend this dinner meeting by clicking on the following link:

Sponsorships
Table Top Sponsor - $100 - Table signs with your company logo on each dinner table
Flyer Sponsor - $250 - Your company logo on event promotional emails and upcoming events flyer distributed at dinner meeting
Promotional Item Sponsor - $500 - Your company logo will be included on a promotional item that will be distributed at the dinner meeting.
Social Hour Sponsor - $1,000 - Your company logo will be included on meeting promotional material and signage recognizing your sponsorship will be displayed at the social hour.
To sponsor this dinner meeting, please click on the following link:
Donation Opportunities
Please consider a donation to the CSCE scholarship fund to help civil engineering students from Connecticut. All donations will help students in need. To make a donation to CSCE, please click on the following link: