2023 Student Awards - Due March 15, 2023
16th Annual ACE Awards - May 23, 2023
Aqua Turf Club in Plantsville, CT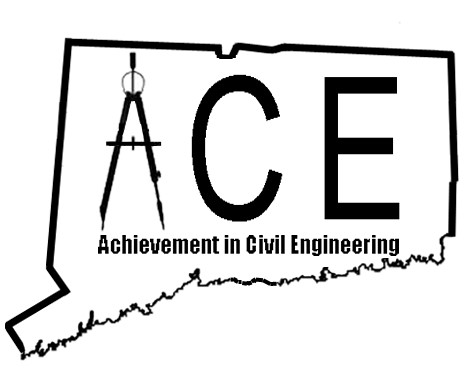 Application Deadline: March 17, 2023
Please send your nominations to [email protected].
2023 Registration & Sponsorship Opportunities
The Connecticut Society of Civil Engineers (CSCE) Section of the American Society of Civil Engineers aims to enhance the professional growth of its individual members, the advancement of engineering knowledge, the maintenance of high professional standards, to promote civil engineering education, to foster student membership and participation and cooperation with other engineering societies, in a manner consistent with the objectives of ASCE.
CSCE is honoring the design and construction achievements of Connecticut Civil Engineers. These Achievement in Civil Engineering Awards or "ACE" Awards will commend projects on which significant engineering expertise or innovation was exhibited by Connecticut Engineers and especially CSCE members. The ACE Awards will distinguish the projects, and thereby honor the overall contributions of numerous engineers and other team members.
To be eligible, a project must have been planned, designed, or constructed substantially between January 1, 2022, and December 31, 2022, in Connecticut. Preference will be given to projects physically located in Connecticut. Completed ACE Awards Applications should include a Cover Sheet and related attachments (see following pages). CSCE encourages firms that functioned as sub-consultants to submit individually or partner with the prime engineering firms to submit an application.
The CSCE Board is now accepting nominations for the following individual awards that will be presented at the Annual ACE Awards Dinner in September. These awards will recognize ASCE/CSCE members for their outstanding contributions to the Civil Engineering profession. Anyone can nominate a CSCE member who best exemplifies the Civil Engineering profession. The nominees must work and/or reside within the State of Connecticut.
Selection: Selection shall be based on the following criteria:
Education and Professional qualifications;
Projects completed;
Patents; Publications; Presentations; Teaching
Professional involvement including society affiliations and leadership roles;
Professional reputation; and
Outstanding contributions to the profession.
Categories:
Civil Engineer of the Year (Private and/or Public). Nominees must be an ASCE member, a Professional Engineer practicing for at least ten (10) years in Connecticut and have demonstrated innovation and significant contributions in advancing the Civil Engineering profession.
Young Civil Engineer of the Year (Private and/or Public). Nominees must be an ASCE member, a Professional Engineer, and 35 years of age or younger by July 31, 2023.
Civil Engineering Educator of the Year. This award is presented to an outstanding educator who has demonstrated excellence and innovation in effective teaching and learning; contributed substantially in educating future engineers; and/or has advanced research topics in the field of Civil Engineering. The educator must be a faculty member at an educational institution in Connecticut.
Benjamin Wright Award — Nominee must be a civil engineer in Connecticut who has demonstrated outstanding practice throughout their career, and made significant contributions to Civil Engineering.
This award will recognize a Connecticut-based Civil Engineering firm that has shown support for CSCE and encourages employee participation in CSCE events and initiatives. Employers should have demonstrated a commitment to regularly support CSCE activities through sponsorship, attendance and service during the calendar year. Nominations should include a narrative of the firm's support for CSCE including employees' participation on CSCE executive board and committees, as well as ASCE regional and national activities.
2022 Award Winners
President's Award - Katie Hedberg-Klose, RSP1, CTDOT
Presidents Awards are awarded to individuals selected by the outgoing president who have contributed to the advancement of the Section through their efforts over the preceding year.
Katie Hedberg-Klose has over six years of experience in the civil/transportation industry and currently works for CTDOT in the Sustainability & Resiliency Unit. She is an active CSCE member, where she is the current Younger Members Group President, and one of the chairs for planning ERYMC, which is a conference spanning the entire east coast. Katie has been a key player for other CSCE initiatives this year, such as helping to plan the first CSCE/WTS joint event, and coordinating with CTDOT leadership to start a DOT Partner Program for promoting membership to its employees. She has also been active at the ASCE national level with the Committee on Younger Members, where she assists with programming, awards and annual reports for groups across the country. In October, she will become the Eastern Geographic Member and oversee the 51 younger member groups in the eastern region.
Young Civil Engineer of the Year - Alex Klose, P.E., Town of East Lyme
Nominees must be an ASCE member, a Professional Engineer, and 35 years of age or younger
Alex Klose has over six years of experience in the civil engineering and construction industry and currently serves the Town of East Lyme as their Town Engineer. He has taken on an additional role as the FEMA Community Rating System Coordinator, focusing efforts in repairing infrastructure damaged by Hurricane Ida.
In addition to serving the East Lyme community, Alex also serves his country. He has served as an Engineering Construction Platoon Leader and an Engineer Officer for the 26th Mobility Enhancement Brigade which serves as the headquarters element for the FEMA Homeland Response Force for Region 1, New England.
After obtaining his PE in 2021, he began teaching as an Adjunct Professor at Three Rivers Community College. He is currently teaching Introduction to Engineering and plans to teach Civil/Environmental Engineering courses in the future.
Alex is also currently pursuing a Master of Science in Engineering Management concentrating in Engineering Services and Infrastructure Management at UMASS Lowell and is expected to graduate in August 2022.
Benjamin Wright Award - Mark Rolfe, P.E., Deputy Commissioner of CT DOT
CSCE honors Benjamin Wright, who was named by ASCE as the Father of Civil Engineering, by presenting an award in his name each year to an individual that has had outstanding contributions to the civil engineering industry.
Mark Rolfe is a legend and a keystone to the transportation engineering community in Connecticut. He has worked for the Connecticut Department of Transportation for over 35 years and in 2019, was appointed Deputy Commissioner. In 2015, Mark became the Construction Administrator responsible for administering all CTDOT construction projects and in 2017, was named Chief Engineer and Bureau Chief for the Bureau of Engineering and Construction. His experience played a critical role in many CTDOT programs, including the Q Bridge program; a 2-billion-dollar contract which included the Pearl Harbor Memorial Bridge, the nation's first extradosed cable-stayed bridge, and the CTFastrak project. Mark has come a long way since he served as ASCE Student Chapter president in college, and recently became an ASCE Fellow, an honor only 3% of ASCE members hold for their contributions to the civil engineering industry.
2022 Project Awards
ACE Award - Sustainable Historic Preservation
Hotel Marcel in New Haven, CT ~ GNCB Consulting Engineers
Hotel Marcel located at 500 Sargent Dr. in New Haven, CT is a 165 room boutique hotel that includes a restaurant, gallery and meeting space. This project was a certified historic rehabilitation and adaptive re-use of mid-century modern design originally designed by Marcel Breuer in 1967. This building originally housed the Armstrong Rubber Co. Building and then the Pirelli building. This project is LEED Platinum certified. This is the first Passive House certified Hotel in the U.S.
ACE Award - Transportation and Development
Franklin Square Roundabout in Norwich, CT ~ VHB
The VHB Project Team delivered an innovative solution for a modern roundabout project at the intersection of Franklin Street and Main Street, also known as Franklin Square, in downtown Norwich, Connecticut. The project maintained business access and intersection operations during construction, added several spaces of parking to the downtown business district, improved traffic flow, and enhanced pedestrian safety.
ACE Award - Coastal Structural Engineering
700-Ton Marine Travelift Infrastructure ~ RACE Coastal Engineering
Bridgeport Boatworks had previously operated a 75-ton travel lift and a 200-ton travel lift for recreational and commercial vessels. In order to haul larger vessels, including barges, ferry boats, tugboats and megayachts, it was decided that a 700-ton travel lift was needed and 2 new travel lift piers needed to extend toward Bridgeport Harbor's Federal Channel. RACE Coastal Engineering provided engineering and construction administration services for the travel lift infrastructure and is proud to provide ongoing waterfront engineering support as Bridgeport Harbor is transformed into an active and vibrant center of marine activities.
Benjamin Wright Award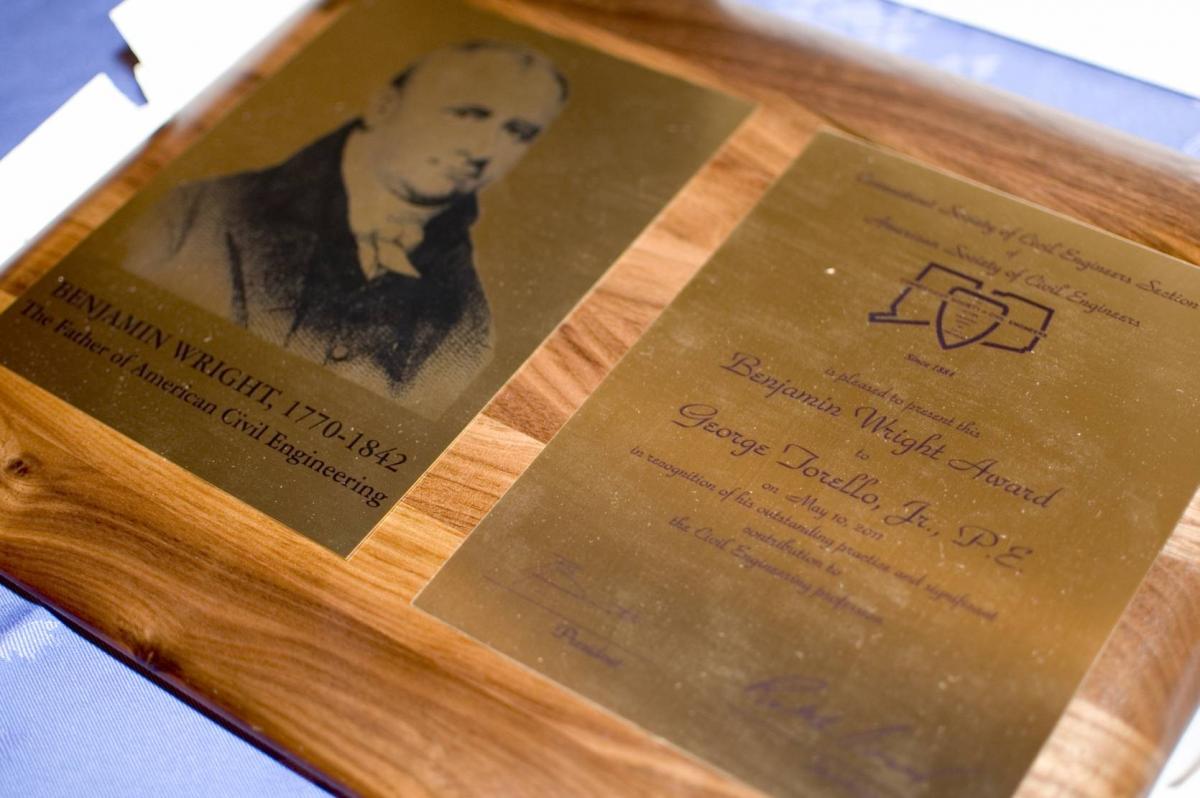 The Benjamin Wright Award is given annually by the Connecticut Society of Civil Engineers Section to a Connecticut Civil Engineer who has demonstrated outstanding practice throughout his or her career, and made significant contributions to Civil Engineering. CSCE was proud to present the 2020 Benjamin Wright Award to Rabih Barakat, P.E.
Past Recipients of Benjamin Wright Award
1980 Edward Gant
1981 Charles Cahn
1982 Clarence Dunham
1983 Arthur Sweeton
1984 Norman Nadel
1985 Victor Scottron
1986 Morton Fine
1987 Wilbur Widmer
1988 Philip Burton
1989 Jack Stephens
1990 Philip Keene
1991 E. Russell Johnston
1992 Frank J. Zamecnik
1993 Herbert S. Levinson
1994 Morris Schupack
1995 Charles H. Thornton
1996 Earl R. Howard
1997 Eugene D. Jones
1998 Charles Rejcha
1999 Robert O. Disque
2000 John Lenard
2001 Remy Papp
2002 Kenneth Gibble
2003 Roald Haestad
2004 Paul Carver
2005 Roger S. Chapman
2006 Stanley Bemben
2007 Howard L. Epstein
2008 John P. Dugan
2009 William D. O'Neill
2010 Clarence Welti
2011 George Torello
2015 James Byrnes
2016 Lawrence Johnsen
2017 Peter Heynen
2018 Randall States
2019 David Jacobs
2020 Rabih Barakat
2022 Mark Rolfe