051723 Virtual Lunch CSCE Meeting
Wednesday, May 17, 2023 - 12:00 PM - Wednesday, May 17, 2023 - 01:30 PM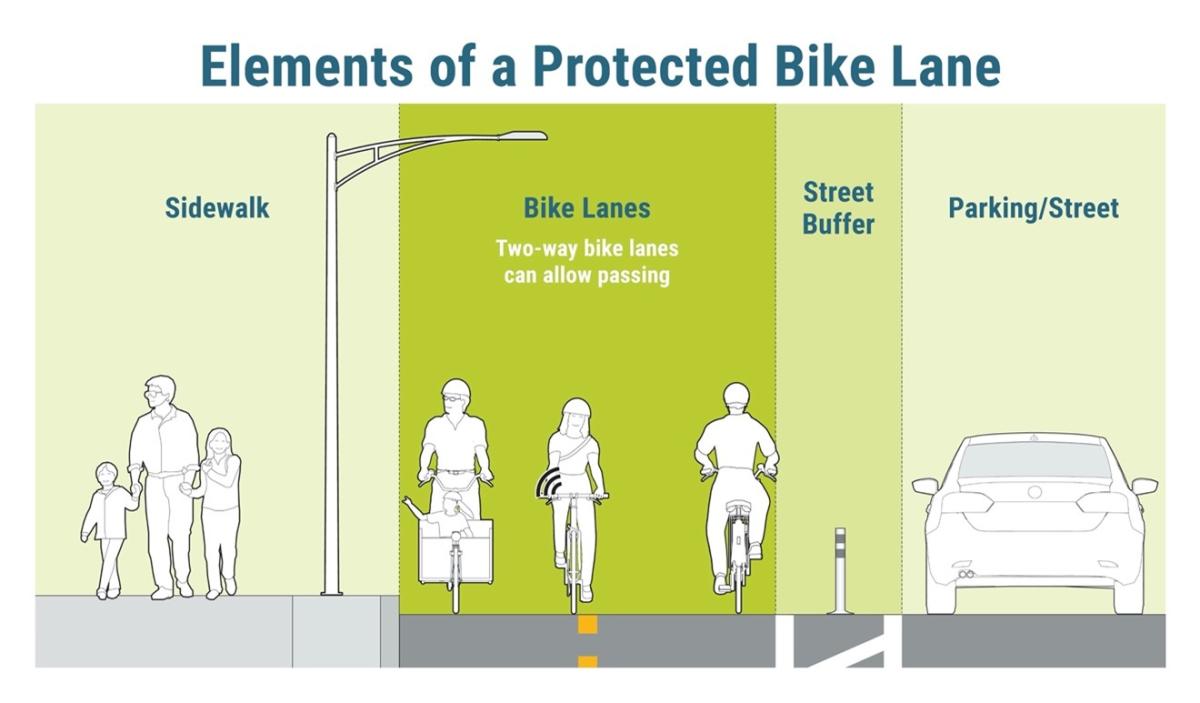 Please join CSCE at a virtual lunch meeting on Wednesday, May 17, 2023. At this meeting, Patricia (McMohan) Houser, Ph.D., AICP, of CCSU will give a presentation on Saving the World, One Protected Bike Lane at a Time. Attendees may earn 1 NYS PDH at this event.
Electric vehicles, alone, are not a cure-all for the transportation emissions that are worsening our climate emergency. A variety of mass transit and active transportation options must accompany such technological fixes, and, from what research is showing us, another infrastructure alteration with powerful potential for reducing emissions while also enhancing road safety and general livability for all, is physically separate, "protected," bicycle lanes.
While bicycling in the U.S. conjures scenes of neighborhood children or spandex-clad athletic types, there is also a scattered emergence across our nation of physically separated bike lanes in commuting corridors and in downtowns that offers a glimpse of an invaluable tool in rapidly shifting our emissions profile--one that can also advance vision zero goals and enhance economic and livability outcomes.
Protected bike lanes are now recognized as essential infrastructure for the future in analyses from urban planning organizations (including the Urban Institute, and Planetizen) and groups like the Institute for Transportation and Development Policy (ITDP), National Association of City Transportation Officials (NAACTO), and the National Transportation Safety Board.
This talk summarizes peer reviewed literature, as recent as 2023, pointing to the impacts of different bicycle lane designs, on economics, health and environment, and the role of active transportation in overall urban design, and makes a case for infrastructure redesign as the key to enjoying the world-changing benefits of the lowly bicycle.

Speaker(s)
Patricia (McMohan) Houser, Ph.D., AICP
Patricia Houser is a certified planner and has taught geography and urban planning, including Environmental Planning and Transportation Planning, over the past 25 years at colleges in Connecticut and Michigan. She graduated with a Ph.D. in urban planning from Columbia University in 2007 and earned a previous master's degree in Geography from the University of North Carolina at Chapel Hill. She is currently an adjunct professor at Central Connecticut State University (CCSU) and pursues environmental and planning research on behalf of the non-partisan, non-profit, Milford (CT) Environmental Concerns Coalition (ECC). Dr. Houser started the ECC's "Bicycle Friendly Milford" initiative in 2021 and writes a monthly environmental column on behalf of the ECC for the Milford Orange Times.
Important Times
12:00 p.m. - This meeting will be virtual. A link will be sent to registrants prior to the meeting.
Registration
View the Presentation - No NYS PDH: Free
CSCE Members who want to earn 1 NYS PDH: $20
Non CSCE Members who want to earn 1 NYS PDH: $30

Please consider a donation to the CSCE scholarship fund to help civil engineering students from Connecticut. All donations will help students in need. To make a donation to CSCE, please click on the following link: