092221 Virtual Lunch Meeting
Wednesday, September 22, 2021 - 12:00 PM - Wednesday, September 22, 2021 - 01:30 PM
Meeting Co-Sponsors: CSCE Water Resources Committee and the ASCE Student Chapter at the University of New Haven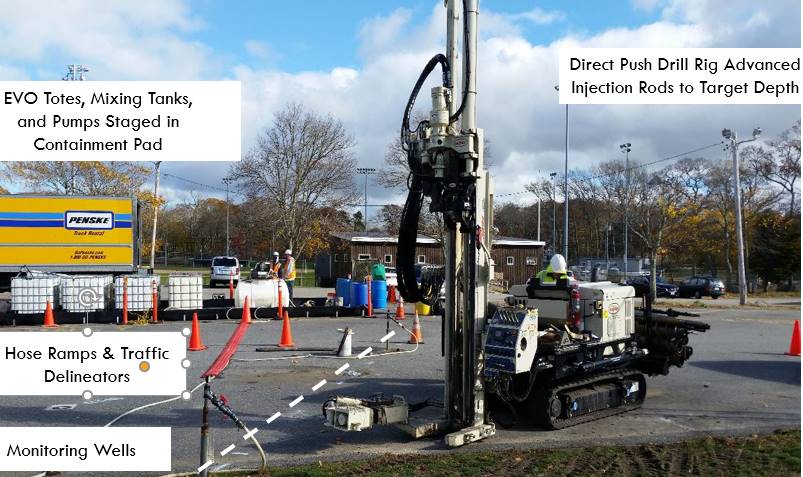 Attendees will have the opportunity to earn 1 New York State Professional Development Hour (NYS PDH) at this event.
Topic: Permeable Reactive Barrier Feasibility for Nitrogen Removal
The Town of Orleans, Massachusetts is one of several Cape Cod communities that must reduce groundwater nitrate loading. Permeable reactive barriers (PRBs) are a non-traditional wastewater treatment technology with the potential to reduce nitrate by treating groundwater biologically upgradient of sensitive surface waters. A demonstration PRB was installed by injecting an emulsified vegetable oil (EVO) substrate along a transect line that cuts across a plume of nitrate. The EVO volume used was based on the mass flux of nitrate, site specific groundwater chemistry, and establishing a PRB with persistence of at minimum five to seven years.
The demonstration project was implemented in November 2016 and modified in June 2018. Data collected over a five year period indicate that the PRB is reducing groundwater nitrogen concentrations. Information gained through the demonstration is currently being utilized in full-scale design and to predict nitrogen removal efficiency for cost effectively achieving water quality goals. The team compared life cycle cost estimates for PRBs to that of traditional sewering in key areas identified and is currently conducting additional geological investigations to inform full-scale PRB design.
Speaker(s)
Julianne Marrion, P.E. - Ms. Marrion is a Project Engineer at AECOM with nine years of experience working on a variety of water, wastewater, chemical and environmental engineering projects. Her experience includes municipal drinking water, municipal and industrial wastewater, remediation, air emissions quantification and control, stormwater, and more. She has been working on the PRB demonstration project in Orleans since late 2015. She is a registered professional engineer and has a B.S. in Chemical Engineering from Worcester Polytechnic Institute.
Important Times
12:00 - 1:30 p.m. - This meeting will be virtual. A link will be sent to registrants prior to the meeting.