MICHIGAN INFRASTRUCTURE CONFERENCE - MAY 12, 2022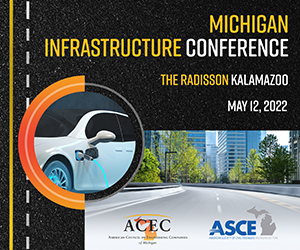 President Biden signed into law the $1.5 trillion omnibus bill to fund the federal government for the rest of fiscal year 2022. The law unlocks the full 2022 increases that the Infrastructure Investment and Jobs Act (IIJA) authorized for highway and transit programs.
With the Federal FY22 Appropriations law in place, state DOTs, transit agencies, water utilities and other client sectors now have the confidence to move forward on both short-term and long-term infrastructure projects.
As we turn these infrastructure dollars into projects and invest additional federal dollars from previous stimulus bills, it is an excellent time to come together with other industry professionals to share best practices for making long needed improvement to our infrastructure. Early bird registration ends April 22.
Exhibit space and sponsorships are available.
ASCE Michigan Section will also present their annual awards during the event.
For additional details and to register, visit: https://web.acecmi.org/events/2022-Michigan-Infrastructure-Conference-1234/details