Webpages
Instituto de Ingenieros Civiles de PR
Technical Resources
Solving Persistent Water Supply Problems: Critical Problems and Actions, San Juan, Puerto Rico
Having proper utility infrastructure is vital to the success of any nation and its ability to weather through and recover from natural disasters such as hurricanes, earthquakes, tornadoes, and droughts. Water rationing in particular has become a commonplace occurrence for Puerto Ricans, and few projects that won't solve the problem have been discussed, such as expensive new water infrastructure and sediment removal from existing reservoirs.
However, ASCE PR has worked alongside Dr. Gregory L. Morris, an internationally renowned water resources expert, to suggest a new approach to this problem in a white paper titled Solving Persistent Water Supply Problems: Critical Problems and Actions, San Juan, Puerto Rico. This paper, which you may access here, makes an argument that simply making better use of the current infrastructure is enough to solve Puerto Rico's water problem.
Puerto Rico 2019 Infrastructure Report Card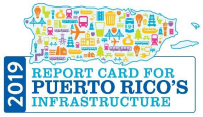 In 2019, ASCE Puerto Rico published it's first ever ASCE Puerto Rico Infrastructure Report Card as a way to conmemorate our landmark 90th anniversary as a section.
The ASCE Puerto Rico Infrastructure Report Card is meant to be an educational tool that facilitates understanding of the current conditions of Puerto Rico's infrastructure for the island's residents, businesses, and policymakers and includes recommendations from industry professional on how to improve the grades for each category. This document is then shared on the media in order to facilitate citizen's understanding of infrastructure and to advocate for improvement's to the national infrastructure. The ASCE Infrastructure Report Cards currently serve as the main vehicle for infrastructure policy advocacy in the United States.
The Report Card measures the state of 8 different infrastructure categories in Puerto Rico alongside recommendations on how to improve them from field experts. In this edition of the ASCE Infrastructure Report Card Puerto Rico obtained a D- in it's overall infrastructure, showing the need for the Puerto Rican government to give importance to this area in order to prevent further worsening of the economy, preventable deaths, and further emigration from the island.
The ASCE PR Infrastructure Committee has also released released its Infrastructure Infographic. The documents contain visual information and its written on Spanish. Feel free to share it with your family and friends. Access it here!
Infrastructure Advocacy
Open Letters to Leaders
ASCE PR is dedicated to improving the quality of life of Puerto Ricans by advocating for the implementation of better infrastructure and infrastructure management policies. Here are some of our most recent documents sent to government officials, academics, and other entities in our search for better infrastructure for all:
Newspaper Columns
Moreover, ASCE PR has also attempted to reach the public by writing several newspaper articles related to infrastructure which you may find below: