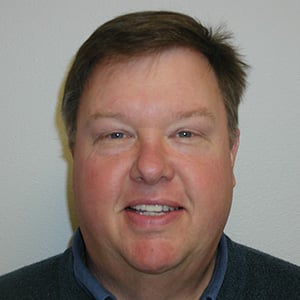 Greetings fellow Wisconsin Section members.
Spring is finally upon us. I am always filled with a renewed sense of optimism during this time of year as so many things spring to life. The tulips are blooming, the birds are chirping, and my lawn has become filled with dandelions... Ah, the joy.
Speaking of spring, we had a very successful Spring Technical Conference in early March of this year. It was a virtual event hosted by the Fox River Valley Branch. Many thanks to the Branch's event planning committee and Impact Association Management for pulling together all the details for the event, and thanks as well to our Section's Technical Groups for providing excellent content for the breakout sessions. Lastly, thanks to our event sponsors for supporting the conference. Their generosity allowed us to put on a very high-quality event for our membership at a very, very affordable cost.
Hopefully, the coming weeks and months bring more steps toward returning to some semblance of "normal" life post-COVID-19. Over the last 12-14 months, COVID-19 has cost the Section and our members a number of high profile in-person ASCE events – Regional and National Concrete Canoe Competitions at UW-Madison in the Spring and Summer of 2020, the EWRI World Environmental & Water Resources Congress planned for Milwaukee in May 2021, and the 2021 National Concrete Canoe Competition at UW-Platteville in June 2021. That is very unfortunate, but the circumstances are out of our control. Let's hope the COVID-19 recovery across our country and around the world continues to gain momentum and our Section again has the opportunity to host major in-person ASCE events like these in the near future.
As mentioned in the last newsletter, the Section's strategic planning process is underway and we have accomplished quite a bit over the last few months. Our survey of the Section membership concluded in March and focused interviews of a cross-section of the membership wrapped up in April. The Section Board held two strategic plan development sessions, one in April and a second in May. We remain on schedule to release the Section's strategic plan this summer.
In late March, the President of the United States announced a proposed infrastructure improvement plan for our country. Much has been written and reported on the contents of that proposal and there is a great deal to be sorted out on exactly what the final approved plan will look like, but that plan will mean a great deal of opportunity in the coming years for civil engineering and construction professionals around the country. ASCE's Position Statement on the President's proposed plan is included later in the newsletter.
Perhaps not coincidently, ASCE issued its National Infrastructure Report Card in early March, just a few weeks prior to the announcement of the President's infrastructure plan. A link to that Report Card information can be found in the body of the newsletter as well. As that report shows, there is much work to be done on our nation's infrastructure, and ASCE will continue to monitor progress on development of a national infrastructure improvement bill and work to position it's membership to contribute effectively to whatever plan is eventually rolled out for the nation.
May is election month for ASCE at the Society level. All members should have received an invitation from the Society to participate in the election. Please make sure to take advantage of this opportunity to make your voice heard. In addition, the Section's annual elections are planned for June. Section positions up for election this year are: President-Elect, Treasurer, and two Director-at-Large positions. If you would be interested in pursuing one of these positions or would like to nominate another member for a position, please email the Section at wi.sec.asce@gmail.com by May 31.
Lastly, I will close this message with a note on the Section's Fall Annual Meeting, which is planned for Friday September 24th. You each should have received a "save the date" announcement for the event it in the past few weeks. The Northwest Branch is planning this event as a virtual one. Please strongly consider participating in the event to expand your professional knowledge and earn a number of those very important PDH credits. Let's hope our next Section event in 2022 can be held, at least in part, as an in-person one…
Thank you for your continued support of ASCE and the Wisconsin Section. Please be sure to vote in the Society and Section elections being held over the next couple months, and be safe out in the field as the annual construction season ramps up for the year.
Thanks again and stay well,