President's Message
By: Danny Xiao, ASCE Wisconsin Section President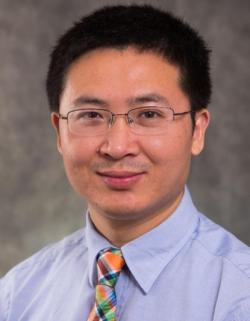 Dear fellow Wisconsin Section members,
I believe many of you are feeling the same as I do: where did the holidays go?! Preparing for Christmas felt like yesterday and suddenly February is here. Nevertheless, I hope you had a joyful and relaxed holiday with your family and friends.
2023 is a special year for ASCE Wisconsin Section: we celebrate 100 years of engineering! The Centennial Celebration Committee is planning several events throughout the year to celebrate our history and envision our future. Please read more details in this newsletter and mark your calendar to attend.
The 2023 Spring Technical Conference will be Friday, March 31. Utilizing the convenience of technology, in particular during winter season, the Conference will be virtual. Hope you can join us to learn the behind-the-scene story of several amazing projects in structural, transportation, geotechnical, municipal, and environmental engineering.
Included in this newsletter is also an article titled "Creating Climate Resilient Infrastructure in Wisconsin". You may be shocked, as I did, to hear the news about the deadly flooding in California last month, because I heard many times about wildfire and drought in California but not flooding. Even worse, some scientists warned that this deadly flooding might lead to an intense wildfire season in California this year. Here in Wisconsin, we all heard the news of increased frequency and intensity of flooding in recent years. For example, Madison 2018, Darlington 2019, St. Croix County 2020, Manitowoc County 2021, and Waukesha County 2022. Therefore, the need has never been stronger for civil engineers to create resilient and sustainable infrastructure. "Members of The American Society of Civil Engineers conduct themselves with integrity and professionalism, and above all else protect and advance the health, safety, and welfare of the public through the practice of Civil Engineering" (ASCE Code of Ethics).
Lastly, please take a minute to review the names of our new ASCE Wisconsin Members, located later in this newsletter. If you recognize, work with or see these folks at an upcoming meeting, please welcome them and help them make the most of their membership. The Engineers Week will be February 19-25, 2023. Hope you can take a break from your busy schedule and feel proud of your hard work. Or you can volunteer your time to bring engineering to kids, educators, and parents. https://www.asce.org/education-and-events/events/virtual-meetings/engineers-week2023 Thank you for being a member of the ASCE family!
Thank you for being a member of the ASCE family!
Danny X. Xiao, Ph.D., P.E., M. ASCE, ENV SP
ASCE Wisconsin Section 2022-2023 President