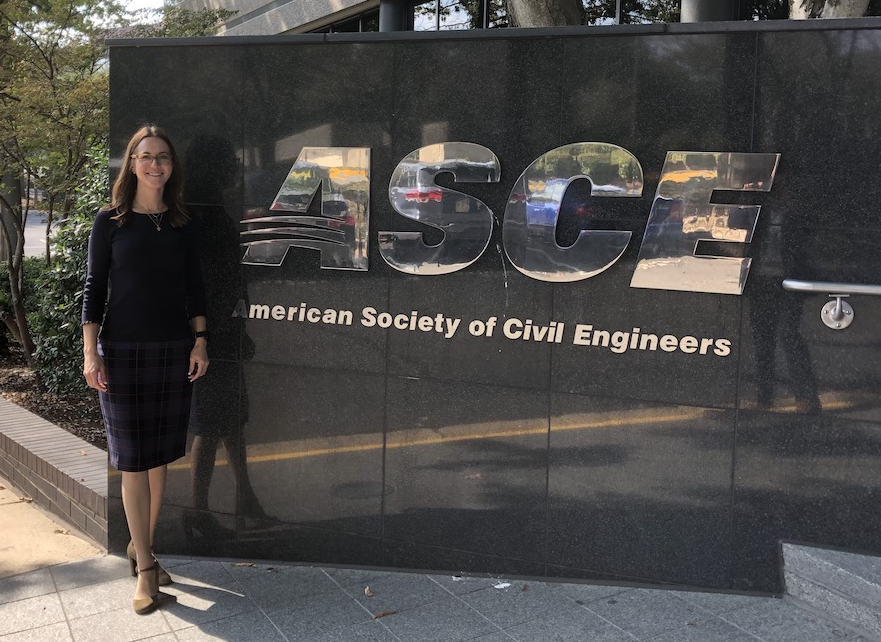 President's Message
By: Jennifer Schaff
What a beautiful fall in Wisconsin. As we approach Thanksgiving and the end of the year, I'm mindful of the good things and opportunities we've experienced. In addition to personal and project achievements, I'm grateful to the ASCE Wisconsin Report Card team for the opportunity to serve with such a great group of volunteers.
If you haven't heard, the ASCE Wisconsin Section was presented with the ASCE's 2021 Outstanding Civil Engineer Advocate of the Year Award. The Section received this award largely because of the extensive efforts of the report card team. They are truly an amazing group, and this is an amazing accomplishment. As I write this letter, the legislature has finally approved an infrastructure bill, a landmark event that makes me even more proud of the outreach our Wisconsin Report Card team has accomplished. The Wisconsin Section has been interviewed in multiple news stories covered by the Wisconsin Media relating to the Infrastructure and Investment and Jobs Act; for additional detail, see the Wisconsin Infrastructure Report Card Update article below. Please like our social media posts celebrating their success and personally congratulate colleagues you see listed on the team. They are all champions we should celebrate.
I'm so grateful to move into this year with a recently completed strategic plan.  It is such a wonderful tool, created by interviews and surveys of membership, to guide Wisconsin Section activities this year and beyond. Thank you to our Past President, Larry Buechel, and many others for their time and leadership to get this accomplished. Our first official board meeting is almost upon us and we will be discussing a work plan to move the strategic plan into action. I look forward to sharing more with you, so please watch for email and social media updates.
A big happy birthday to ASCE National and a thank you to the energetic and supportive staff there.  Unless you are a very active member, I don't think one fully appreciates all the things they do for us, the list is so broad.
The Multi-Region Leadership Conference is being offered virtually, which is a great opportunity to get better acquainted with all the great resources offered by our national leadership.  I challenge you to participate in the MRLC. Put it on your calendar now -February 9-11. Register here and commit to one or two sessions. That's only two hours of time to network and leverage your leadership skills. I look forward to seeing you there!
Sincerely,
Jennifer Schaff, P.E., M.ASCE
ASCE Wisconsin Section President