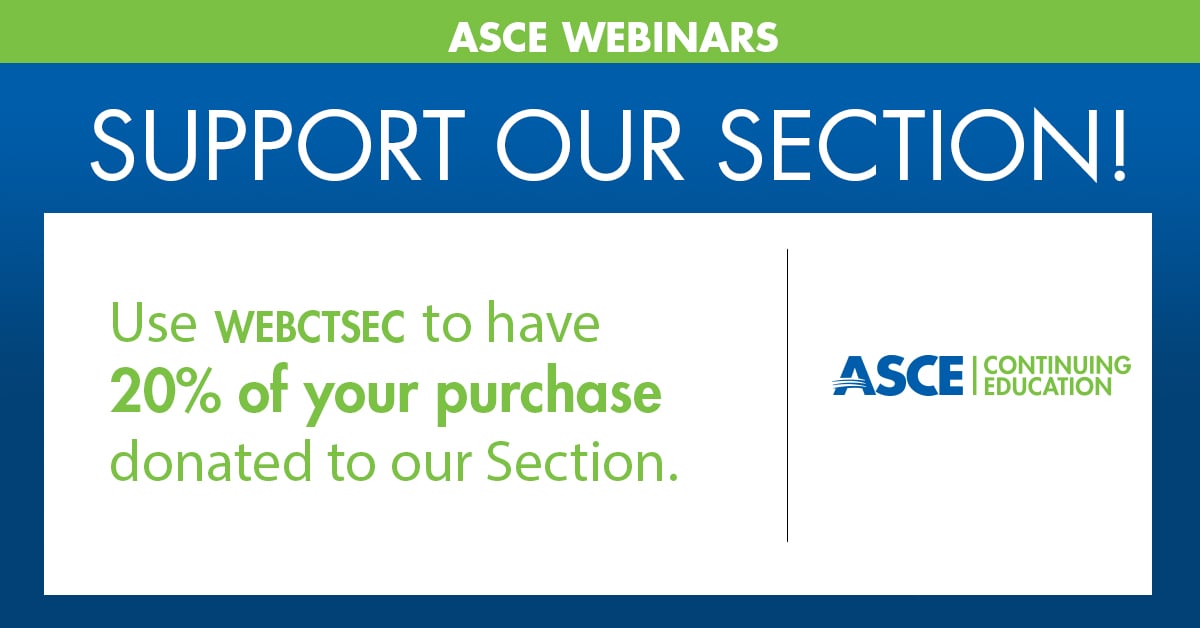 Upcoming CSCE Events in 2019:
January 23 – Monthly Dinner Meeting at the Yale Graduate Club, Speaker: Connecticut Department of Transportation Commissioner James Redeker
February 12 – Monthly Dinner Meeting at Quinnipiac University, Topic: The State of Connecticut's Infrastructure
February TBD - Joint Engineering Societies Dinner Meeting during Engineers Week (February 17-23), Location: TBD
March 12 – Fairfield County Branch Dinner Meeting, Location: Norwalk Inn
April 5 – 9th Annual CSCE Geotechnical Workshop* - University of New Haven, West Haven, CT, Topic: Helical Pile Design - PDHs are typically offered at this event
April 16 – Monthly Dinner Meeting at the U.S. Coast Guard Academy, New London, CT, Topic: Managing Stormwater Discharge with MS4 General Permits, Speaker: Amanda Ryan, Municipal Stormwater Educator
May 21 – 12th Annual Achievement in Civil Engineering (ACE) Awards, The Aqua Turf Club, Plantsville, CT
June 14 - Structures Seminar - Location & Time: TBD - Topic: Non-Destructive Evaluation of Bridge Decks - Presenter: Professor Nenad Gucunski of Rutgers University. Professor. Gucunski was the lead PI for the long term bridge assessment project sponsored by the FHWA. He helped develop a robot (RABBIT) that can completely assess bridge decks.
Additional information about this topic can be found at the following link: https://www.fhwa.dot.gov/publications/research/infrastructure/structures/ltbp/13035/index.cfm
The CSCE of the present is the result of a merger of two organizations that occurred 30 years ago. The Connecticut Society of Civil Engineers was founded in 1884, while the Connecticut Section of the American Society of Civil Engineers was founded in 1919. In 1958, the Section had 523 members. In 1955 (the nearest comparable year for reliable numbers), the Society had 1,033 members. The two organizations met separately until they merged in 1981, by mutual vote of membership, to become the Connecticut Society of Civil Engineers Section of American Society of Civil Engineers or CSCE.